Operation Magic Carpet
Samantha Ellis
Polka Theatre
–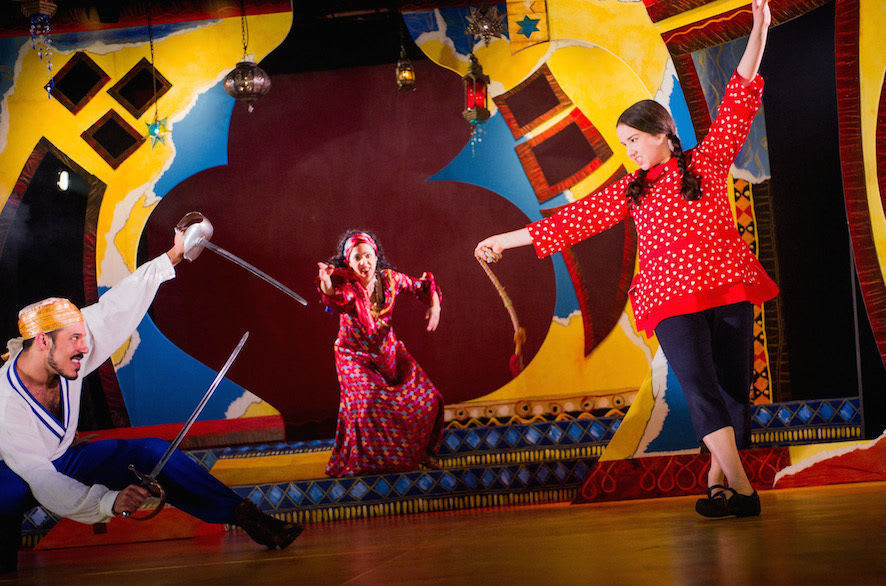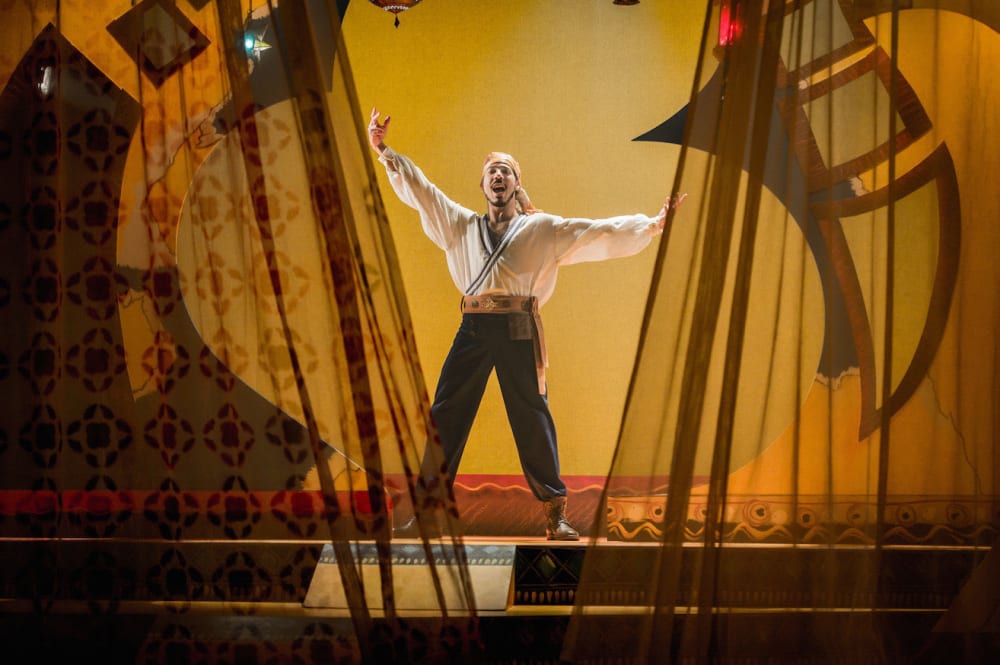 A magic carpet takes a girl from Golders Green to adventures in Baghdad: Samantha Ellis's play sounds like an escapist fantasy that's at odds with what we know of the Middle East today, but it is aimed at six-year-olds and up so that's what you'd expect. But you'd be wrong. There's a genie, three wishes and a magic journey, an all-knowing Caliph, dancing ladies, sword fights and even Sinbad (the Sailor) but this isn't just escapism.
It is true that Nomi's journey takes her to an Iraq right out of the Arabian Nights but her own situation shapes the story. Though she was born in Britain, her parents are Iraqi who fled their homeland. She is in the middle of the immigrant and refugee child's situation midway having both British and Arab culture. Her father wants to make his family English, insisting that his wife cooks them fish fingers. Her blind uncle doesn't recognize this foreign food and doesn't like it: he tells her exotic eastern stories.
Nomi's mum is still homesick. She left her heart, she tells her daughter, back in Baghdad. Nomi wants to go and find it. When she opens a mango pickle jar and lets out a genie, she gets the chance to do so. It would be a wild exaggeration to suggest that her experiences directly link with modern Baghdad but, just as traditional fairy tales are often full of violence and horror, Nomi sees strife and exploitation and some gory moments; older audiences might be encouraged to see this as a metaphor for the modern Iraq mess and the youngest won't be too frightened for it is stylishly presented.
Sarah Agha's delightfully open Nomi shares things with her young audience, Jason Eddy is sensible dad and a succession of Iraqis including a wicked but charming bad boy Sinbad. Géhane Strehlera is a mum who can dance a mean Tsifteteli and she doubles both comically grasping and elegantly distinguished Baghdad ladies. Adam Yousefbeygi is a convincingly sightless uncle and the diffident Caliph among other roles. Then there is Hemi Yeroham, the bottled genie who grants Nomi's wishes, invisible to her family at first but not when he and Sinbad bring her home carrying not her mother's heart but some of the delicacies and buffalo cream her uncle misses.
There is a gorgeously colourful set by Sophie Lovell Smith who also provides exotic costumes. Rosamunde Hutt directs with a light touch. The action is lively, there is a stylish sequence with Nomi battling a giant bird and a dangerous wolf, but the biggest oohs came for one of the simplest effects when a swirling light created a scatter of stars above the auditorium to join the twinkling lights on stage.
If that was joyful, so was the ending, with a few thrills on the way and perhaps a sentimental tear or two. There is something here to make its young audience think about others' situations and a theatrically told tale that may have them opening their pickle jars very carefully in future!
Reviewer: Howard Loxton