Opus No 7
Dmitry Krymov
Moscow School of Dramatic Art
Northern Stage, Newcastle
–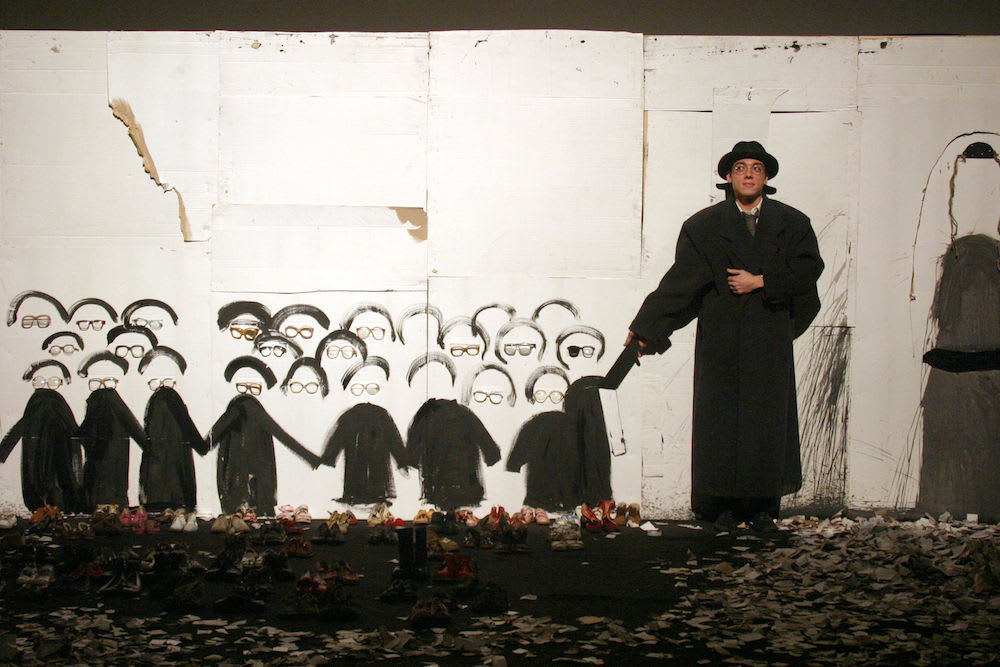 How long since I've been blown away like this? It's one of those rare, large-scale, revolutionary, theatrical experiences that stays with you for a life time and (probably unfairly) make the vast majority of what you've witnessed on stage seem—well, tame.
Director of Northern Stage Lorne Campbell et al travelled to Moscow to see the show before NS, LIFT, Brighton Festival, Norfolk and Norwich Festival and Barbican combined in the formidable task of bringing such a huge masterpiece to the UK, where it will play at only four venues.
For the first time, Northern Stage combines performance areas one and two into the vast space required to mount such a gigantic piece. The first half is played out on a stage the length of a railway platform; in part two the acting area (and seating come to that) is transformed, the sense more of a large empty warehouse.
This piece, now five years old, took a year to put together under the guiding hand of director Dmitry Krymov and his laboratory.
In a post-show discussion, Krymov, who gives the impression of being a gentle genius, admitted that, five years down the line, in an increasingly hard-line Russia more interested in roughing up the likes of Ukraine, such a project would probably not be possible to create.
Put simply, the show is in two halves: part one concerns itself with the oppression of the Soviet Jews, part two with the composer Dimitri Shostakovich's pained relationship with the then Soviet Union (which has already been the subject of a play).
When questioned, Krymov insisted the work was aesthetic, not political. In fact it's all manner of things, some almost undefinable. There are very few words, the work built on a series of startling visual images and music. In one part, seven metal grand pianos whiz into the empty space and engage in a cacophonous game of duelling dodgems which drowns out the composer's music.
Mother Russia, a 17 foot high hypnotic puppet in peasant dress, glides into view, her eyelids slowly blinking, sheltering under her skirts the young composer, who she later rejects as he himself is slowly transformed into a puppet.
Black paint hurled onto white flats is transformed into people. Through these flats, as if by magic pop dozens of pairs of glasses which again are rapidly turned into humans. The cast suddenly cut through these flats and the piercing light of ovens shoots out. A tiny pair of red shoes moving across the stage speaks more of genocide than a dozen official reports.
Giant fans blow out a blizzard of newsprint which covers both the performance area and the audience. A huge white gloved hand in a fur-trimmed coat sleeve of the politburo snakes out into a 30 foot serpent to entwine the composer. A human chandelier ascends towards the ceiling. A man shaped like a tuba plays a tuba. Still images come to life.
We have not seen anything like this in a long time. Perspectives change continually and at times as if by alchemy. The ensemble is around 17 and includes actors, opera singers (often used to haunting effect) and I suspect gymnasts. Through all this extraordinary visual imagination pulses a strong sense of humanity, a humbling yet ennobling sensation that recognises simultaneously our cruelty, stupidity and potential.
Done mainly without the human voice, the work cries out in a human voice unlike anything I've seen in years.
Only three performances in Newcastle? I'd have liked to see it here for a month. And one banker's annual bonus would probably be enough to mount a 20-venue national tour.
Extraordinary stuff.
Reviewer: Peter Mortimer