Oranges and Elephants
Book & lyrics by Lil Warren, music & arrangements by Jo Collins
Hoxton Hall
–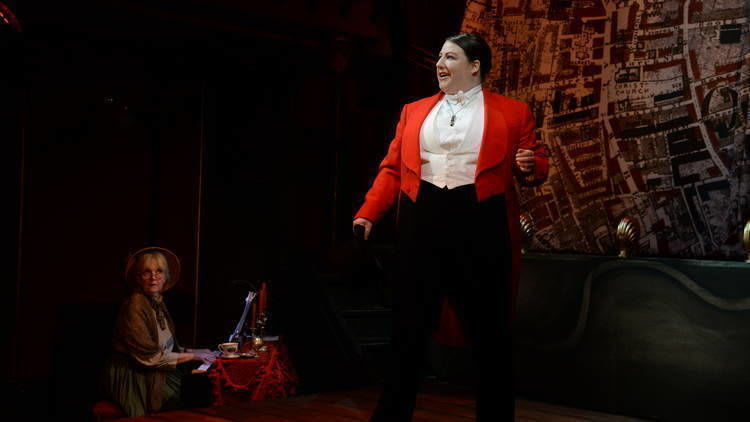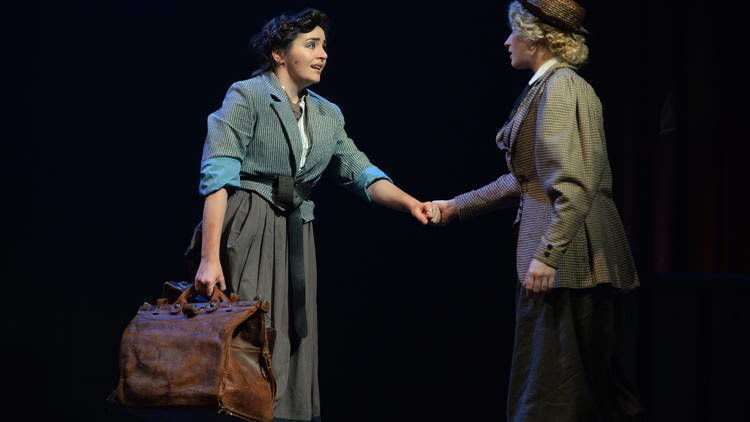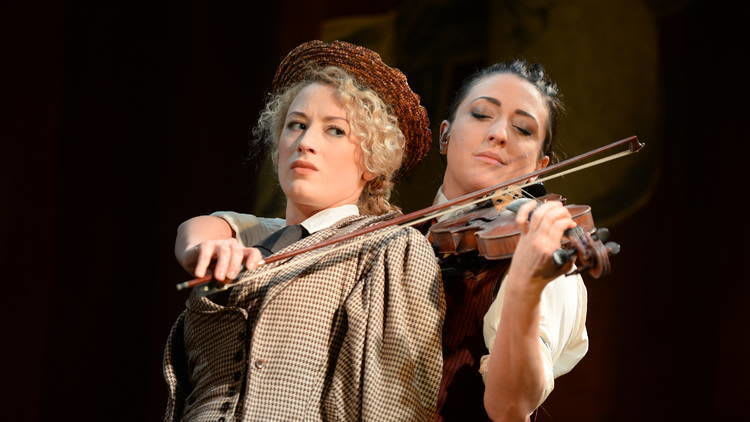 The Oranges and the Elephants are two female London gangs, north and south of the Thames: one centred on Bethnal Green the other on the Elephant and Castle. Their turf war is fiction but Lil Warren found a real girl gang called The Forty Elephants when researching the Round Your Way project presented at Hoxton Hall. That sparked off this story for an all-female musical (cast, creators and crew) that launches Female Parts, Hoxton Hall's all female season.
This gang warfare story is played out as a melodrama that is part of a music hall bill complete with what Susannah van den Berg's red-coated Chair calls "group singing" with Doreen (Jo Collins) at the piano and almost all the cast instrumentalists as well as actors. The show is both musical play and a taste of old time music hall as the chair (complaining about this bright electricity) takes things back to the days of the old Queen and Empire to a London that she says (quoting Dan Leno) "is a large village where the principle industries carried out are music halls and the confidence trick".
The tableau curtains show the East End on Charles Booth's 1898 map based on household income and there's an occasional reference to economic inequality, but this isn't a political show. The Chair, popping on a police helmet, sums up the situation: "privilege for the few, intoxication for the poor and with a whistle you can run the land".
A single-gender cast doesn't mean they play cross-gender. Every character here is female (well perhaps not the Bow Street judge, that would be bending history). There's no cross-dressing either. The masculine waistcoats and titfers, leg of mutton sleeves and bloomers in which designer Sara Perks puts them show the influence of the Rational Dress Society. But, though there aren't any drag kings, there is a definite lesbian aura.
Both sides of the river are on the look out for fresh young females like Sinead Long's Mary, a scullery maid who has run away to London (from the Black Country she says, though she doesn't have the accent). She has dreams of success on the halls, though at first her charms are more physical than vocal.
First to find her are the Oranges, led by Kate Adams's Flo. Knife-wielding psychopath Ada thinks she is her particular prize—Rebecca Bainbridge plays the villain with relish—but it is spirited Nellie from the Irish Elephants led by Annie (Liz Kitchen) who rescues her. Christine Tedders's Nellie seems too nice to have got mixed up in gang warfare and indeed has a plan.
The story takes the audience from Hoxton to Islington's much grander Collins' Music Hall and on to the Alhambra in the West End but, though the tunes may be upbeat, the outcome for the lovers is tragic.
Jo Collins's songs and arrangements mix delightful ballads with raucous chorus numbers and the musicianship is first rate. Director Suzie McKenna encourages full-blooded performances from all her cast with Natasha Lewis's Violet rivalling Bainbridge's Ida in confident projection in a way the material seems to demand and there is just a touch of self-satire.
McKenna is Hackney's pantomime Queen (writer, director and performer this past season) and she knows how to handle melodrama too. What she can't do is add real bite and give the story a contemporary relevance that the script is lacking, but Oranges and Elephants does deliver a lively evening, a celebration of female talent and a lesbian love story. Perhaps we ought to be satisfied with that.
Reviewer: Howard Loxton