Orbits
Wally Sewell
The Entire Theatre Company
Drayton Arms Theatre
–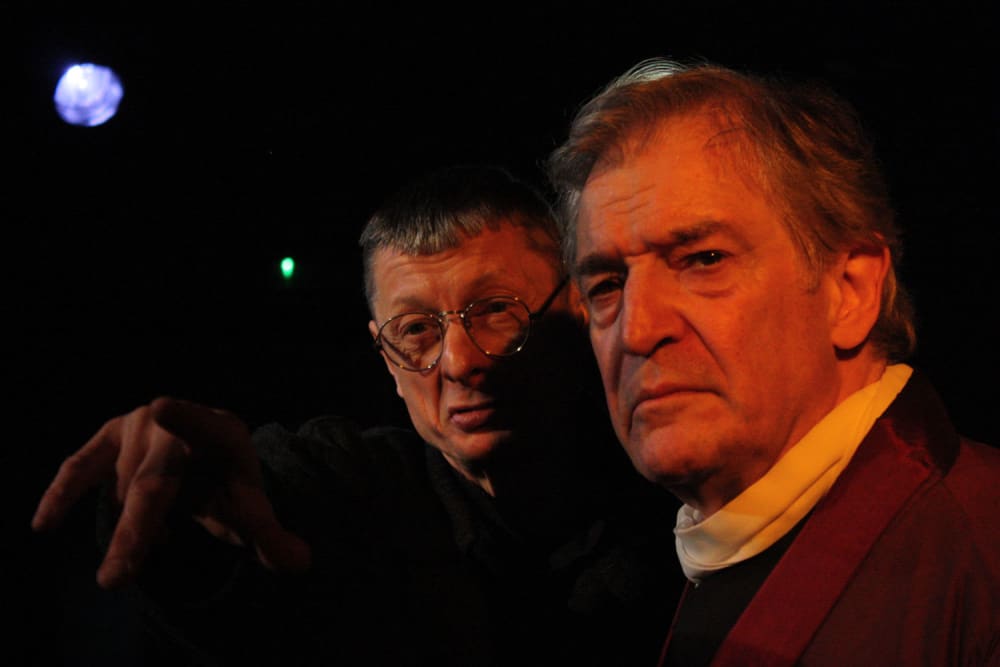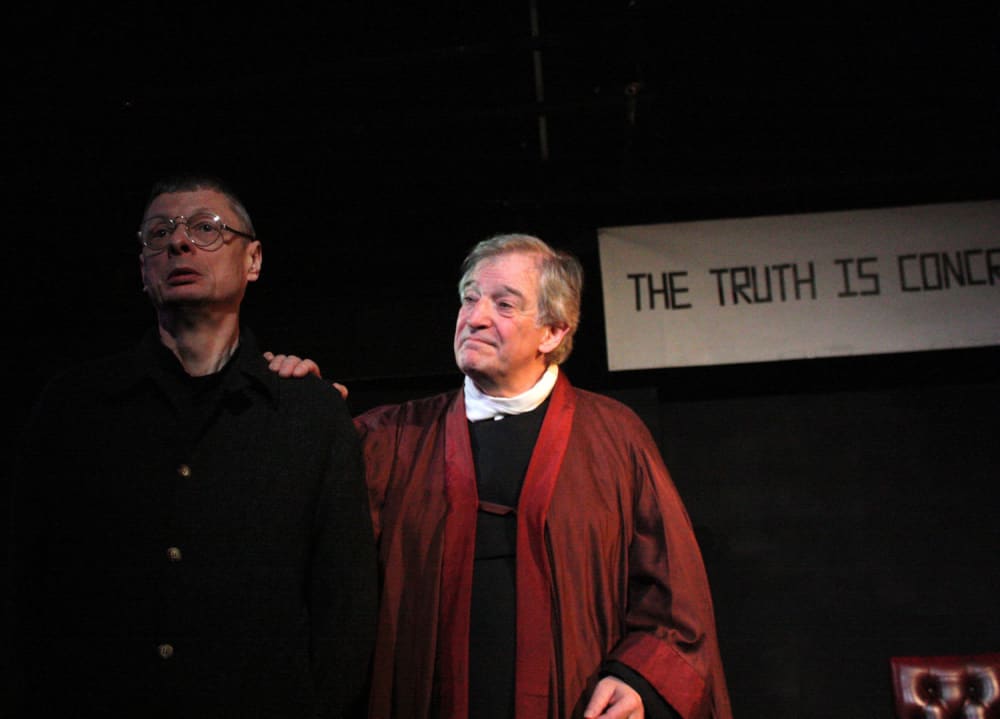 In 1944, radical poet and dramatist Bertolt Brecht was in Los Angeles, a refugee who had fled from Nazi Germany, now trying to make a living in Tinseltown.
There he met English actor Charles Laughton, an international star since his acclaimed portrayals of Henry VIII and Quasimodo in The Hunchback of Notre Dame. Together they began work on an English version of Brecht's The Life of Galileo, a play about the great seventeenth-century Italian scientist which he had written in 1939 that had been produced only once, in Zurich in 1943.
Wally Sewell's play, which he subtitles When Stars Collide, is about that partnership though it seems more like a confrontation.
Director Anthony Shrubsall frames each of its three acts like a boxing match. On a stage empty except for a chair and hat stand and a sign that reads "The truth is concrete", the adversaries each take a sip of water before, on the ringing of a bell, they turn to face each other.
The first two acts take place in Pacific Palisades in Laughton's study which looks out on a garden that, like the star's career, seems to be subsiding. The two men are rehearsing a scene in which Galileo is being interrogated by the Inquisition.
Dressed in a red cape over a black soutane, Edmund Dehn, as Laughton, looks more like the Cardinal Inquisitor than the heretic as he is questioned by Peter Saracen's angular, twitchy Brecht, his sharp eyes presently hidden behind dark glasses. But he is Galileo. Perhaps this is the formal dress of a renaissance academic.
I don't have a script to hand to check but since the play is still in copyright this presumably isn't the play text. It's an improvisation and one that Brecht uses to confront Laughton with his own personal problems. "You gaze upon me with a lecher's eye," he accuses, raising the issue of Laughton's guilt-ridden homosexuality, proposing punishment by beating.
Although the pair are shown at work and Brecht explains his theory of "gestus" to Laughton and in the second act Brecht is rethinking his attitude to Galileo and to science after the massacre caused by the first atomic bomb, dropped on Hiroshima in 1947, and considering the need for rewrites, this is not really a play about making plays.
It is partly a reiteration of points that Brecht made in his Life of Galileo, partly a pair of imaginative character studies and it delivers intriguing titbits of information such as that in London Laughton and his wife Elsa Lancaster had lived in a flat that had once been home to Karl Marx, that Elsa's mother had been Marx's secretary, that Laughton had been gassed in World War I. Brecht (whom Elsa avoided meetings because he stank) goes into a diatribe against soap, he considers turning the Communist Manifesto into a poem and teases Laughton about the handsome young man the actor thinks ideal to play Galileo's student.
In the third act, set in 1947, after the play had received its LA première, it is Brecht who is being interrogated by Laughton on the morning before his afternoon appearance before the House Un-American Activities Committee, deviously avoiding telling the truth. He is about to take up his new post at the Theater am Schiffbauerdamm in East Berlin and already has a ticket, booked under another name, to fly out the next day.
Wally Sewell presents a confrontation of ideas and of egos, two stars orbiting each other with sufficient sense of being behind the scenes to hold interest. This Brecht has a caustic reality, almost an affectionate self caricature, but Laughton seems always to be playing a role, we only catch a glimpse of the man beneath.
A short poem Brecht wrote in 1942 and titled "Hollywood" said:
Every day to earn my daily bread
I go to the market where lies are bought
Hopefully
I take up my place among the sellers.
"The Truth is Concrete" said the banner over Brecht's desk during his stay in Denmark, which Laughton copies in this play, but Brecht knew about the need for lying, for Laughton and for himself as well as for Galileo.
Reviewer: Howard Loxton