Ordinary Days
Words and Music by Adam Gwon
Trafalgar Studios
(2011)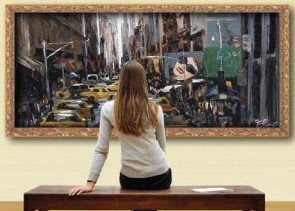 This charming American musical had an earlier 2008 production at the Finborough Theatre, its European premier which followed quickly on a first production at Penn University. Since then there have been productions of Ordinary Days off-Broadway and elsewhere and now it makes it to the West End.
It is in the form of a cycle of songs, many of which could stand alone, that give us moments in the lives of four young New Yorkers. There is a couple who are moving in together, a girl student always behind with her assignments and an artist who feels the world ignores him, and together the songs chart their feelings, meetings and relationships.
Musically it is not a particularly original score but it is a very enjoyable one and is delightfully sung by a cast who clearly relish the opportunities it offers. It opens with four solos to introduce the characters, then moves on to their meetings, including an amusing sequence in the Metropolitan Museum that builds up to a quartet in 'Saturday at the Met'.
Alexia Khadime is delightfully ingenuous as Deb, deviously rephrasing her excuses for being late with a paper, though when she explains she has lost all her notes it is actually genuine. It is artist Warren, to whom Lee William Davis gives a discreet touch of gayness, who finds them and sets up their Met assignation to hand them over. Meanwhile Claire is trying to pack away her old life in readiness for boyfriend Jason moving in, touchingly evoked by Julie Atherton in 'Let Things Go'. Boyfriend Jason wants things to work out but he's worried, their tastes and temperaments don't match. Daniel Boys captures his bewilderment and a vulnerability that makes him seem even more of a dishy catch. Deb and Warren are even more of a contrast. She doesn't get what he sees in his favourite picture, but nevertheless they seem to bond and all four become involved in a company number affirming the good things in a flutter of colour ('Falling').
We don't really learn very much about any of these young people - these really are shared moments rather than a detailed story - but we share enough to know they have the same problems we all have, and the same joys. Ordinary days indeed, but even ordinary days can be good ones and there is often something that makes an ordinary day special.
This is an honest sort of show that will leave a smile on your face. Director Adam Lenson keeps it running energetically, if not quite disguising its jerkily episodic construction and it is staged with simplicity and directness. Alistair Turner's set of white towers that suggest the skyline of Manhattan, tailored to fit a lozenge tiled floor hides the trio of wind, strings and keyboard at least from the audience facing them but doesn't stop them from swamping the singers. From my side seat it just wasn't possible to hear many of the lyrics clearly, and that is a shame because those I did catch are good.
Until 5th March 2011
Reviewer: Howard Loxton