Origins

Elmhurst Ballet Company
Lilian Baylis Studio, Sadler's Wells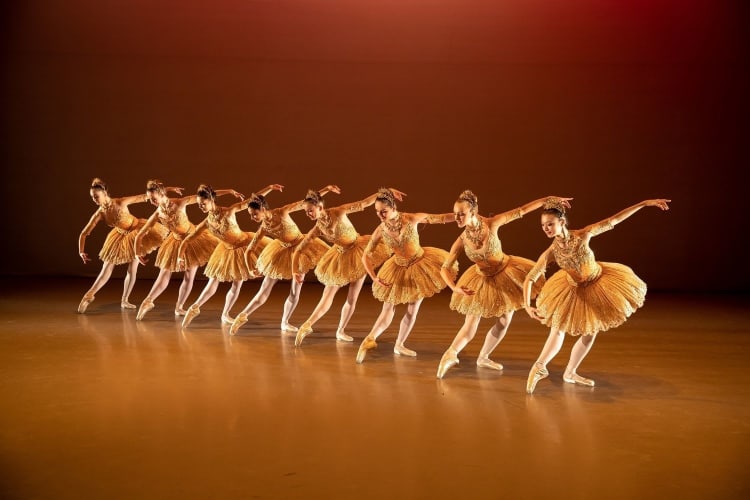 Newly formed student troupe Elmhurst Ballet Company launches its inaugural tour Origins in Birmingham with two successful performances at Elmhurst Studio Theatre before touring to London, to be hosted by Sadler's Wells' Lilian Baylis Studio.
Made up of graduate year students from Elmhurst Ballet School in association with Birmingham Royal Ballet, the company "bridges the gap between school and professional life", preparing its young talent for the competitive global dance scene.
Spanning both classical and contemporary repertoire, the two-act spectacle opens to student creation Adrenaline, choreographed by Amy Turner-Daly to music by Karl Jenkins. This is followed by Ryan Felix and Ellie Hennequin in an admirable interpretation of one of Kenneth MacMillan's most fiendish works, the act I balcony pas de deux from Romeo and Juliet. Well-rehearsed, the pair dart across the breadth of the stage space, full of character and technical aptitude. Felix masters his multitude of spiraling relevés, whilst demonstrating much strength and grace in the iconic partner work with Hennequin, especially during the moments of stillness succeeding each lift and throw.
A trio of David Bintley's works ensues: the Clog Dance and Lily of Laguna pas de deux from Bintley's Hobson's Choice. The comedic classic, which premièred at the Royal Opera House exactly 30 years ago to Paul Reade's commissioned score, showcases Andrea Canalicchio as Will in a punchy, toe-tapping solo, later joined by Theresa Tan in the lyrical role of Maggie. The second and third numbers are both to music by Duke Ellington and Billy Strayhorn: firstly, Olivia Durran sporting a dazzling crimson robe, dancing the sassy Sugar Rum Cherry from The Nutcracker Sweeties, whilst Ryan Felix is in the role of Hamlet from The Shakespeare Suite—full of stagecraft.
Next the Company embark on Sir Peter Wright's version of Lev Ivanov's heritage work, Swan Lake Suite from act II. Isla Ghali and Samuel Parham present the White Swan pas de deux, skillfully exhibiting the adagio quality to exacting open classical lines, interspersed by the elasticity of each fondu movement—a technically demanding piece. Commendable and synchronous, Nina Avrillon-Rivault, Samantha Clay, Ellie Hennequin and Theresa Tan dance the Cygnets, not a head or foot out of place, before Amy Turner-Daly and Kirsty Walker glide across the lakeside, filled with expansive movement as lilting Big Swans. Boasting tough technical strength, complete with control and balance of her extensions, the Suite closes to Amelia Hancock performing Odette's variation.
To original music by Jon Hopkins, the culmination of act I is Wayne McGregor's Entity (excerpt), in which the company excel. Following the interval is a shorter, but nonetheless dazzling second act with excerpts from Petipa's Paquita—a celebratory finale.
Reviewer: Naomi Cockshutt