Orlando
Virginia Woolf adapted by Darryl Pinckney; music composed by Craig Armstrong & AGF
Cryptic
The Traverse, Edinburgh
(2010)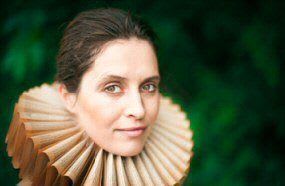 Seven silken sheets hang delicately in a semi circle, allowing a beautiful bombardment of images to play across them and Orlando (Madeleine Worrall) to dance around and through them. It is a dance through time, with Antye Greie, aka AGF, providing the music and haunting vocals that echo Worrall's speech.
The visuals on the sheets help in creating the mesmerising moves across time and across the globe. From the London in the Great Frost, a spectacle of silver and skaters, to a surreal trip around the architecture of Constantinople. With AGF on stage the whole time creating an array of strange music, it was quite a lot for the senses to take in.
Worrall does not have the androgyny that has been the feature of other actors portraying Orlando; she is conspicuously feminine throughout. The transformation from male Elizabethan courtier in a ruff and tights to a lady in a flowing dress though was still wonderfully achieved on stage and the later transformations as Orlando continues on across the centuries.
Worrall and AGF work together on stage, not only creating an original presentation of Woolf's words through speaking them together and echoing and distorting them with the music, but also display the love passed between two people that this work represents. At times the speech was a little faint, but Worrall's manner on stage was enough anyway to convey what she was saying.
A very ingenious way to show a complex individual over time.
Until 2nd October then touring
Reviewer: Seth Ewin