Orpheus
Claudio Monteverdi and Jasdeep Singh Degun
Opera North in collaboration with South Asian Arts-uk
Grand Theatre, Leeds
–

Listing details and ticket info...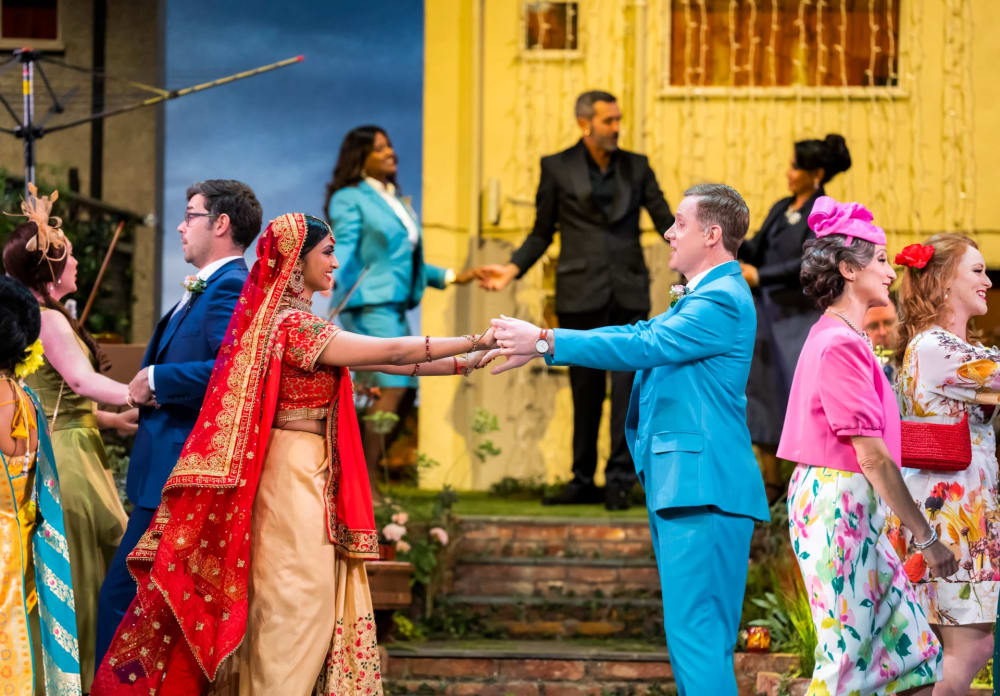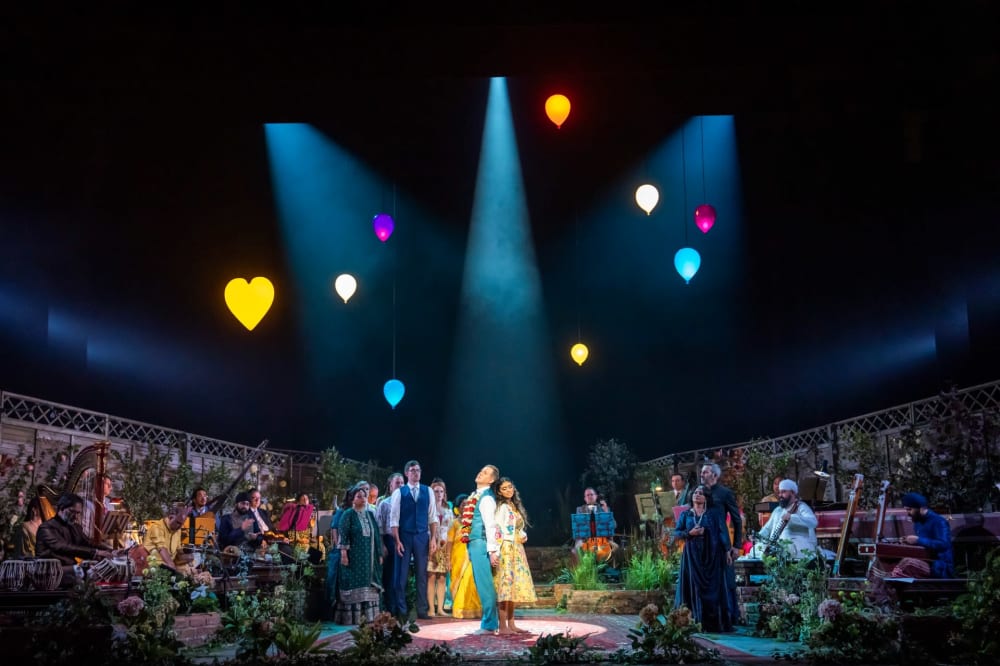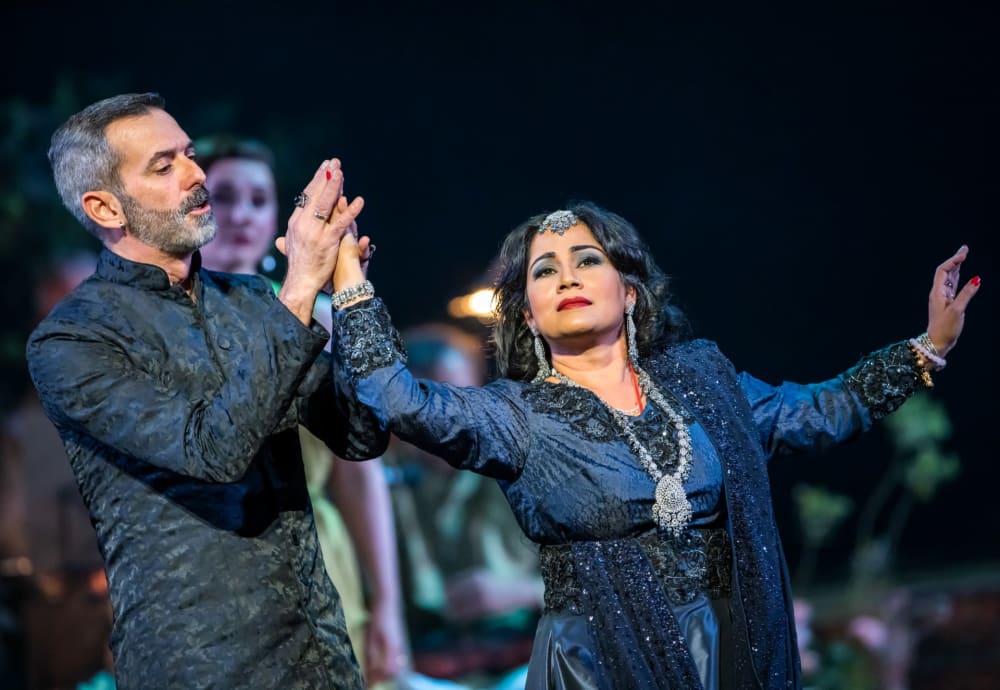 This production of what has been described as the first opera is aptly described as a 'reimagining': it invites its audience to adjust their expectations for this 'legend in music'. The work sprung from exploratory sessions between South Asian Arts-uk and Opera North, which brought together classical music specialists from across South Asian and European traditions. In digging into the connections and differences between these conventions and forms, the very process of arranging and staging an opera has been somewhat reimagined, too.
For, from the raising of the curtain, things are indeed intriguingly different from what you might expect of a night at the opera. The musicians—sitar and santoor players alongside harpists and harpsichords—are arrayed in full view, with the focus placed on Adam Wood's trumpet soloing during the overture.
Leslie Travers's set, which on more than one occasion drew gasps from the audience, is the elongated garden of an end-terrace house, with lush greenery all around and about the musicians, and shifting light (designed by Jackie Shemesh) thrown onto an impressive and evocative backdrop of clouds.
Into this familiar domesticity comes a wedding party: Orpheus (Nicholas Watts) and Eurydice (Ashnaa Sasikaran) are getting married, and their families come together, sharing in celebrations which move between South Asian and Western European conventions, ably directed by Anna Himali Howard.
For the most part, the music operates on a similar logic: a turn-by-turn sharing of styles and forms rather than an attempted fusion. A thoughtful programme note points out that, far from some utopian 'universal musical language', Indian and European musics do not sound alike, and that attempts to fuse them will be difficult if not largely impossible. Finding 'parallels' rather than 'equations' is the way to proceed in comparing and combining them.
So music directors Laurence Cummings and Jasdeep Singh Degun, along with numerous consultants and—crucially—collaborators, have taken the musical and narrative themes of Monteverdi's work, retranslating it and interpolating newly composed music following Indian classical traditions.
The collaboration is essential here, as South Asian classical conventions often involve improvisatory elements, around repeated raga and tala (patterns or frameworks of melody and rhythm). Given the importance of Orpheus's impassioned musicality in the myth, this is a fitting intervention, and at times there are dramatic, powerful, and entrancing moments of vocal, percussive and instrumental embellishment.
Like Chiranjeeb Chakraborty and Vijay Rajput passing vocal trills back and forth in some of these moments, the performance moves between Monteverdi's music and Jasdeep Singh Degun's new compositions time and again. Some of the most moving performances are between Watts's Orpheus and Sasikaran's Eurydice, whose vocal quality and control, over an impressive range, is especially noteworthy. Chandra Chakraborty as Proserpina, queen of the underworld, is similarly memorable.
But this is, ultimately, a highly collective endeavour, and all the better for it. Hearing violinists hand over to tabla players, or the duelling harpsichords of Laurence Cummings and Ashok Gupta, is hugely pleasurable, and the moments when the different instrumentational worlds do combine and support each other are all the more so.
In fact, perhaps one issue here is that for me the most powerful and evocative of these moments comes right at the overture. The circling rhythm and repeated, pulsing drone of the opening Toccata is an excellent fit for the drone notes of the sitar, the ragas of the tabla, and other South Asian instrumentation. This allows the full orchestra to play together in an idiom that seems, to my ear, the most satisfying coming together of Monteverdi and the Indian classical tradition. The compositions and translations that follow are never less than supremely watchable, but they don't quite reach the same heights of transportation as in that enrapturing opening.
Overall, though, the impression is of a more than successful experiment, with the two usually siloed classical traditions meeting here in memorable conversation.
Reviewer: Mark Smith