Orton
Music and lyrics by Richard Silver, book and lyrics by Sean J Hume
Above the Stag Theatre
–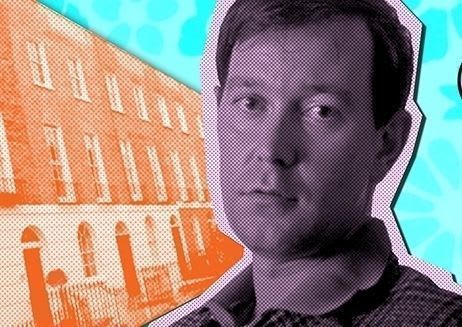 Although titled Orton, this show is as much about his partner Kenneth Halliwell as about the eponymous Joe.
This might seem a surprising subject for the first musical to be presented by Above the Stag, now based in Vauxhall after the demolition of its original Victoria home, for we all know the blood-splattered end to their story when Halliwell murdered his partner before committing suicide, but Sean Hume's script ends stops short of showing that.
There is plenty of angst on Halliwell's part as he worries that he is being left out of things as Orton's success eventually blossoms, but this is a show leavened by high-spirited humour, especially in numbers like the one in which smart society reacts with shocked delight at Orton's outrageousness.
There is a bit of that tongue-in-cheek outrage in the inevitable cottaging number, but at its heart this is a serious and sometimes touching appraisal of the Orton-Halliwell relationship from their meeting at RADA through their collage and textual amendment of library books and subsequent gaol terms to Joe's success and the increasing frustrations of Kenneth at the lack of acknowledgement of his contribution to it and at the reduction in sexual activity between them.
Richard Dawes as Orton captures much of his cheeky chappy charm. Andrew Rowney's Halliwell makes their initially happy relationship credible and gains plenty of sympathy. Simon Kingsley is a camply cavorting Kenneth Williams; we see only the upbeat side of that complex personality but he is very entertaining. So too is Valerie Cutko's Peggy Ramsay, Joe's literary agent. She may look totally different but she makes her a strong character and has a contrasting double as the boys' neighbour Mrs Cordon.
Robert McNeilly appears as the judge sentencing Orton and Halliwell, as one of Joe's pick-ups and as Trevor, a fellow RADA student. Katie Brennan and Danielle Irvine make the ensemble for the chorus numbers.
When I saw it, dance captain Jordan Langford had been rushed off to hospital so I missed his appearance as Terence Rattigan and some of the choreography may have been missing. It says much for the strength of the production that it moved smoothly, even though director Tim McArthur and choreographer Phillip Aiden were away from London and unable to rush back to supervise any changes.
Andrew Holton has found ways of fitting it into ATS's tight stage space in a multi-doored white set featuring Joe's diary pages and the beautifully collaged wall of their flat with deftly organised changes.
The score isn't bursting with chart-topping hits but it is tuneful with lively lyrics and well sung, especially in its quieter moments, though Chris Huntley on keyboards and Joanne Ruocco on drums do sometimes drown out the singers. The music is always well tailored to the situation and this is an effective and compact presentation of the Orton-Halliwell relationship.
Reviewer: Howard Loxton