Orwell: A Celebration
George Orwell, adapted by Dominic Cavendish
Trafalgar Studios
(2009)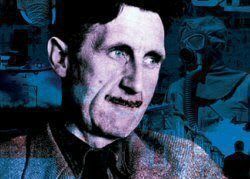 This celebration of George Orwell is made up of material drawn from his novel Coming Up for Air, two essays based on his experience as a colonial police officer in Burma and the Ministry of Love interrogation episode in 1984.
Coming Up for Air is written as first person narration and is a gift to a performer and Dominic Cavendish has extracted material that gives a vivid picture of George 'Fatty' Bowling, insurance salesman fed up with wife Hilda and the banality of suburban life. He fears the threat of war as 'bombing planes' fly overhead (it is 1938) and, by a quirky train of thought, becomes nostalgic for the place where he grew up, the smells of the parish church, the lake he used to fish in and the deep pond he discovered full of huge carp which he planned to catch, but never did. He uses a chance win on the horses to finance a brief escape from his wife for a nostalgic trip back to haunts of his Edwardian boyhood, only to meet with disillusion that confirms his worst fears about the way the world is changing.
Hal Cruttenden is perfect casting for Bowling, not just the right shape but a complete embodiment of the character, so aware of some things, so naïve about others. He has that capacity to appear to be having a conversation with you without ever actually buttonholing a member of the audience. This piece had a great success at last year's Edinburgh Festival and well deserves its London exposure. It is just a trifle too long for a monologue: my attention faltered for a moment but was soon regained.
The second half of the evening consists of three much shorter pieces. In Shooting an Elephant Ben Porter gives us a colonial officer recounting his form of the 'white-man's burden' as he tries to balance logical need against what is expected by the natives if he is to uphold the image of the Empire and not become a laughing stock. He gets right to the heart the man's dilemma and personal insecurity. Alan Cox follows this with A Hanging, a description of an execution that threatens to turn into a farce. Cox doesn't make this his own as successfully as Porter does his character but in the final extract from 1984 he is splendid as a calm and chilling O'Brien, the sadistic interrogator, while Porter distorts with pain as Winston Smith.
Director Gene David Kirk has kept his production clear and simple with a plain black backing and black boxes to sit on. For the second half he adds Cherry Truluck's video projections - some faint texts that most of the returning audience probably missed, then backgrounds that resolved into the silhouetted heads of the crowd, watching the white man's every move in the second piece. Her tracking images of barbed wire and prison roofs for A Hanging distracted rather than supported Cox's performance but vertical patterns paired with sound by Phil Hewitt were viscerally effective as Winston Smith is tortured.
Coming Up for Air was first published just seventy years ago this week and it is sixty since 1984 appeared. They hit home as hard today as they did then, perhaps more so for we can see how prescient Orwell was. These texts play as if they had been intended for performance and this celebration is a wonderful reminder, if one is needed, of what a fine writer Orwell was.
At Trafalgar Studios until 4th July 2009
Reviewer: Howard Loxton