Osud (Destiny) and Trouble in Tahiti
Leoš Janáček and Leonard Bernstein
Opera North
Leeds Grand Theatre
–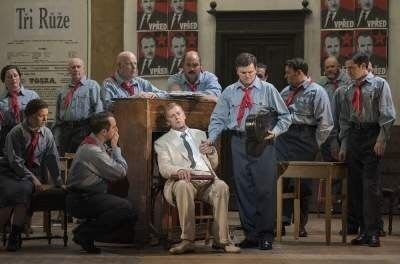 This season of Opera North has been one of bold contrasts, with unexpected couplings of light and dark material that demonstrate the breadth of the operatic form. Overall, the season has been a terrific success, offering appealing alternatives to the canonical works that regular operagoers know so well.
On the surface, there doesn't seem to be much that links Leoš Janáček's Osud (1907) and Leonard Bernstein's Trouble in Tahiti (1952). The first is a difficult, collage-like work and the second blurs the boundaries between opera and musical theatre. However, both explore the pain of love gone wrong in a way that borders on the cinematic.
Osud focuses on a composer, Živný (John Graham-Hall), who teaches in a musical conservatory. More than twenty years ago, he was in love with a young woman named Míla (Giselle Allen), with whom he had a son, but she was persuaded to leave him by her interfering mother (Rosalind Plowright). This experience of being jilted inspires Živný to starting work on an opera, Osud.
When Živný and Míla are reunited on a spa promenade several years later, they realise they still love each other and decide to leave together. However, Živný is unable to forget the past and sublimates all his bitter feelings into his writing.
Osud is a difficult piece to love. There is little sense of narrative coherence, which makes it difficult to empathise with the characters. Indeed, I struggled to care when Míla and her insane mother plummeted to their deaths at the end of the second act.
Director Annabel Arden does what see can with not-so-great material. The opening scene change, for example, which signals Živný's memories bubbling to the surface, is wonderfully fluid and evocative.
As I've come to expect from Opera North, there are some fine performances. John Graham-Hall does a good job of conveying Živný's emotional and creative paralysis after the death of his wife. Giselle Allen, so magnificent as Santuzza in Cavalleria rusticana, is particularly moving in the first act when she confesses her love for Živný.
Far better than Osud is Trouble in Tahiti, in which Bernstein exposes the discontent that lurks beneath the happy veneer of American married life in the 1950s. It's strange to think that Bernstein wrote this opera nearly a decade before the publication of Richard Yates's masterpiece Revolutionary Road (1961), as both works explore many of the same ideas.
Sam (Quirjin de Lang) and Dinah (Wallis Giunta) live in the suburbs with their young son. However, all is not well. Dinah suspects Sam of sleeping with his secretary and dreams of a garden choked with weeds. He, on the other hand, would rather go to the gym than see their son perform in the school play.
Bernstein further undermines the idea of romantic bliss by punctuating his opera with merry pop songs sung by a jazz trio. The message is clear: perfect love is the stuff of pop music and Hollywood movies.
All the performers are excellent. Wallis Giunta is extremely moving as a frustrated 1950s housewife and Quirjin de Lang gives us a vivid portrayal of toxic masculinity. The jazz trio—played by Nicholas Butterfield, Joseph Shovelton and Fflur Wyn—sing beautifully and comically.
Matthew Eberhardt's direction is fleet-footed and full of ingenious touches. The final tableau, in which the family are slowly drawn into a cinema screen, is simultaneously beautiful and heartbreaking.
Charles Edwards's set design and Hannah Clark's costumes are delightful, providing us with a strong sense of the period.
I've thoroughly enjoyed The Little Greats season and I hope Opera North will stage another season of short works at some point in the next few years.
Reviewer: James Ballands