Otello
Giuseppe Verdi and Arrigo Boito
Grange Park Opera
Theatre in the Woods, West Horsley
–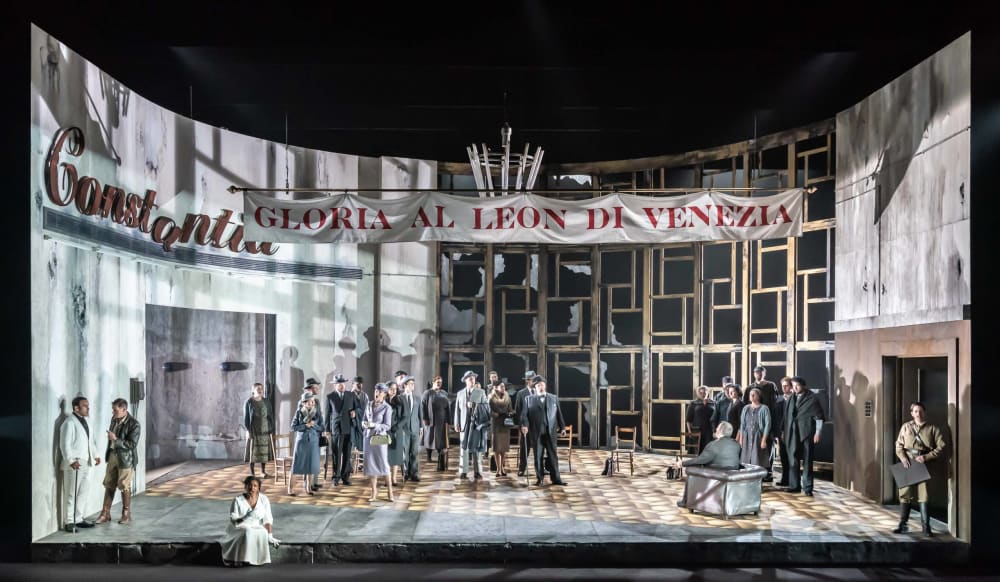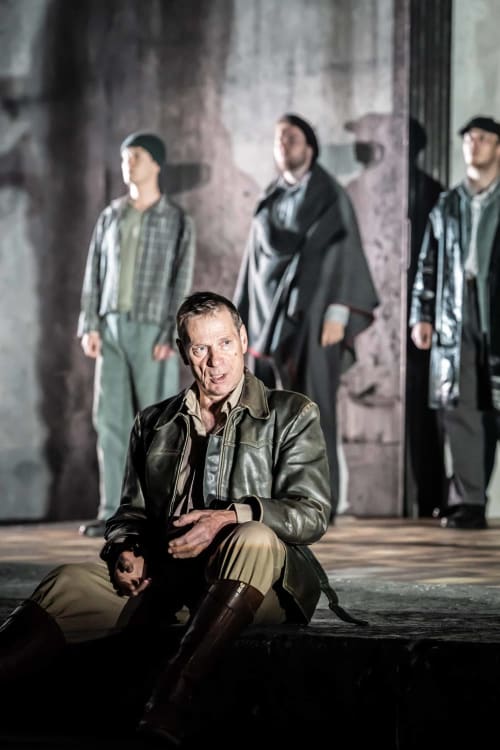 David Alden's Otello gives rise to the dark star of Iago at Grange Park Opera's Theatre in the Woods.
After ten years in retirement, Shakespeare's Otello was inspiring enough to persuade the grand old man of Italian opera to put pen to paper. Not content with sitting on his musical laurels, Verdi's musical and dramatic style continued to evolve even in his penultimate work.
Fiery operatic reformer Arrigo Boito proposed a new adaptation of Otello and Verdi secretly set to work, writing a far more through-composed drama. Setting aside the standard aria and ensemble forms, Otello moves seamlessly from one dramatic scene to another which allows this tale of fatal jealousy to be driven with breathless momentum.
Alden's production takes us to 1940s Italy in the army camp. Think leather jackets, seedy cafés and plenty of hair gel. Teamed with lighting designer Tim Mitchell, Alden creates a dark and brooding world full of shadows physicalising the idea of Otello's paranoia. He promotes the idea of Iago as puppet master, appearing in front of the curtain at each act and hovering at the sides watching the action.
GPO has gone with colour-blind casting for their production. Gwyn Hughes Jones magnificently inhabits the role as a full-bodied brutish, jealous, addled Otello. From his first entry mid-storm, it was clear that Hughes Jones had the scope for this punishing dramatic tenor role. Descending into crazed paranoia, he never falters, and his expressive vocal range and use of the Italian text simply pushes this performance into another realm of excellence.
Keenlyside's Iago is no less magnificent. In contrast to Gwyn's blundering forcefulness, Keenlyside inhabits a subversive and cunning Iago. Promoted to the star of Alden's production, Iago is alway at the fringes of the action, emphasising the idea that he is pulling the puppet strings. Keenlyside delivers with no forced 'operatic acting', instead an honest simplicity which makes the character far more believable, and, in turn, menacing. As he prowls at the edge of the stage or sits watching in the shadows, his presence is keenly felt without upstaging the drama.
Elizabeth Llewellyn's tone is beautiful but not so well suited to the Italian roles as her co-stars. Her Desdemona feels very self-conscious alongside Keenlyside and Hughes Jones's self assurance, and it isn't until act 4 that she seems to allow herself to explore all of the musical fantasies her magnificent instrument clearly offers. Luckily act 4 has the highlight of the show, for Desdemona and Llewllyn span the "Willow Song" with exquisite delicacy, letting us feel her deep sorrow and pain. Hopefully, this confidence will seep into the rest of the opera as the run continues.
There are no weak links in the supporting roles; Elgan Llŷr Thomas is a handsome and earnest Cassio and Olivia Ray proves to be an excellent actress as Iago's wife Emilia. The male chorus sing well, and Lynne Hockney's choreography highlights the action without exaggeration.
Otello managed to light a fire in Verdi, and his outstanding work has given rise to equally inspired performances at Grange Park Opera.
Reviewer: Louise Lewis