Othello
William Shakespeare
Lion & Unicorn Theatre
–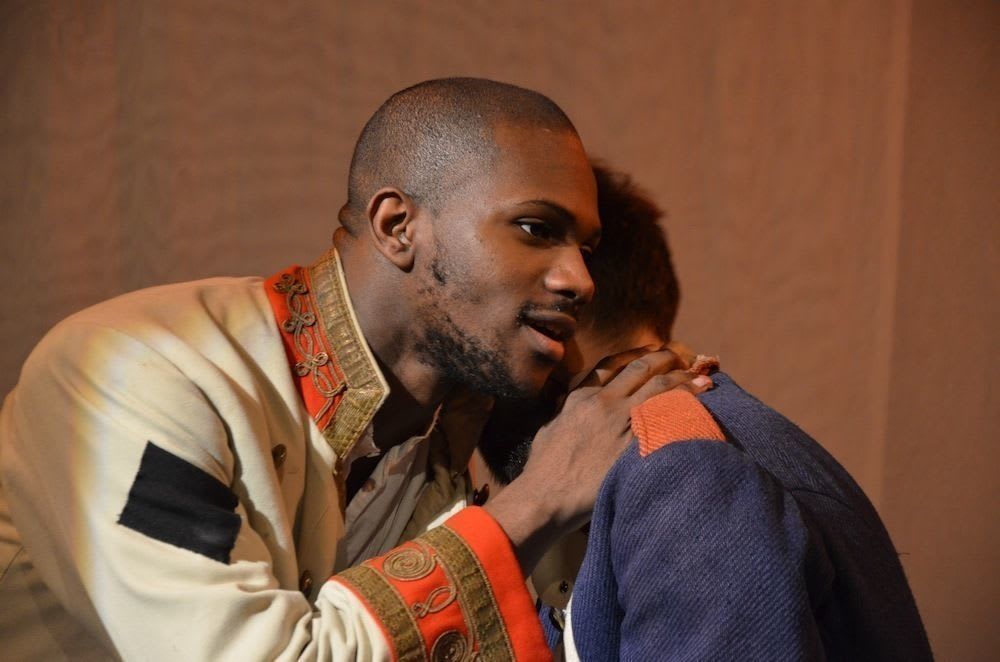 Director Emily Morrison and her cast take Shakespeare's tragedy of treachery and jealousy at such a cracking pace that they almost match his reference to the "two hours traffic of our stage".
It keeps things lively and demands a very attentive audience, which it clearly got from a student group who made up a large part of the audience I saw it with. They probably already knew the play, which would have helped, but the story comes through clearly though there is little opportunity to register the language or for the actors to have time to think.
Morrison and her designer Emilie Parker-Smith have chosen to set it in the period of the Crimean War but unbuttoned uniforms and loose shirts, together with the lifted bosoms of the ladies, give it a romantic Byronic feel. The uniforms, rather than any military business, serve to remind that Othello is a respected general on a military mission, despatched to deal with Turkish attacks on Cyprus, where his new bride Desdemona accompanies him.
Married to this black man against her father's wishes, Bryony Reiss's spontaneous and excitable Desdemona seems still a schoolgirl. Her relaxed, almost giggly intimacy with Cassio has none of the restraint you would expect from a woman of her class in the mid-nineteenth century, though a modern girl might easily behave like this with a gay friend. There is just a hint in Matthew Hopkinson's handsome Cassio that that could be the case, and it would certainly explain his refusal to commit himself to Bianca, the girl who thinks she is his lover.
Why should one of Othello's staff want to destroy this newly married couple? Iago himself expresses a racist disgust at miscegenation and a suspicion that his superior has slept with his own wife, but the emphasis here is on method not motive. From the very first scene, when he stirs up trouble with Desdemona's father, George Jauncey's Iago is role playing. His voice somewhat blurred and his sentences unnaturally broken with pauses between the article and the noun and emphases on conjunctions, he seems a bit drunk. When he goes on playing this way, you wonder whether it is just an actor wrongly placing a caesura until he has a speech addressed to the audience when his delivery becomes much more natural. This is the real Iago, not the world not-so-bright fellow that the world sees: the performance suddenly makes sense.
Kingsley Amadi's Othello, in contrast, could never be duplicitous; he is far too spontaneous and physical. An actor of some presence, he takes the risk of making the Moor become not only jealous but deranged and almost gets away with it. What he lacks is any feeling for the verse. Like most of this cast he rarely gives himself time to think, characters comment on someone arriving without ever having seen them, responses spill out ready-formed. Great poetry is gabbled through.
This is an energetic young company with a young director who go at it with enormous energy. They need to give their characters time to think and allow the richness of meaning to come through. As it is they almost overcome the ridiculous image of Desdemona, with her feet hanging over the end of a too-short, narrow bench and asking her husband to "come to bed".
When your set has been planned with an elaborate bed canopy that really is shooting yourself in the foot. It says much for the actors that it did not get a laugh.
Reviewer: Howard Loxton