Othello: The Remix
Written, directed and music by GQ and JQ, developed with Rick Boynton
Chicago Shakespeare Theater and Richard Jordan productions
Unicorn Theatre
–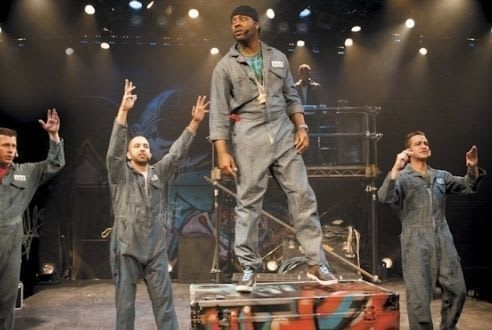 Shakespeare's work has lasted because of what he wrote. New interpretations of his plays are fine but I have never been happy with rewrites that seek an audience that can't cope with his language but still sell themselves as Shakespeare.
This retelling of Othello by the Q Brothers is very different. It steals the basic story and most of the characters but re-imagines them in an entirely new work, exactly as our Will used to do himself.
A hit in 2012 when it premièred in the Globe to Globe season on the Southbank, this is a hip-hop presentation inspired by Shakespeare and using its own brand of poetry that packs its fast paced action into 90 minutes. The characters keep their names but this Othello is a top man in the music industry, his Desdemona a beautiful singer. Iago, a lyricist and hip-hop purist, and Cassio, a rapper, are part of his crew with Rodrigo a hanger-on with his eyes on Desdemona.
With its pulsing rhythms and ringing rhymes, a modern Illinois equivalent of Shakespeare's verse and performed by some multi-talented movers, it is packed with energy and excitement.
A cast of only four, plus DJ Clayton Stamper at the turntables on a scaffold above their heads, play all the roles, male and female, with the aid of wigs, different beanie hats and baseball caps and frocks hung like aprons on top of their oily overalls. A medallion on a chain is the bling that replaces Othello's mother's strawberry embroidered handkerchief that is so important to the plot.
GQ plays an Iago whose evil is expressed in every limb, and makes Brabantio a racist Pantelone straight out of the commedia, while brother creator JQ is an easily conned Roderigo, Loco Vito (boss of the record label, a composite from several of Shakespeare's characters) and an hilarious Hispanic Bianca (Cassio's groupie girlfriend). Jackson Doran is both lithe-limbed Cassio, being groomed for stardom with diamante decoration on his crimson cap, and gains all our sympathy as Iago's missus, hard-done-by, housewifely Emilia.
As so often in Shakespeare's own version, it is Iago who tends to dominate the show but Postell Pringle, as Othello, effectively embodies his anguish and comes into his own most fully in its climactic moments. He too takes off his baseball cap to join the others as one of the team of storytellers. Together, in joke wigs and glamour garment, they glitter in a show-stoppingly funny number as four divas.
This telling of Othello is packed with humour but carries a dramatic punch as well, not least in Othello's suffocation of Desdemona. Unlike the other women, no-one drags up as her: she is an imagined presence; her killing represented by a pressed down pillow and her death throes by the taut reactions of the other actors.
If rap is not your usual listening, it may take you a few minute to tune into the pace and accents and you won't catch every word, but that won't matter. This is a piece of fast, exciting theatre that is well worth seeing.
The Remix of the title may suggest the method but it is a misnomer. This is a real original.
Reviewer: Howard Loxton