Othello
William Shakespeare
Royal Lyceum Theatre, Edinburgh
(2004)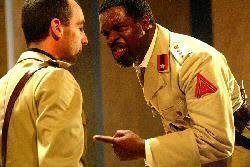 Directed by Mark Thompson, Othello is a far stronger production than the last Shakespeare show at the Lyceum (last year's Julius Caesar).
The most compelling acting comes from Liam Brennan, as the villain Iago. At the opening of the show, it seems there's a risk that the night will be staid and intense; "drama" without room for a laugh. But Brennan consistently provokes chuckles from the audience, making sure that however dastardly Iago's deeds, it's difficult not to root for him in the end. Wil Johnson, in the play's title role, gives a performance that ranges from stiff and military to emotional frenzy; however, his Othello is so stiff at the outset of the play that it's tough to feel sympathetic toward him later in the piece, and it's also difficult to accept his rampaging mood swings as the play unfolds.
While Clare Yuille is convincing as Desdemona, the most impressive female performance comes during the second act, from Eilidh Fraser as Emilia. During the first act, it's difficult to decide whether Emilia has any knowledge of her husband Iago's machinations and she seems to be just a device by which Iago can get ahold of Desdemona's fatal hankerchief. But as act two begins we begin to see a more human side of Emilia, and understand better her relationship with Desdemona. There's a scene near the end of the play where Emilia reveals Iago's plot to the other Venetians; the moments when Fraser and Brennan are engaged with one another are among the most compelling of the evening.
Music is slightly uneven, with strange sounds in the middle of scenes distracting from the action on stage; on the other hand, Othello marks the first time I have seen song integrated convincingly into a Shakespeare play outside of productions at the Globe in London. Designer Francis O'Connor has also created a set made of up columns and shutters, opened and shut to adapt easily to each of the play's locations. One could quibble that it's more evocative of an excavated Egyptian tomb than either Venice or Cyprus, but this doesn't impede one's understanding of the play and it's nice to have a set that takes full advantage (and draws attention to) of the space available on the Lyceum stage.
On the other hand, Thompson's decision to set the play in the "early part of the twentieth century" has the unfortunate consequence of resulting in a feeling of "Shakespeare meets The Great Gatsby." Good drama is good drama, and Othello is a strong enough play, with its themes of jealousy and betrayal, that it's relevant to theatre-goers without this kind of strange visual "updating" - and in fact with such a general period as the "early" part of a century, there's not really any critique or insight that improves what's there already.
.
Reviewer: Rachel Lynn Brody