Othello
William Shakespeare
Swan, Stratford
(2004)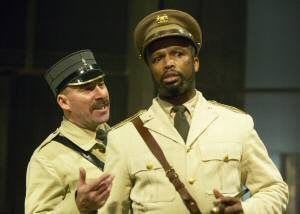 Gregory Doran is one of the finest directors of Shakespeare around. His productions of Much Ado About Nothing and The Taming of the Shrew have been two of the most enjoyable and remarkable I have seen over the last two years. His production of Othello is not in that league but it is still a thing of riches, wonderfully staged with a marvellous performance by Antony Sher.
It is a week since I saw the production and the fact that my head is still racing with thoughts about it is reflective of how much work in line with the RSC's newly adopted policy of longer rehearsals has gone into the show. It certainly grips from the first volley of drumbeats to the close of the final scene.
The setting has been updated to the 1940s or 50s. The splendid set by Stephen Brimson-Lewis, all corrugated metal and chain wire gate, allows the scene to switch effortlessly between Venice and Cyprus. He is assisted by terrific lighting by Tim Mitchell. The play opens amid storm. The set is black; the soldiers wear black, the politicians' dark grey, Othello alone wears white. When the scene switches to Cyprus, the set is backlit by a fierce yellow which modulates finally into night and storm again. In the deathbed scene a long lit muslim mosquito net drapes from ceiling to floor in which Desdemona is trapped, like an insect in a flytrap, while Othello paces and circles outside.
This production is notable for featuring two South African actors in the two leading male roles: Sher as Iago and the veteran and highly acclaimed Sello Maake ka-Ncube as Othello. Sher as Iago makes explicit the racism, affecting a simian roll when speaking of his superior. We see villagers in Arab type costume looking in through the camp gates and at one point, a group stage front is brusquely moved on by a soldier. This is a society riven by racism which has only allowed Othello, a black man, to enjoy respect because his skills, as a military leader, are sorely needed by the Venetians.
Ka-Ncube makes for an impressive Othello, grizzled at the temples, proud of and secure in his achievements, his voice rich and assured. By contrast Sher is compact, a furious ball of energy. His verse-speaking is simply superb and unmatched by other members of the company. He simply rides over the metre, bringing out every nuance, and extracting a lot of laughs along the way. But technically brilliant as his performance is, there are problems with it. He is terrific in the scenes with other characters but in the soliloquies he fails to reveal why Iago behaves as he does beyond the petty reasons of envy, jealously his character is given. There is no trace of the diabolic. Was this a deliberate decision to show, in Hannah Arendt's phrase, "the banality of evil"?
As the play builds problems also become apparent in ka-Ncube's performance which does not make us feel the tragedy of a great man unravelling. Good as he is, he is not the technically-accomplished actor Sher is and this shows in the sometimes incomprehensibility of his verse-speaking. Lisa Dillon is an attractive Desdemona but here too there is little real sense of a close relationship between her and Othello, though she rises magnificently in the final scene. Cassio, played by Justin Avoth, is the weakest link, while Amanda Harris as Emilia is excellent, shrewish, full of disappointment. There's a wonderful moment when Sher puts his arms around her neck and then his hands as if he would strangle her before remembering himself.
This production is clearly thought through, well-acted with a couple of superb performances, stylishly-staged. As other critics have pointed out, it invites comparison by its setting with Trevor Nunn's production which feature Ian McKellen as Iago. My feeling is is that, good as this production undoubtedly is, it doesn't reach the heights of that adaptation. Everything is teased out, laid bare, but somehow the real tragedy of the piece gets lost in the process. I'm also inclined to think that the decision to go for laughs works against the production. That said, this is still a marvellous production well worth the view.
This production has also been reviewed by Steve Orme.
Reviewer: Pete Wood