Othello
William Shakespeare
Crucible Theatre, Sheffield
(2011)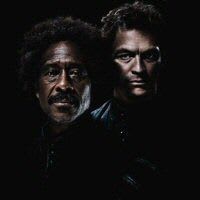 This Autumn the Crucible Theatre celebrates its 40th birthday. Othello, directed by Artistic Director Daniel Evans, opens the programme in the Main House, with Clarke Peters and Dominic West (familiar to viewers of The Wire) in the two main roles.
Othello presents a particular challenge for the lead actors and director. If Iago is too engaging (and it is so easy to be seduced into a pleasurable enjoyment of his 'motiveless malignity'), the audience's sympathy is directed away from Othello and the tragic potential of the play is lost. I have almost always emerged from a production of Othello with a sense of disappointment that I didn't really care about Othello's fate.
It is matter of balance, and in this production Iago has not been allowed to be a scene stealer. Consequently, we have been able to focus on Clarke Peters' beautiful, authoritative, emotionally charged performance as the tragic protagonist. Peters takes us on an intelligent and convincing emotional journey. In the early scenes, he is extraordinarily happy: secure in the sense of his own identity, respected and valued by the Venetian court and deeply in love with his young wife. As Iago's poison begins to bite, we watch the disintegration of this honest, trusting man into an out of control emotional wreck, and ultimately into a cold, ruthless, revenging murderer. But the essential dignity of the man is not lost.
Dominic West gives a generous performance as Iago. He resists the temptation to make the audience like him for his wit, his manipulative skill, his ruthless intelligence: and instead gives us a rough, coarse, unattractive soldier, convincingly resentful that he has been passed over for promotion, and totally focused on a disproportionate revenge. What I find most interesting about West's performance, is that, in general, apart from the soliloquies, what we see is what the other characters on stage see. So, there is no collusion with the audience, by a nuance of expression, the pointing of a line or the lifting of an eyebrow: all the things that would have drawn us in and skewed the tragedy. We know what a subtle, complex, charismatic actor West can be from his recent performance as Fred West in Appropriate Adult (ITV). It is to his credit that he subdues these qualities in the interest of the play as a whole.
There are excellent performances from the women in the cast. Lily James' Desdemona, youthful and fair skinned, provides an effective visual contrast to Peters and a reminder of the differences between them. Hers is a beautifully internalised performance, the hurt and confusion showing clearly, no more so than in the Willow Song, which she sings quietly to herself while Emilia undresses her for bed. Alexandra Gilbreath is a delightful Emilia, full of good humour and energy, earthy and realistic about marital relations, and like a roused tigress in her confrontation with Othello after the death of Desdemona. Leigh McDonald is a vulnerable Bianca, who shows how exploitable courtesans of the time could be.
The supporting cast is consistently strong, with notable performances from Gwilym Lee as Cassio, particularly effective in the drinking scene, and an interesting take on Roderigo by Brodie Ross, who presents him less as the traditional gull (Andrew Aguecheek, for example) but as a young man capable of realising that he is being exploited, and prepared to do something about it. It is also fitting that Colin George, founding Artistic Director of the Crucible Theatre, was invited back to play Brabantio.
An effective set by Morgan Large occupies the whole of the rear wall of the stage, suggesting solid Venetian architecture and a fortified town in Cyprus. A large 8 point Moroccan star or khatam is illuminated when Othello finally casts off his affiliation to Christianity and 'takes back on himself the insignia of Islam' (programme note). This prepares us for his self-slaughter, 'I took by the throat the circumcised dog / And smote him thus'. Loud sound and lighting effects (a storm, heavy rain) create atmosphere and a link with the elemental, as do choral (and other) music effects by composer Alex Baranowski.
This is a production well worth making the journey to Sheffield for.
"Othello" continues at the Crucible until 15 October.
Reviewer: Velda Harris