Oliver Twist
Charles Dickens, adapted by Deborah McAndrew
Octagon Theatre, Bolton
(2009)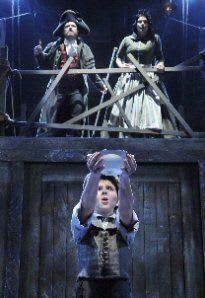 The Octagon in Bolton is currently fluctuating between Roald Dahl and Charles Dickens with its Christmas shows; this year it is the turn of Dickens with a new adaptation by former Coronation Street actress Deborah McAndrew directed by Josette Bushell-Mingo.
On a striking, angular set of dirty wood, metal and stone with lots of platforms and doorways at different levels, designed by Dawn Allsopp and lit beautifully by Richard G Jones, the story of the young orphan boy in the workhouse who dares to ask for more food and is cast out to begin his adventures on the streets of London is moved on rapidly, initially through short scenes, choral narration and songs. This keeps the pace going and summarises the core plot well, but it is nice later on when some more substantial scenes are allowed to develop.
The adaptation has been cleverly created with the difficulties of stage production in mind, as it is perfectly suited for an ensemble of adult actors playing multiple roles and doesn't require the child actors to do very much at all, even those playing Oliver and Dodger. It shrinks back a little from the harshness and violence of the original characters, which perhaps is necessary to turn it into a family Christmas entertainment, although it certainly doesn't turn them all into Lionel Bart's jolly cockneys. Conrad Nelson's music and songs combine traditional songs and carols with original music, partly played live by the actors, and is very effective in setting the atmosphere.
The production has a lot of great elements that could make a great show but somehow they don't quite integrate together and the whole piece lacks polish in so many areas. The songs are great and it is nice to hear real, unamplified voiced in a theatre for a change, but the instruments and voices often seem to be keeping different times. The children have been drilled carefully to be perfectly in time with their moves and lines, but they haven't been directed to put across the emotional content and just perform mechanically, plus their accents locate them around two hundred miles away from the adult characters. The stylisation of the violence is interesting theatrically but completely diffuses the shock, the harshness and the reality of these scenes and occasionally can be a little confusing, as can the way characters sometimes look in a different direction to the action they are supposed to be observing.
The adult characters provide a mixed bag of comic, almost parodic grotesques mixed with some more realistic characters. Andrew Price creates a grotesque for Mr Sowerberry the undertaker and also gives a beautifully subtle and natural performance as the benevolent Mr Brownlow who tries to save Oliver from the street thieves. Fiona Bruce gets the balance just right with a funny Widow Corney and a motherly Mrs Bedwin. Laura Cox goes for the extreme grotesque for Mrs Sowerberry, but for some reason plays the death of Old Sally for laughs.
Tim Frances is very good as Bill Sikes and Mr Bumble, but the two characters are similar enough to be easily confused occasionally when he just changes a jacket and comes back on again. Robert Pickavance pushes all of his characters – Fagin, Justice Fang and Mr Grinwig – into mannered, physical comic creations, which can get a little wearing in longer scenes. Esther Ruth Ellis gives an emotionally wrought performance as Nancy and Samantha Sutherland is the concerned Rose who wishes to save Nancy from the violence of the partner she loves.
There are many great ideas in this production – in fact all of the elements are there for a great show – but it is ultimately unsatisfying as it doesn't quite come together as well as it could, coming across as a promising start rather than a finished and polished piece of theatre.
Running to 23 January, 2010
Reviewer: David Chadderton