Our Boys
Jonathan Lewis
Duchess Theatre
–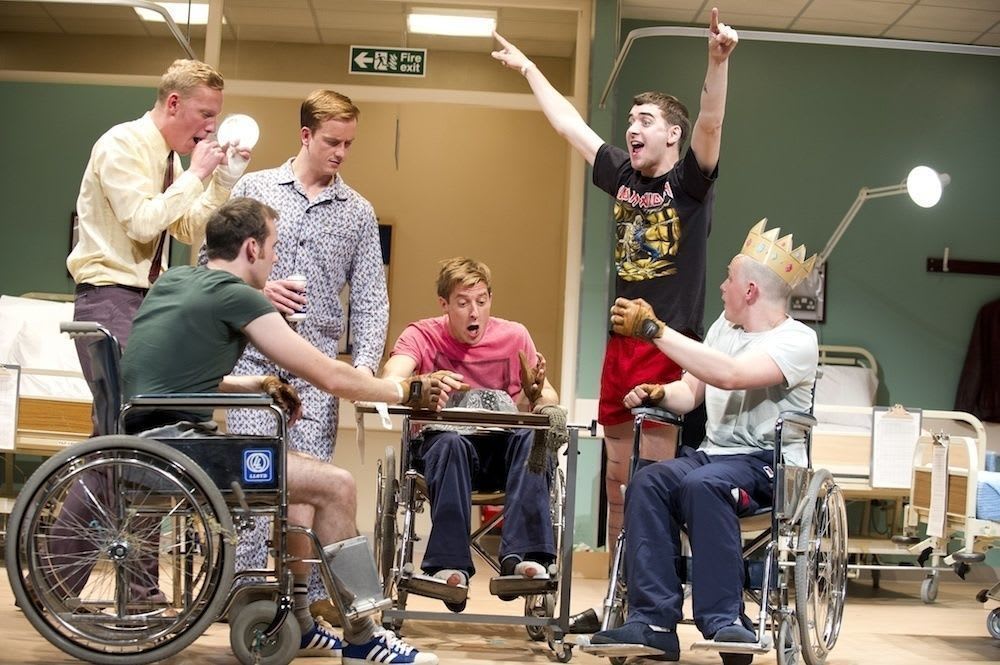 A detailed and intricate text supported by acting of the highest standard moves the audience from laughter to despair with the gentlest of touches, but just when Our Boys tries to deliver its knockout punch it falls ever so slightly short.
The problem is not the direction or the actors but the text. Set in Queen Elizabeth Military Hospital in 1984, Our Boys sees five squaddies banter and laugh with (and at) each other before the introduction of a Potential Officer changes the dynamic of the group, adding more than a little tension.
Lewis's writing is excellent at creating a world; one where six soldiers all with different injuries (ranging from the comic to the tragic) and different attitudes towards the military and how much they want to get back to it coexist. Where Our Boys falls down though is when it feels the need to push. The final dramatic moments of the piece try just a little too hard to show the audience the horrors and scars left by combat, when the play and the actors on the stage show those same scars with subtlety and nuanced performance throughout.
Director David Gridley's production may seem oddly timed, concerning itself with Northern Ireland, the Falklands and the Hyde Park bomb, when there are other plays that deal with the current wars this country is fighting. This, however, only serves to reinforce the point that whilst today's army is being wounded in Iraq and Afghanistan, the scars both physical and (more troubling in this play) mental to ex-soldiers from the past decades must still be difficult to live with.
Grindley's direction, combined with the design of Jonathan Fensom, Jason Taylor's lighting and Gregory Clarke's sound, create a mood that is at once familiar and yet strangely distant. The payphone and the Walkman are physical reminders that time has moved on, but there is something much harder to put a finger on that creates the feel of a hospital ward forgotten and lost in the past.
The cast, as previously mentioned, are all excellent, not always the case when so many actors famed for their television and film roles assemble on stage. Joe, given some brilliantly observed and suspiciously fragile machismo by Laurence Fox, is sort of the ringleader. He brings the beer whilst Mick (Matthew Lewis) and Parry (Arthur Darvill) provide many, but by no means all, of the comic moments in the piece. Cian Barry's Keith is light but always feels as though he could be much more of an outsider than he would like to project.
The best performances of the night however come from Lewis Reeves as Ian and Jolyon Coy as Potential Officer Menzies. Coy crackles with the tension of a man trying to fit in whilst all those around him mistrust him, whilst Reeves shows a man in such physical pain it is, at moments difficult to watch.
Our Boys crackles and fizzes along with humour and pathos, it is lively, watchable and at times subtly very moving. If only it knew it didn't need to signpost something with its final action that is all too clear to the audience throughout; our soldiers give everything for this country before returning to a world in which they struggle to fit, and a world which often doesn't do much to help.
Reviewer: Alisdair Hinton