Our Country's Good
Timberlake Wertenbaker
Nottingham Playhouse Theatre in co-production with Ramps on the Moon
Theatre Royal, Stratford East
–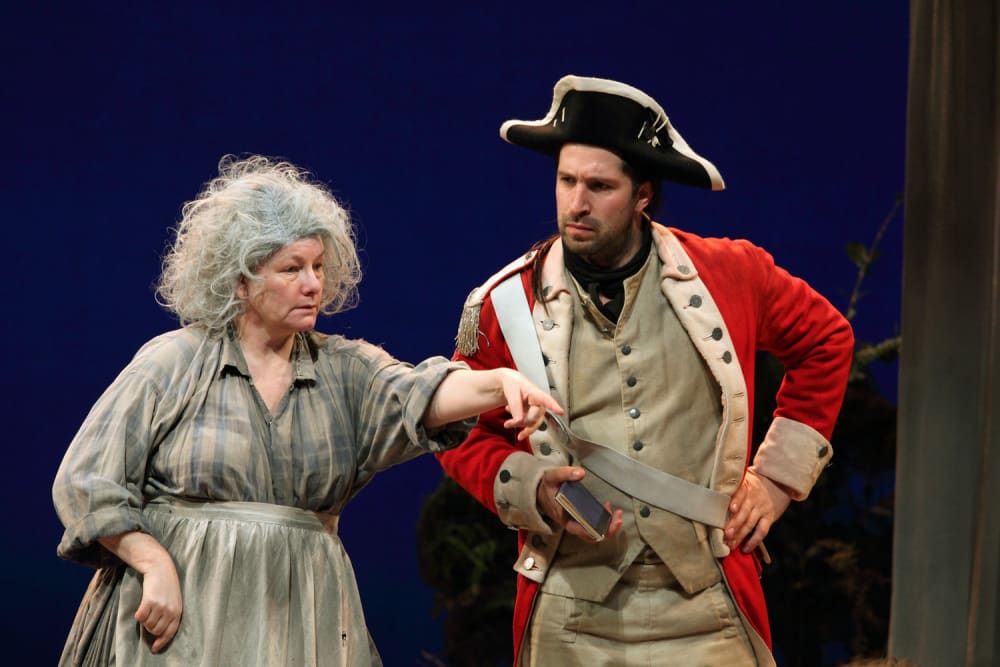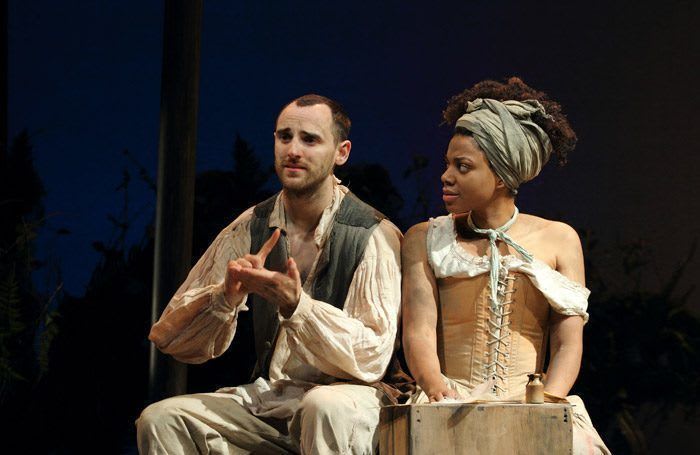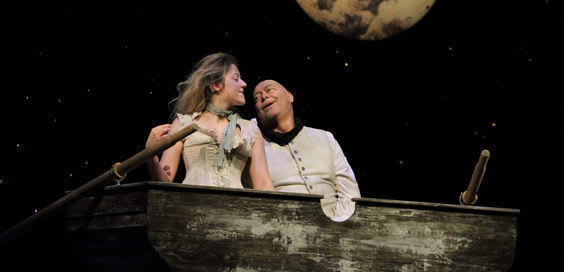 This revival of Timberlake Wertenbaker's play (based on Thomas Keneally's novel The Playmaker) is set in the Botany Bay penal colony in New South Wales among the convicts and their keepers who arrived with the First Fleet in 1788.
Many of the officers in charge see their role as inflicting punishment but the Governor-in-Chief, Captain Arthur Phillip (Kieron Jecchinis), is a humanitarian who sees the need for reform and education instead of brutality to prepare these criminals for life when their sentences are completed and they become settlers in this land on the far side of the world.
After long hours in building and farming work, labour most lack the skills for, there is little to occupy their limited leisure except search for sex. Captain Philip, an enthusiastic playgoer when in London, sees theatre as combining entertainment and education: the convicts could put on a play and 2nd Lieutenant Ralph Clark (Tim Pritchett) offers to stage it, choosing Farquhar's The Recruiting Officer.
Directed by Fiona Buffini, this is the third production of Ramps on the Moon, a consortium of six theatres, partnered by Graeae Theatre Company, in a programme in which they take it in turns to mount a touring production that serves both D/deaf and disabled audiences and offers opportunities to D/deaf and disabled artists using sign language, captions and audio description built into performance.
It is a production that beautifully integrates the different forms of narration so that they add to the experience. If an actor speaking is not themselves signing, there will always be someone on stage doing so and if the character is signing another is there to translated into speech, except for a few occasions where the signing itself so clearly conveys content. There are also simultaneous surtitles on side screens and sometimes projected on the set too, as on the sail in the first scene, set still aboard ship where the sound of an offstage flogging demonstrates the regime's vicious discipline.The officers don't do their own signing but a group of prisoners do it for them, as though overhearing what they are saying and sharing it.
In opposition to urbane Captain Phillips is Colin Connors's Major Ross, a voluble advocate of punishment in the arguments between them, while David Fishley's eloquent Captain Collins supports the more enlightened approach. Garry Robson is moving as Midshipman Brewer, in love with one of the convicts (signing Emily Rose Salter as Duckling Smith) and guilt ridden because he helped hang another man she was involved with. It is the relationship most deeply explored, though Lieutenant Clark becomes involved with pretty young Mary Brenham, who becomes his lead actress as Sylvia in The Recruiting Officer (Sapphire Joy making her character blossom as she gains confidence), and as they get closer he begins to sign.
There are strong performances from everyone with Alex Nowak as pickpocket Sideway who fancies himself as a flamboyant thespian, Fergus Rattigan as hangman 'Ketch' Freeman, Tom Dawze as Jewish convict Wisehammer in love with language, Gbemisola Ikumelo as illiterate Liz Morden refusing to speak in her own defence, Fifi Garfield as Dabby Bryant who dreams of going back to Devon and Caroline Parker as Meg Long who has been acting as a madam between soldiers and the convict women and seems ever-present as the lively translator of signing performers.
Will Lewis doubles as convict Arscott, who tries to escape, and hardliner Captain Tench, Caroline Parker also doubles as astrologer Lieutenant Dawes and Keiren Hamilton-Amos is Caesar, who pines for his native Madagascar, as well as Lieutenant Faddy, while Alex Novak also plays the settlement's padre.
Watching things from a distance is an Aboriginal Australian, curious at first and then more afraid of these strangers, given dignity by Milton Lopes who acts in both speech and sign and is also the play's audio describer. In contrast to the scarred flesh of those who have been flogged near to death, Neil Murray's design with a starry night sky and huge moon suggests a peaceful country but it is one in which these ill-equipped Europeans find survival challenging whilst the Aboriginal Australians are at one with the land.
Phillip and Clark may see theatre as "an expression of civilization", and we can see the effect that working on the play has on its performers, but what effect will "civilized" colonists have on the indigenous population? It is a play that makes a plea for greater humanity but it is never preachy.
It grabs the interest through its characters with an added energy gained from this integrated staging.
Our Country's Good will continue its tour to Sheffield Theatres (12 to 19 May) and Birmingham Repertory Theatre (23 May to 2 June).
Reviewer: Howard Loxton