Our Country's Good
Timberlake Wertenbaker
Out of Joint and Octagon Theatre Bolton
West Yorkshire Playhouse, Leeds
–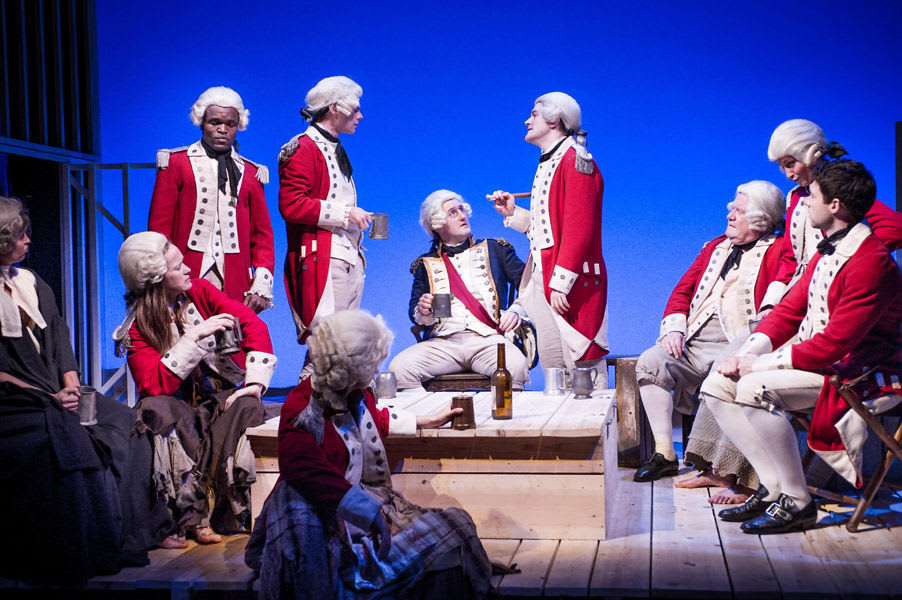 Wertenbaker based Our Country's Good on Thomas Keneally's novel The Playmaker, itself based on a late eighteenth century production of George Farquhar's The Recruiting Officer featuring convict settlers in Australia.
Wertenbaker starts with an offstage flogging at sea and ends with the anxieties, excitement, tensions and general turbulent joy to be found behind the scenes as a new production finds its wings and starts to fly. Her text is immaculate and liberally scattered with throw-away psychological insights and vertiginous emotional depth.
It tells a tale of cultural, political and intellectual conflict. But mainly it speaks of indomitable human spirit and both the intricate satisfactions and redemptive power of theatre. Here we have a play about a play within a play and, most powerfully, a play about itself. Here also we have the classic components of the best theatre: laughter, tears, conflict and delightful, accessible language.
A text to play with then. And a time and company to do so. Instigated and directed by Max Stafford-Clark a quarter of a century ago, when Thatcher was butchering the arts and stuffing the prisons, Our Country's Good is now resurgent. And why not? The prison population has increased by over 50% and the Government has dropped the butcher's knife in favour of the cleaver.
Our illustrious and superb Out of Joint touring company lost £100,000 from its grant last year—banker's pin-money, theatre's life blood. This disgraceful act has, at least, added fire to a beautiful production.
Beautiful not only because of the excellence of acting, lighting, sound and wardrobe, but also because nobody, but nobody, paints pictures on stage like Stafford Clark. Scenes often open with breathtakingly perfect composition. Military scarlet against midnight blue. A stroll round the National Gallery... to the cacophony of Australian birdsong.
This sensory impact, and Wertenberger's provocative words (e.g. 'I loved him and now he'll never know it. I thought that if he knew he would become cruel'—a play in and of itself) often had me wanting to stop the action and think. But this is live theatre, it presses forward like life itself. And life at its most intense.
The cast of ten are utterly believable, and that in a play which has its cast moving backdrops and doubling (the women convicts simply donning red jackets and wigs). I would like to describe the perfection of some moments and performances—but how to choose. Okay, just one, Matthew Needham as pick-pocket Robert Sideway giving demonstrations of the actor's art... or... or...
After West Yorkshire Playhouse it moves to St James Theatre London (30 January to 9 March). See it! And, by the way, buy a programme. It is well written, well illustrated, informative and carries no ads for eating houses, jewellers or second rate private schools.
Reviewer: Ray Brown