Our Country's Good
Timberlake Wertenbaker
Nottingham Playhouse Theatre with Ramps on the Moon
Courtyard Theatre, West Yorkshire Playhouse
–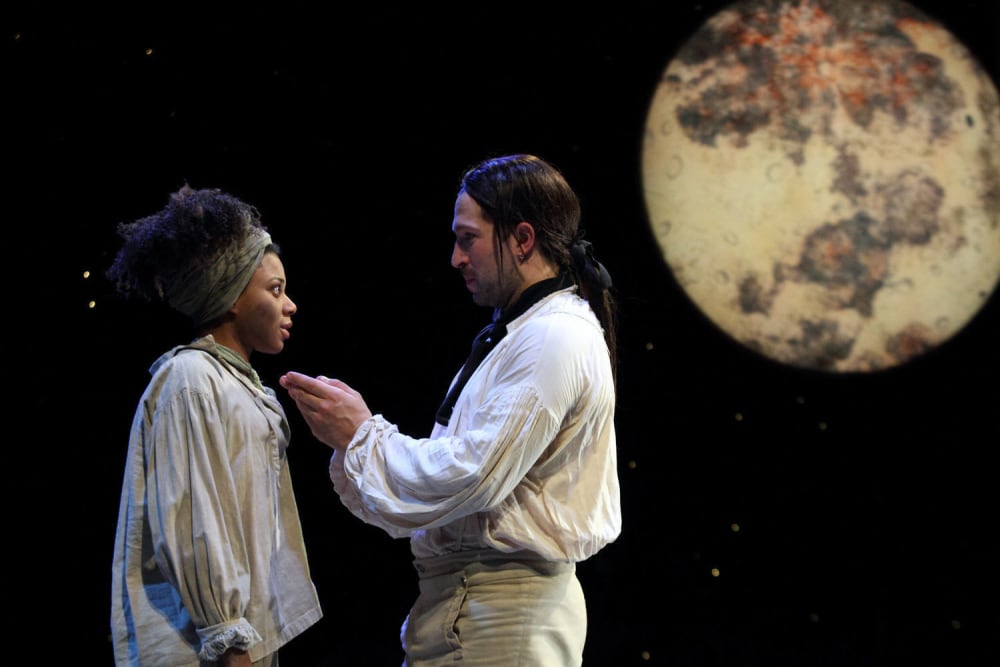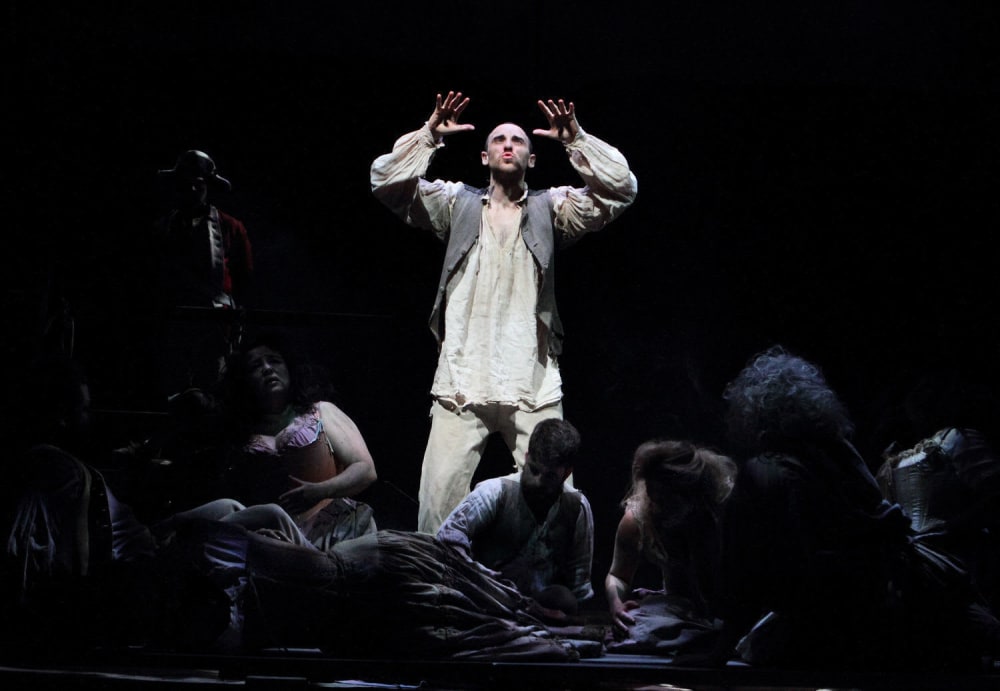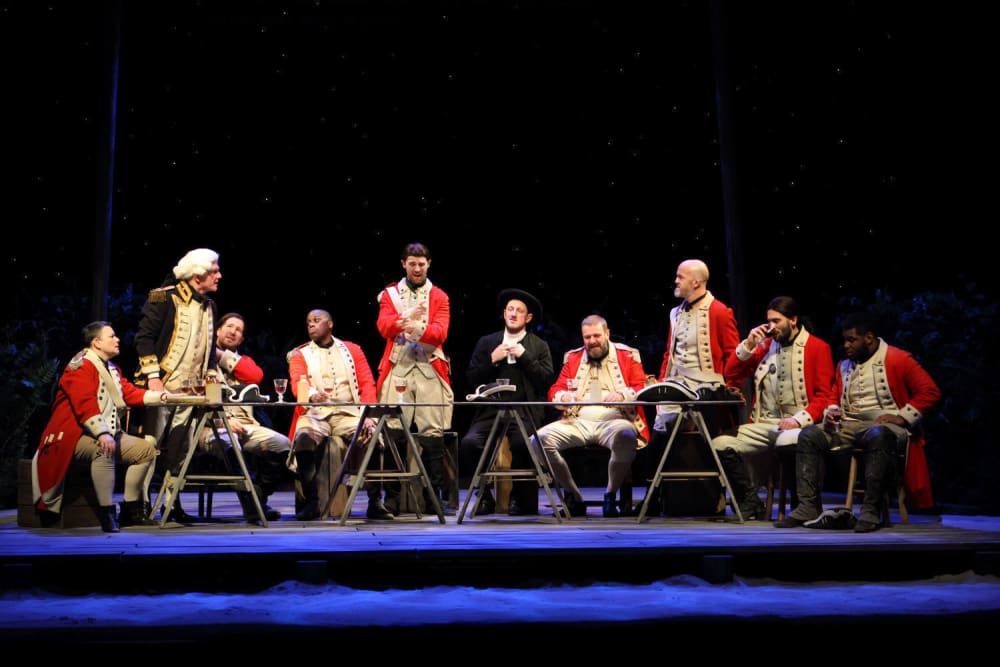 Ramps on the Moon is a six-year, six-theatre collaboration aimed at bringing about changed attitudes to inclusivity and accessibility for D/deaf and disabled individuals. With support from partner company Graeae, each of the six theatres involved in the network is taking its turn to create a production which integrates sign language, audio description and captioning and which draws on casts including D/deaf and disabled performers.
For the Nottingham Playhouse's contribution to the project, director Fiona Buffini presents Timberlake Wertenbaker's well-known and oft-studied Our Country's Good, which premièred at the Royal Court in 1988. The Ramps on the Moon production has now embarked on a tour of the partner venues, and well worth a trip when it comes near you.
The play looks at the lives of the early English settlers in the Australian penal colony in Sydney around 1789, and the efforts of Second Lieutenant Ralph Clark (Tim Pritchett) to provide diversion and inspiration for the convicts. This he aims to do by directing a group of them in a production of George Farquhar's Restoration Comedy The Recruiting Officer.
As the heat and aridity of this unfamiliar climate lead to fractious tempers and dwindling resources, Clark attempts to marshal his assortment of volunteer performers (some more willing than others), dividing opinion among the officers and stirring up animosity between some of their prisoners.
Buffini's production opens with a stirring and atmospheric montage of writhing movement and monologue, taking the already impressionistic mood of the text and amplifying it to launch us into this well-conceived and at times moving show. As BSL signing merges into the seething physicality of the beaten, hungry convicts on their voyage out to the colony, a mood and modus operandi is set.
It's at times almost overwhelming to the senses, as text is projected (sometimes, cleverly, onto the impressive set itself), cast members take over from each other in signing others' (and their own) dialogue, and the large ensemble moves swiftly and fluidly round the stage. But the clarity of storytelling and the smoothness and coherence with which BSL is incorporated into the world of the play is unfailing: this is an imaginative, inclusive imagining of a modern classic.
In this production, the officers tend not to sign their own lines, so early on a convention is established whereby a small group of convicts who are BSL users eavesdrop and excitedly translate. Not only does this make the performance accessible to those unable to hear, but it also adds life and texture to the world of the camp.
At times, too, the parallel conversations possible through the use of signing lends added meaning and subtext, such as when Emily Rose Salter's convict Duckling Smith goes rowing with her captor/lover Harry Brewer (Garry Robson). I cannot follow BSL myself but the feeling and meaning conveyed by Salter was unmistakable in intensity. She gives a passionate and, later, very touching performance.
This is, then, a very strong ensemble with, at its heart, some striking performances. Pritchett's Ralph Clark is the principled and gentle heart of the officer class, with Major Robbie Ross (Colin Connor) the antagonist, stirring up anti-theatrical feeling in the camp.
Sapphire Joy plays Mary Brenham, the young prisoner whom Clark plucks for the leading role of Silvia, and in whom he takes more than a theatrical interest. She is a calmly powerful stage presence, moving convincingly from the shy youngster to a cockier, more assured individual.
Tom Dawze gives a beautiful interpretation of his role as John Wisehammer. His simple conviction and quiet, intense intelligence make for one of the most moving performances of a strong show. And Fifi Garfield and Alex Nowak shine in more comic roles. Nowak in particular is delightfully self-involved as the pickpocket-turned-Garrick-wannabe Robert Sideway.
Though the production runs to nearly three hours including interval, it is always engrossing, and the time flew by. The set (Neil Murray), lighting (Mark Jonathan) and sound (Jon Nicholls) combine to create a multi-layered depiction of this strange new desert land. The design as a whole evokes heat and open skies through unfussy and extremely effective means.
Drifting through the play in strange isolation is the shamanic figure of the Aboriginal Australian, played by Milton Lopes. He serves as a reminder that the British—whether convict or captor—were interlopers on this land: "a dream that has lost its way". Having Lopes double as the audio describer for the show is a masterstroke, lending further uncanniness to this murmuring ghost at the feast, while foregrounding the imaginative ways in which companies and directors can ensure that a whole range of communities might be welcomed into their performances.
For this reason, and many others, Our Country's Good is an apt choice of play, and here it's been given a captivating production.
Reviewer: Mark Smith