Our Glass House
Researched and created by Evie Manning and Rhiannon White, text by Aisha Zia and the company
Common Wealth Theatre Company
Camden People's Theatre at a location in NW1
–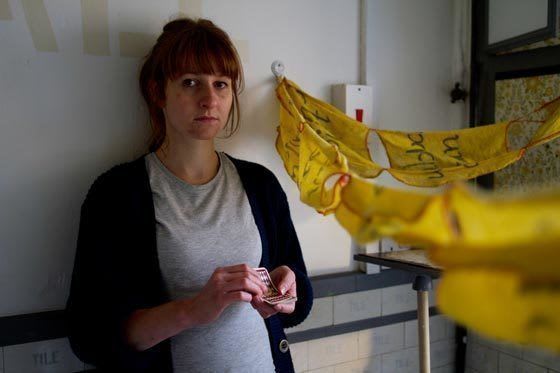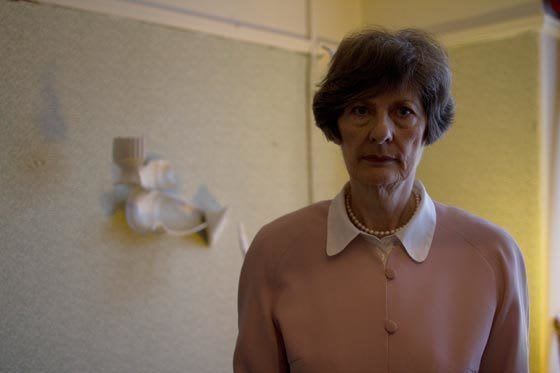 Based on research and verbatim interviews with people who have been subjected to domestic abuse, this site-specific work simultaneously presents six different situations through the rooms of an ordinary house surreally adapted to echo their predicaments.
Abuse is not limited by class, culture or gender, nor is it always physical, and in this cross-section of society it is often about control. Each person has their own story, usually bottled up inside them from fear, a sense of shame or to protect a loved one, but now revealed in private monologues that an eavesdropping audience can overhear.
There is pregnant Nicola (Liz Simmons) struggling to be the perfect housewife of her husband's expectations, the chores she has yet to do written out on an unravelling string of dusters she stretches across the kitchen. There is posh pensioner Helen (Cynthia Whelan), Cambridge graduate, who gave up her career to fit in with her husband's insistence on conformity, caught in a straitjacket of proprieties, while he destroyed her books and ridiculed her music—that's her chopped-up piano stuck there on the ceiling.
Teenage Kayleigh (Cerise Reid), keen on sex and fancying herself as a lap dancer, lives with her ultra-jealous boyfriend. Punjabi-speaking Sufiya (Balvinder Sopal) from Pakistan is trying to be a good wife in this strange western world.
It's not just women who are victims. Dan (Dave Hart), who has two children and a loved but violent girlfriend, tells himself that her behaviour just shows how much she needs him. Then there is Charley (Harley Kierans); he's only a nipper, tucking himself into corners with his crayons, his broken toy car or his books on dinosaurs to keep out of his violent father's way.
These are six engrossing and beautifully sustained performances—and it is not easy acting to an audience that crowds into your space, stays a moment or two and then moves on. Whether remembering happy days waltzing years ago, being near-drowned in a tub of water, or just worried about what happens when he or she comes home, they make you believe yet at the same time match the strict technical requirements of this production which cleverly emphasises that, though each story may be different, there are elements that they all share.
In one sequence, all gather around a kitchen table—the table would be in a different house for each of them, they don't know the others are there as they go through the same activities. At other points, as you move from room to room, you realise that whatever they are saying they are all performing the same action, whether sorting through a pack of cards, banging something to make a noise or singing a snatch of the same song.
Music and a sound score created and played live by Wojtek Rusin play an important part in director Evie Manning's production. Heard right through the house, it binds these stories together, creates atmospheres and is a useful way of cueing action. The set design also makes a major contribution. Half-naturalistic, half-surreal, clocks with artificial faces, a glade of tree trunks rising from bare floorboards and information wittily supplied in unexpected places in writing or through objects.
It would be possible to stick with one character and discover more about their story, but freely wandering from room to room and getting a succession of different glimpses into these six lives, while providing less narrative, gives a bigger picture. The intention here is to increase understanding of what domestic abuse can mean, why people stay and why they leave, but it is also extremely moving and an accomplished piece of theatre.
Who could not be touched as, late in the show, young Charlie looks to the future when he is older and can take his mother to a home, "where the walls don't cry and the glass doesn't break".
Reviewer: Howard Loxton