Our Gracie
Philip Goulding
New Vic and Oldham Coliseum
New Vic Theatre, Newcastle-under-Lyme
–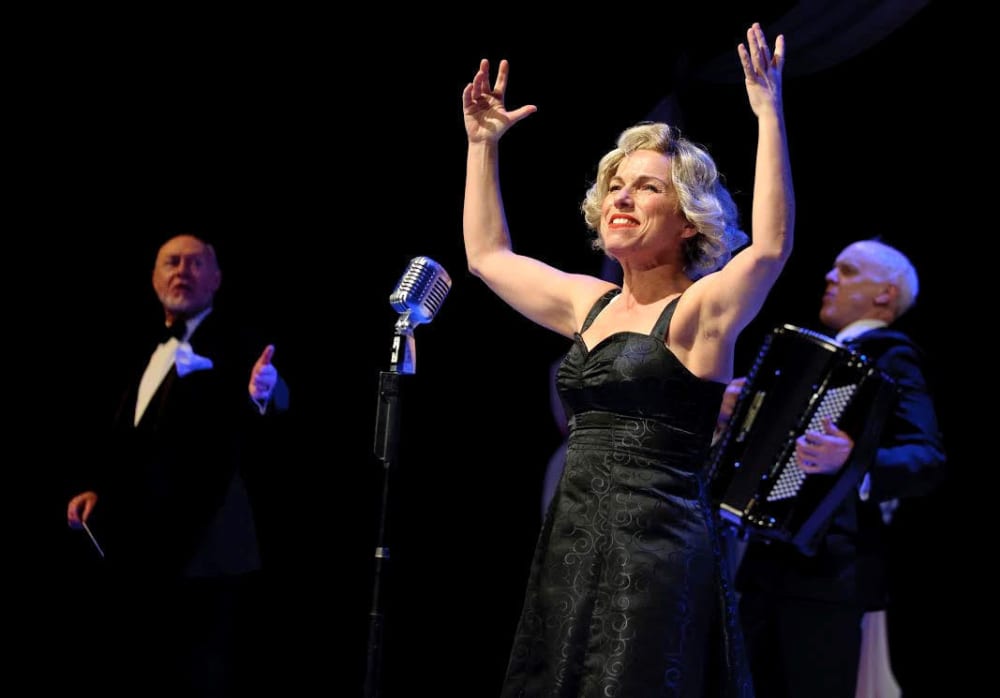 Gracie Fields was a singer, actress, comedienne and film star. Seven months before her death she became a dame to add to her CBE for services to entertainment. She was honoured as an Officer of the Venerable Order of St John for her charity work, given the freedom of her home town Rochdale and even had a train named after her.
She is one the few people who can authentically be described as a "national treasure". Some fans even claimed the way she entertained our troops during World War II was one of the reasons why we were able to defeat Adolf Hitler.
Few people seemed to have a bad word for her. That appears to be the premise for Philip Goulding's new play Our Gracie which paints the woman, born Grace Stansfield above her grandmother's fish and chip shop, as someone who could never put a foot wrong.
The problem with Kevin Shaw's production is that it doesn't know if it's a play or a musical. Had the subject been a more recent celebrity or group, there would have been criticism that it was a "jukebox musical"—merely a vehicle to regurgitate the artist's back catalogue with little plot to hold the songs together.
Our Gracie includes more than 20 tunes designed to show Fields's vocal range, presence and affability. It's a feel-good show that is a total delight for people of a certain age, particularly those who remember Gracie who died in 1979 aged 81.
Goulding presents Gracie as a woman who continually has a smile on her face, always looks on the bright side and sees cervical cancer as merely an inconvenience to be dealt with pragmatically.
Life events that could show her in a bad light are left out. She divorced her first husband because of his adultery yet there isn't even a mention of this.
On the positive side, diminutive Sue Devaney gives a towering performance as Gracie. She was also brought up in Rochdale and captures Gracie's northern charm and bonhomie as well as having an impressive singing voice.
She holds the production together magnificently, chatting with the audience and inviting them to "Take Me to Your Heart Again" which they clearly do.
The rest of the ensemble comprises Liz Carney, Fine Time Fontayne, Matthew Ganley, Jonathan Markwood, Ben Stock and David Westbrook, all accomplished musicians but also good actors.
My favourites are Fine Time Fontayne, putting a different slant on a number of roles including Gracie's first husband Archie Pitt who sings "Does This Shop Stock Shot Socks with Spots?" and surgeon Tunnilclefft-Bagslops and Liz Carney who gives a strong rendition of an Edith Piaf song as well as turning up as Vivien Leigh.
There's the merest hint that when Gracie was married to film director Monty Banks and living on the isle of Capri she might have lost the down-to-earth quality that was part of her attraction. But then Our Gracie gets back to showing how the entertainer had the common touch; the show will no doubt get the approval of the Dame Gracie Fields Appreciation Society.
There could be an opening for someone to come up with a play cataloguing the drama that must have followed Gracie during her lifetime. Our Gracie is superbly performed and well staged but it left me wondering about the other facets of her character that Philip Goulding overlooks in presenting such a positive portrayal of the first lady of the British music hall stage.
Reviewer: Steve Orme