Our House NW1 - The Madness Musical
Book by Tim Firth, music and lyrics by Madness
Guildford School of Acting and Yvonne Arnaud Theatre, Guildford
Yvonne Arnaud Theatre, Guildford
–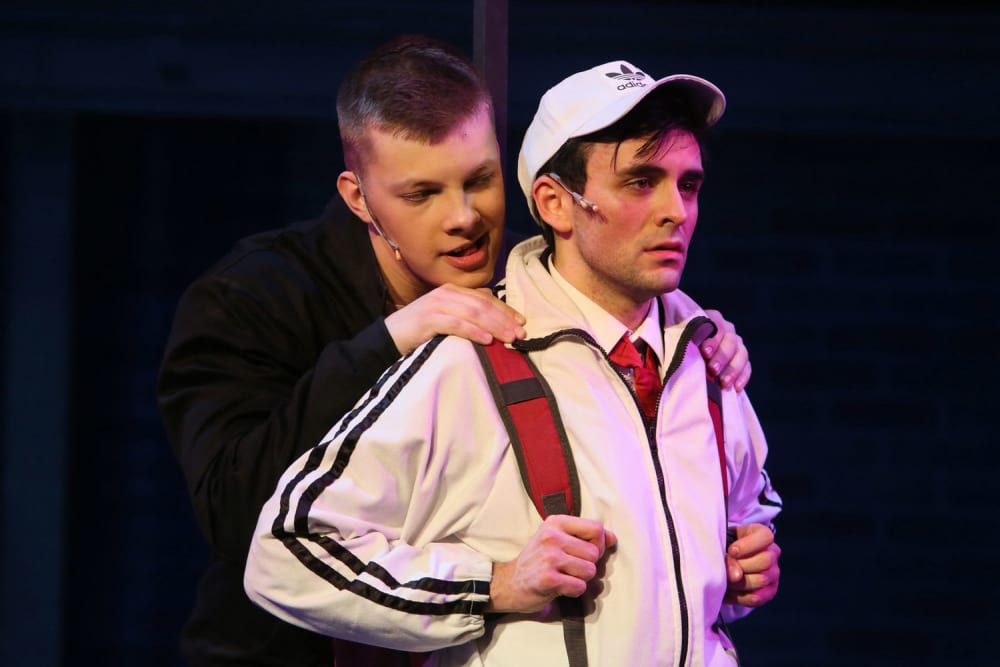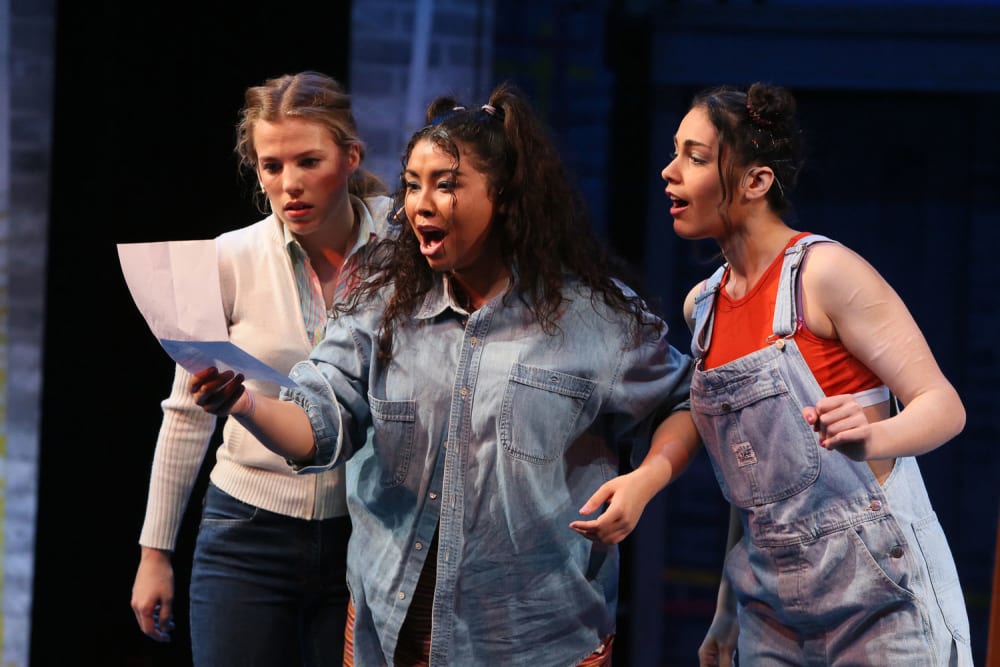 In 2002, two recent graduates of the Guildford School of Acting, Michael Jibson and Julia Gay, took on the lead roles in this show, opening at the Cambridge theatre in the West End and winning the Olivier award for Best New Musical.
Now, the almost-graduates of the GSA have taken on the challenge of a complicated show which, according to the programme notes, demands over 200 props, nearly 200 costumes and 100 cues for lighting and stage management, and they have given us a show which, in my opinion, could not be bettered.
The music, of course, is the main theme. There are some great songs, and it is their lyrics which more or less provide the story which Tim Firth (admittedly a Madness fan himself) has woven together in an interpretation which has heart, teenage angst, love and longing at its core with a side dish of bereavement and abandonment, all with the backdrop of ruthless property tycoons breaking up a community for their own gain.
It is a fascinating story, some parts of which everyone can relate to at some point in their lives when faced with the magnitude of 'a choice' and the consequences which could follow.
Teenage Joe gets himself into a sticky situation and has to make an instant decision—whether to admit guilt and take the consequences, or to run away selfishly abandoning others. Throughout the show we follow his progress with both choices and I have to admit feeling a little confused by the interval. It seems that taking the selfish decision is the winning one as he goes from success to success, his career blossoming as he gains prosperity.
Meanwhile, his other choice takes him to a young offenders institution, something which blights his chances of gaining employment except in the most menial of tasks. A failure? Maybe not.
Aran MacRae copes superbly with the demanding double role of Joe, with love interest provided by an equally adept Jessica Croll, and as we watch them and their friends grow up it seems they are all very real. Not at all glamorised but people living in the real world of Camden and bringing with them the enthusiasm, energy and joyousness of youth with brash confidence.
The choreography is impressively intricate following the versatility of the music with its many changing styles, sometimes totally crazy ("Baggy Trousers"), sometimes lyrical ("Wings of a Dove"), but always perfectly executed, and a joy to watch. Scenery and props are whisked in and out so speedily it's like a constantly changing cinema screen; talking of which I loved "Driving in My Car"—a visual and comical delight.
I am also speechless with admiration for the performers who provide a slick, fast-moving, exceptionally spirited production, not only from start to finish but amazingly even after the curtain call they are still on full throttle treating us to a synopsis of the events with the same energy and enthusiasm they showed throughout.
Tessa Kadler is a caring mother (looking younger than her son), Adam Pettit brings great stage presence and a quiet authority to the spirit of Joe's dead father, a quiet authoritative figure among the frenzied activity.
Alex Ryland-Jones is a dangerously villainous Reecey, while Courtney Bowman, Marina Lawrence-Mahrra, Lewis McBean, Stephen Patrick and Taite Elliott Drew bring brash Camden confidence to their roles, with accents to match.
I loved every minute of it—and so, it seems, did everyone else.
Reviewer: Sheila Connor