Our Man in Havana
Adapted by Clive Francis from the novel by Graham Greene
Queen's Theatre, Hornchurch
–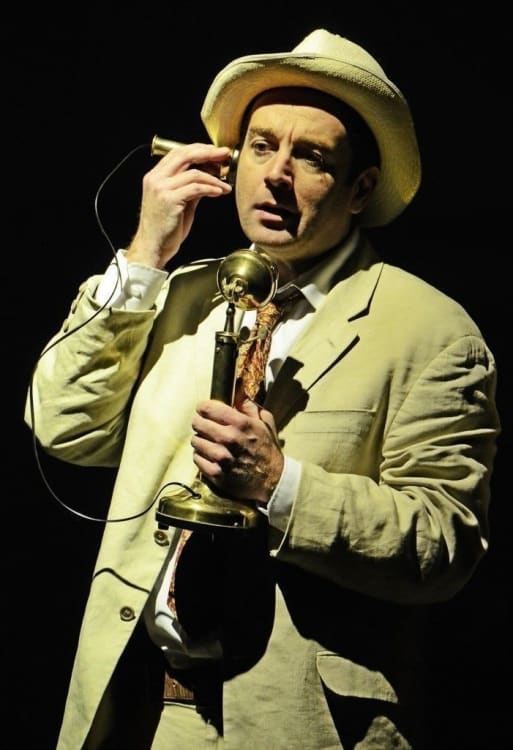 The Queen's 2014 season kicks off with Clive Francis's adaption of Graham Greene's satirical spy novel Our Man in Havana.
Drawing on his experiences of working with the MI6, Greene's story follows a British vacuum salesman, Wormold, living in pre-Missile Crisis Cuba who is recruited by the Secret Service to report back to Blighty of any potential shady happenings.
Of course, Wormold is oblivious to the intricacies of espionage. However the potential financial benefits are all too attractive and so he creates a network of imaginary people to keep his bosses happy whilst building his earnings.
The cast of four work harmoniously together, whether they're juggling their various characters or manoeuvring Norman Coates's clever (if sometimes loud) sliding set.
Sean Needham is more than competent in his turn as hapless Wormold with Sam Pay and Alison Thea-Skot aptly providing support. A special mention to Sam Kordbacheh is also needed. Playing 12 different characters really allows his abilities to shine through, whether that's as a Southern American banker, the Reverend Mother or faithful sidekick Lopez. Kordbacheh is a constant source of humour.
Even though Bob Carlton's production is fast-paced, well designed and well acted, it's not enough to hide one major issue—Greene's story just isn't very good. It feels rather dated and ultimately lacks the humour needed to keep interest going. The action is dragged out yet the potentially funny moments seem short and abrupt. Furthermore, when we finally get there, the climax is rushed resulting in too many loose ends.
Our Man in Havana will perhaps appeal to those who enjoyed the Queens' previous Greene production Travels with my Aunt. However, for me, it's a shame that the cast and creative team are hindered by such a sub-par comedy.
Reviewer: Sean Brooks