Our Man in Havana
Clive Francis, based on the novel by Graham Greene
Creative Cow in association with Malvern Theatres and Buxton Opera House
York Theatre Royal
–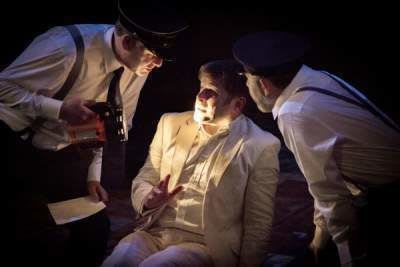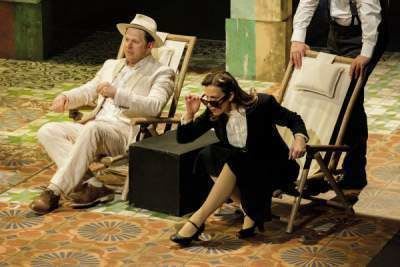 What springs to mind when you hear the name Graham Greene? For me, this much-loved English author will always be associated with cherub-faced psychopaths (Brighton Rock), police chases in Viennese sewers (The Third Man) and heavy dollops of Catholic guilt (take your pick!) There is, however, a much lighter—even farcical—side to Greene's oeuvre.
Our Man in Havana (1958) draws upon Greene's experience of working for MI6 during WWII. Whilst stationed in the Iberian Peninsula, the novelist learned—to his utter amazement—that many of the officers would send home imaginary reports based on information received from fictitious agents. Their aim: to make a fortune by cashing in their contacts' wages and claiming for spurious expenses.
Despite being set in 1958, the year before Che Guevara and Fidel Castro led a revolution in Cuba, Our Man in Havana is a decidedly larky and light-hearted affair. Our hero, James Wormold (Charles Davies), is a down-on-his-luck vacuum cleaner salesman, struggling to meet the expectations of his demanding teenage daughter, Milly (Isla Carter).
Wormold's life takes a bizarre turn when he's recruited by Hawthorne (James Dinmore), a dapper British Intelligence agent, to serve as the agency's "Man in Havana". Clueless about how to set up a network of spies, our hero hits upon the ruse of inventing a group of weird and wonderful informants and pocketing their earnings. However, things start to unravel for Wormold when British Intelligence sends him a no-nonsense secretary, Beatrice (Isla Carter), forcing him to produce some spies, pronto.
Like Patrick Barlow's adaptation of The 39 Steps (2005)—which played in the West End for 9 years and still tours regularly—the chief pleasure of watching Our Man in Havana comes from watching an ensemble of four actors (three men and one woman) tackle a knotty thriller plot by playing a variety of different characters. Fortunately, the cast are terrific.
Charles Davies makes for a likeable leading man, neatly capturing the character's ordinariness, but most of the evening's big laughs are scored by the other three performers—Isla Carter, James Dinsmore and Michael Onslow—who get to play a rogue's gallery of Catholic nuns, corrupt officials and prostitutes. Crucially, each of these roles is clearly differentiated and performed with gusto.
I was not familiar with Greene's novel before watching Our Man in Havana, but Clive Francis has done a fine job of navigating the book's elaborate plot. The storytelling is clear and purposeful (for the most part), and the production is filled with amusing dialogue. The few instances of inventive physical comedy—including a daring escape through a toilet window—put me in mind of The 39 Steps yet again, although I feel this aspect of the production could have been pushed further.
Amanda Knott's direction is slick and well-paced, and Nina Raines's set design—with its archways and palm trees—subtly evokes 1950s Cuba.
Our Man in Havana is not first-rate Graham Greene, and this stage adaptation doesn't have the ingenuity of The 39 Steps. Nevertheless, Our Man Havana is a charming, jovial and amusing comedy-thriller, which offers audiences an evening of old-fashioned entertainment.
Reviewer: James Ballands