Our Share of Tomorrow
Dan Sherer
Real Circumstances in association with Mercury Theatre Colchester and the Lakeside Theatre, University of Essex
Theatre 503
–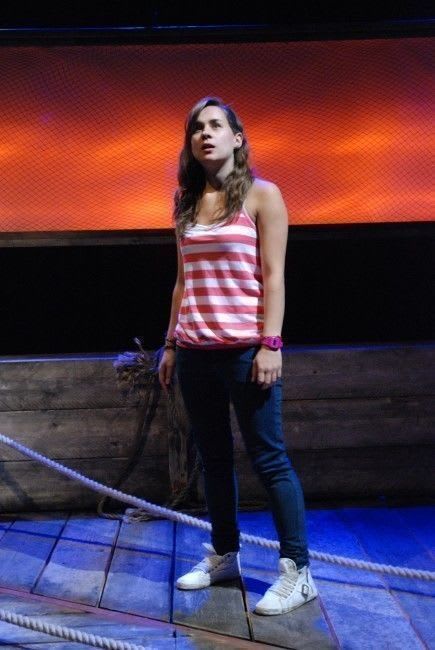 Set on a ghostly quayside, Our Share of Tomorrow is an intense piece of theatre concentrating on the developing relationships of three characters.
When Cleo's mother Grace dies, Cleo (Tamsin Joanna Kennard) decides that she wants to find her father. She enlists the help of deliveryman (and ex-serviceman) Jon Broughton (David Tarkenter) and together they travel to the remote quay where Tom (Jot Davies) is still waiting for his lover to return.
The emotional themes of lost love and missed opportunities are pitted against the realist view that life is not perfect and the characters clash in their outlooks and confused motives. The effect that fifteen-year-old Cleo has on both the men is marked as they struggle with how to treat this conflicted young woman.
Whilst all three performers are clearly committed to the piece and there are some beautifully crafted sections of script, the emotional turmoil of the characters is so relentless that we are not given time to warm to them or their plight. There is little variation in tone and the stark staging reinforces the pervading emptiness of these characters.
The melancholy overtones are perfectly complimented, however, by James Cotterill's wooden set design that incorporates ropes to enable the creation of a boat and also features a mesh upon the back wall that allows Michael Nabarro's lighting to suggest water, clouds and sunset.
There are some touching moments in this production and a particularly strong monologue from David Tarkenter, but overall it feels disjointed with rushed delivery but slow pace. The ingredients are present for a haunting evening of theatre, but unfortunately that emotional connection with the characters is absent.
Reviewer: Amy Yorston