Our Town
Thornton Wilder
Royal Exchange Theatre
Royal Exchange Theatre
–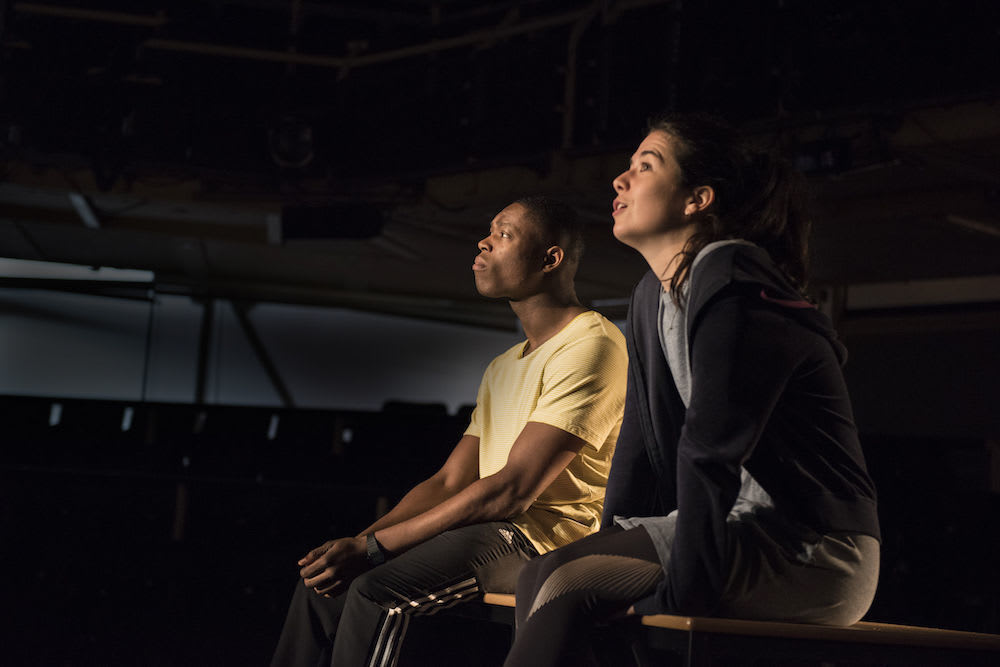 Thornton Wilder was doing "metatheatre" nearly three decades before the term was first coined and many more years before the prefix "meta-" was being added to just about anything. This 1938 play about the gentle New Hampshire suburb of Grovers Corners at the turn of the twentieth century has become an influential American classic.
The character of the Stage Manager (Youssef Kerkour) tells us where we really are (the Royal Exchange Theatre in Manchester in 2017) before taking us back to 1901 and the east of America to talk about the town and its inhabitants, bringing in experts to explain certain aspects of life in the town and showing brief scenes between characters—before kicking you in the guts with a reminder that these young, vibrant people are already dead.
During act I, we are introduced to two young people, Emily (Norah Lopez Holden, Best Newcomer at this year's Manchester Theatre Awards) and George (Patrick Elue), still at school at this stage but destined to become the main continuous storyline running through the play.
Act II focusses on their wedding, with a flashback led by the Stage Manager to show the moment they actually became destined for one another, then act III shows Emily joining the dead of the town, all people we have already met, looking down on the living with pity but still craving their company.
Sarah Frankcom's modern-dress production takes the metatheatricality inherent in the text and uses it as an excuse to abandon any pretence at a realistic portrayal, which is successful in some areas and less so in others. Wilder gives us the Stage Manager telling us that here is some scenery for those who think they need it; the production has him dumping a couple of Co Op bags of flowers on the stage, which works well and gets a laugh.
Act I is set at non-matching canteen tables scattered around the in-the-round space, the seats shared between cast members and some of the audience, with the house lights remaining up for much of the time. The sense of the characters coming from amongst us works, but the added distraction and cluttered stage is distracting in a scene that is already quite fragmented. I often found my attention wandering—but perhaps that's just me.
For act II, the audience on the stage is moved into a traverse arrangement (two lines of audience facing one another) with the action in the space between, which makes it easier to focus on the characters and the story. Act III, after the interval, puts the audience and cast around the perimeter of the stage, the dead characters shoeless and spotlit, the living characters moving in double-time and unaware of being observed. This ends with an impressive coup de théâtre as Emily's memory of a childhood birthday floats in on a cloud—before reminding her that memories of happy events aren't always happy to remember.
All actors use their own accents, but there is something about Kerkour's laid-back American drawl that draws you in and makes the text make so much more sense than the modern English accents of most of the rest of the cast, especially when a word that is clearly New Hampshire dialect is said in modern Mancunian, which sounds odd—imagine Under Milk Wood with the original Welsh words but not the Welsh accents. This is an idea that clearly fits with the concept of the play, but in my opinion more is lost than is gained.
The Royal Exchange has put on stage a company of 15 adult actors plus a young company of 9 sharing 3 roles and a "company of elders" as an adult chorus, which is impressive. It's a great ensemble, but some performances stand out. Apart from Kerkour, Holden is once more outstanding as Emily, with some wonderful moments from Kelly Hotten as her mother. Elue is also quite sweet as George, sharing a lovely scene of awkwardness and advice with his father-in-law-to-be, played by Graeme Hawley.
There's also some great work from Carla Henry as George's mother and Tarek Merchant as the long-suffering—and alcoholic—choirmaster.
This play is held in great affection in the American theatre and was very influential—it makes me think of Tom's opening speech in The Glass Menagerie only a few years later—but it still has a lot to say to us now, so it's great to get a rare chance to see its gentle but wise philosophy on a leading British stage.
Reviewer: David Chadderton