Our Friends in the North
Peter Flannery
Northern Stage, Newcastle
(2007)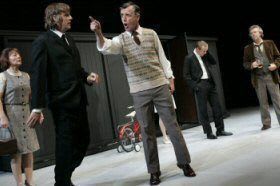 When I interviewed writer Peter Flannery in 2005, he said, "The problem with epic plays on stage is that they never get done again. Friends has never returned to the stage." Now Northern Stage's director Erica Whyman has corrected that and Our Friends in the North has returned to the stage for only the second time since it was written in 1982. Since it was first performed, of course, it became a very successful - some might say iconic - TV series, but with a cast of almost forty without doubling Flannery seemed to be absolutely right in his comment about epic plays.
However, as her choice of first production when she took over at Northern Stage, Dennis Potter's Son of Man, shows, Whyman has a penchant for epic plays and it was with some excitement that theatrical circles in the region heard that she was to revive Flannery's classic about corruption.
So, how has it survived the intervening 25 years? Although the machinations of T. Dan Smith, Poulson et al, the widespread corruption in the Metropolitan Police and the sanction-busting that went on when Ian Smith, prime minister of Rhodesia, declared UDI are now well in the past, political corruption, bent coppers, cover-ups and international double standards are still with us, as is the ofen pernicious influence of political public relations, now known as "spin". Indeed the play is as relevant today as it was in the eighties - and in the sixties and seventies, the time of the play's events.
Flannery has written a new beginning and end which - unnecessarily, I think - point up the similarities between then and now and most of the fourteen-strong cast play more than one part, the exceptions being Craig Conway as Geordie and Neil Phillips as Donohue, the Poulson figure. Whyman uses the full "epic" stage of the venue's Stage One and Soutra Gilmour has designed a set which looks like a long railway boxcar with numerous sliding or swinging panels and which can be rotated through up to 180 degrees. Its exterior, interior and top are used to represent anything from a tower block flat, a farm in Rhodesia, a sleazy Soho strip-club or an office in a police station or at the Home Office.
We follow the lives of three friends - Tosker (Neil Armstrong) who lives a normal working life in Newcastle with his wife Mary (Sonia Beinroth, who also plays erotic dancer/prostitute Rusty), would-be politician Nicky (Joe Renton) and Geordie (Craig Conway) who moves to London, becomes involved in the porn business (and with Rusty) and even spends a short time as a mercenary in Rhodesia - and it is through these lives that we see the corruption that seemed endemic in British society at the time.
There is a strange tension between the epic breadth of the topics treated, the wide open spaces of the staging and the constant switching between themes and central characters, and the intimate view of the lives of the four protagonists which was almost Brechtian. Although we want to get involved with the main characters, it is impossible to do so to more than a limited extent because the play and the production force us to take the wider view all the time.
That, of course, is the job of epic theatre and, as has been remarked before, Our Friends in the North is almost Shakespearean in scope (appropriately enough, having been written for the RSC). Whyman has put together a cast of predominantly North East actors who handle the play well, holding the audience for the full three hours and forty minutes (including interval). In this, her third production at Northern Stage (the second being the very intimate Ruby Moon), Erica Whyman has cemented her reputation as a director who is prepared to take risks - and bring them off.
Running until 20th Octber, then touring (October 2007) to Huddersfield and Sheffield and then (March 2008) to Durham, Oxford, Salford and Guildford.
David Chadderton reviewed this production, slightly recast, in Salford, as did Sheila Connor in Guildford.
Reviewer: Peter Lathan