Our House
Book by Tim Firth; Music and Lyrics by Madness
Sunderland Empire & Touring
(2008)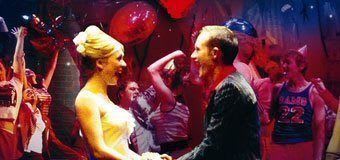 The zing of the overture was enough to excite the already giddy audience that turned up to see Our House at the Sunderland Empire last night. Writhing in their seats with nostalgic Ska moves, the audience's tremendous buzz was amplified further by this electric production that left everyone gasping in their seats from start to finish.
Our House has a lot to contend with given the various other productions that are sold for their soundtrack - We Will Rock You, Mamma Mia to name just two - but writer Tim Firth's brilliant plot sets this production higher than any of the aforementioned. Using the witty lyrics of Madness classics, Firth has created a story that covers a variety of themes though predominantly 'home, heart and childhood'.
Trying to impress his girlfriend Sarah (Miria Pavin), 16 year old Joe Casey (Chris Carswell) breaks into a flat owned by property tycoon Mr. Pressman (Trevor Jary). Upon hearing the police sirens, Joe has to make a quick decision; does he stay and face the music? Or does he make a run for it? With Firth's excellent storytelling we are, in fact, able to watch two worlds, two fates and ultimately, two outcomes. The poignant comments on society live amidst a hilarious script dealing with the way in which people contend with the good and bad choices they make in life and how sometimes people 'do the wrong thing for the right reasons'.
This complex story is a challenge to say the least, though director Matthew Warchus and his creative team deliver it with gusto, creating an unforgettable evening at the theatre. The clever set design by Rob Howell reflects the idea of the paths we take in life with multiple (dare I say) sliding doors whizzing across the stage at any one time and projection designer, Jon Driscoll, takes us on a rollercoaster ride - literally - with a banged-up car that cost its owner a mere eighty quid. Choreographer Peter Darling, demands an amazing trust from his cast which is breathtaking to watch, particularly in the school scene dedicated to the song 'Baggy Trousers'.
As for highlights of the evening, there are so many to mention which just proves how good this show really is, though to pinpoint one would be the performance of Chris Carswell making his professional debut. This astounding young actor has a marathon ahead of him eight times a week, all singing, all dancing, all acting and all-changing. Yes, Carswell has more changes in two and a half hours than Kylie Minogue does in ten years - all this and he performs without so much of a bead of sweat on his forehead. Corruption will be rife if this boy doesn't get an Olivier!
Carswell is supported by a marvellous cast of energetic, strong and dynamic performers that have a bond so tight, they fearlessly explode off one another. On the outskirts and never quite making the grade, is X-factor winner, Steve Brookstein whose heavy voice is unintellible and deadens the energy the rest of the cast work so hard to attain. With the Madness music pulling in the crowds, it's difficult to see why a 'name' was needed for this production, as this show will make these unknowns into 'names' in their own right. Or at least, that's how it should work.
The dynamite effects, brilliant cast and fantastic music of Our House gained a standing ovation last night and audience members left - again literally- dancing down the streets. This show is truly unmissable.
Reviewer: V Mitchell