Out of Blixen
Riotous Company
Riotous Company Co-produced with Print Room
Print Room at the Coronet
–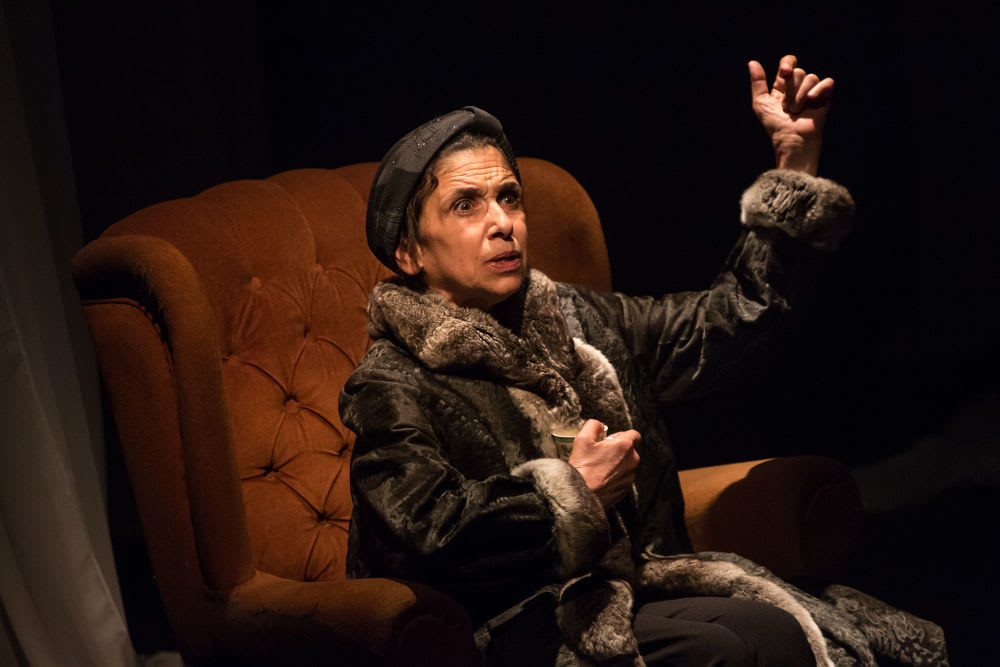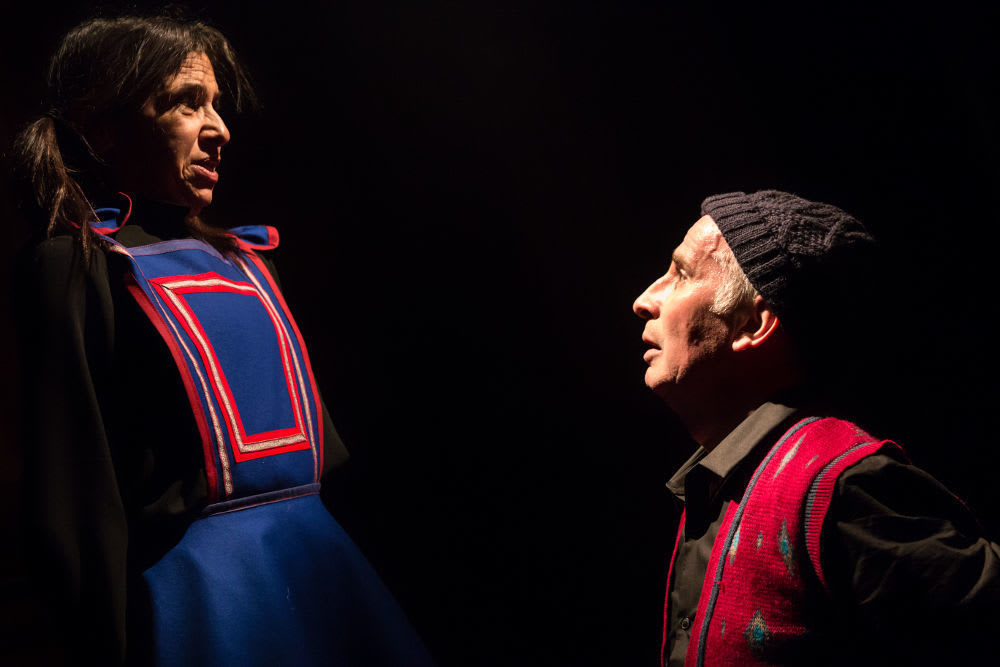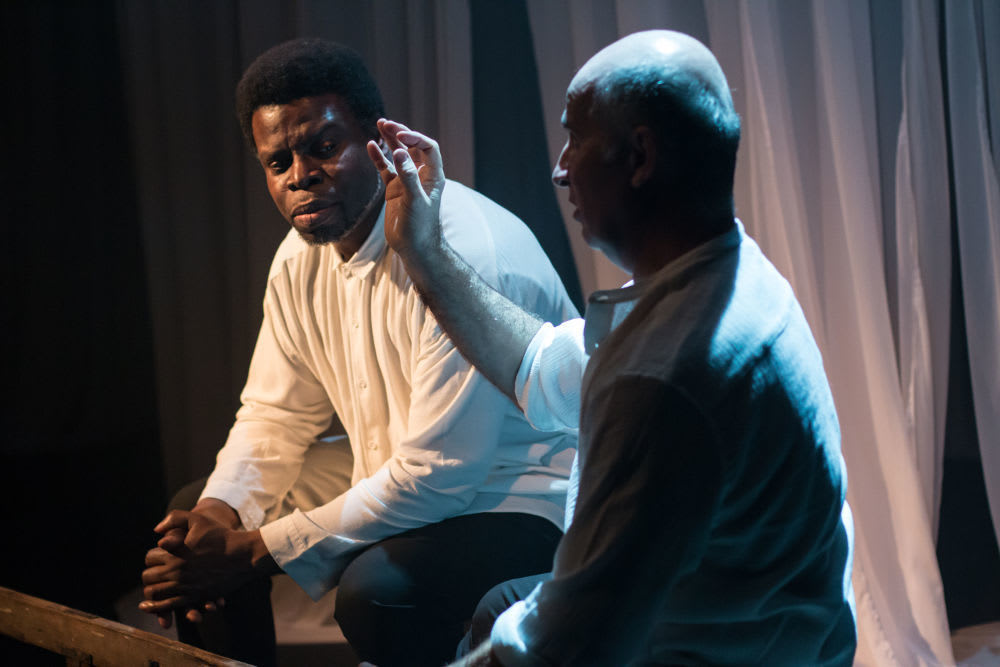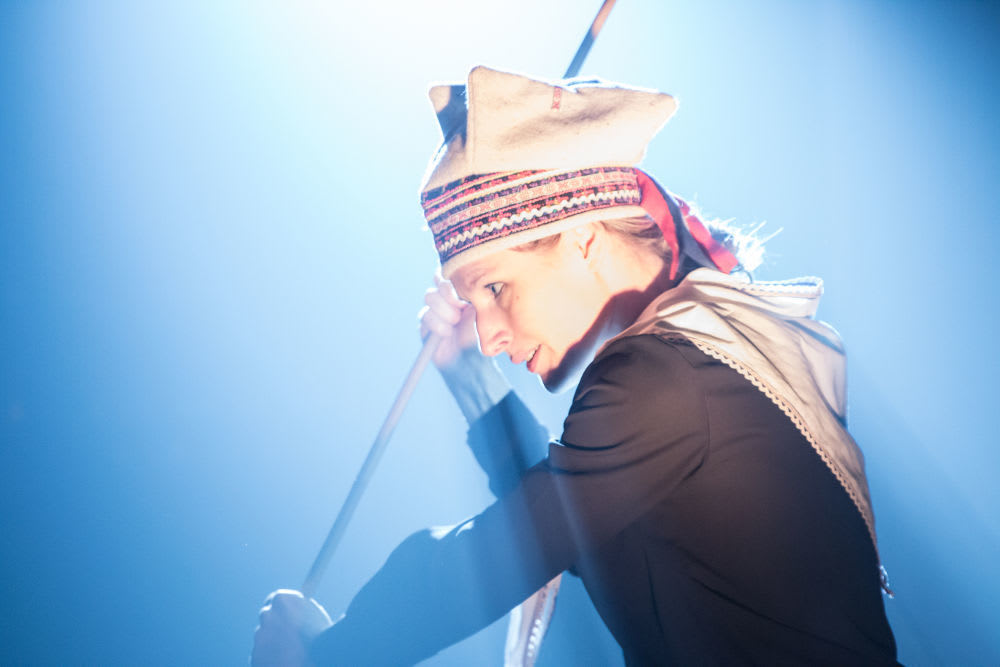 Out of Blixen presents dramatised tellings of four intriguing short stories by Danish author Baroness Karen Blixen. They are very different but all carry the imprint of her interest in magical mystery and traditional folk tale. They are framed here by the author herself, played by Kathryn Hunter, sharing some of her life story.
Blixen, who wrote under the pseudonym Isak Dinesen, is probably most widely known now through the Oscar winning film Out of Africa directed by Sidney Pollack, partly based on her book of the same name, which featured Meryl Streep as Blixen and Robert Redford as the English big-game hunter she fell in love with.
With just four actors and composer-musician Nikola Kodjabashia (who sometimes becomes part of the action) this multi-national company bring these tales to life with simplicity and imagination. Luis F Carvalho provides a setting of gauze curtains that can track up and down stage and pivot under David Plater's warm lighting. There is an old chest down centre stage that creates expectation that something or someone will emerge from it. Kathryn Hunter's production already creates anticipation.
Hunter's Blixen begins things by breathing life into her characters with a puff of cigarette smoke. The first is the sailor from the Sailor Boy's Tale, that chest must be his. Marcello Magni is no youngster but his sailor is wide-eyed and strangely innocent. He tells how a falcon got caught in the rigging of a ship he was crew on, how he climbed up to free it. Mia Theil Have is the falcon suspended in silk lisse loops; Magni climbs a rope ladder laid out on the stage floor as gauzes billow.
Two years later, going ashore in a port town he sees a young girl (Hunter) just standing. She says she is waiting for the man she will marry. He offers her an orange he has just bought and in return wants a kiss which she is about to deliver when her father calls her in, but the boy says he'll return. Next day he's on duty but a day later he's looking for her ashore when he gets caught up with some Russian sailors on a binge. One very big fellow takes a fancy to him, it gets awkward. Femi Elufowoju junior's towering Russian is too affectionate. Frightened, the boy draws a knife, stabs him fatally.
Hands bloody, he flees, asks the girl to hide him. She can't but gives him her kiss, and then a woman offers him refuge. When the Russians arrive, he's disguised as her son. Why, he asks, has she helped a killer? Because she is also the bird that he saved.
It is played so simply and directly that the age of the actors is immaterial, the honesty of their playing makes them real—and this goes for the whole production.
Hunter's aging Blixen now talks about her life, name-dropping a little ("I met Marilyn, I cancelled my appointment with Hitler"), tells of her husband giving her syphilis, of game-hunter Denys being a much better lover.
Then a new story starts set in Persia. Saufe (Marcello Magni), a young student of theology, makes himself wings and tries to fly so that, like the angels, he can get close to God. The elders fear what he might discover and to dissuade him send a dancing girl to him who pretends to be an angel.
Blixen talks about her colonial life before the next story, about a feudal landowner (Marcello Magni). His nephew and heir Adam (Femi Elufowoju jr.) returns from England having picked up the more liberal views of the Enlightenment but his uncle sticks to the old ways.
A peasant is in prison facing execution for setting fire to a barn, though he claims he is innocent. Adam questions the boy's guilt, suggests clemency. In a wry gesture his father uncle agrees to free the lad if his mother can cut a rye field in just one day—but it is a field that would need three men to cut it so quickly. Mia Theil Have's peasant woman sets out to do so. The son is saved, but at what cost?
Hunter's Blixen tells the last story: The Blank Page. It's a tale of aristocratic tradition, of blood-stained bridal sheets and a princess's unstained ones. Very short, very direct, but it seems to encapsulate Blixen as the consummate storyteller.
This theatrical telling of Blixen's stories places more interest on the method of telling than the content, though some of that resonates later. It doesn't offer any very new understanding of the woman or her work.
Kathryn Hunter, in a fur that seems entirely appropriate when Blixen says she is turning into a monkey, has only to move her glance fractionally sideways to register the scorn. She suggests a fascinating character about whom we learn far too little but there is a strong sense of how her writing fits in a long tradition that goes back to folktale and Scheherazade.
Reviewer: Howard Loxton