Out of Order
Ray Cooney
Tom O'Connell productions, Debbie Hicks Productions and Laurence Myers
Yvonne Arnaud Theatre, Guildford
–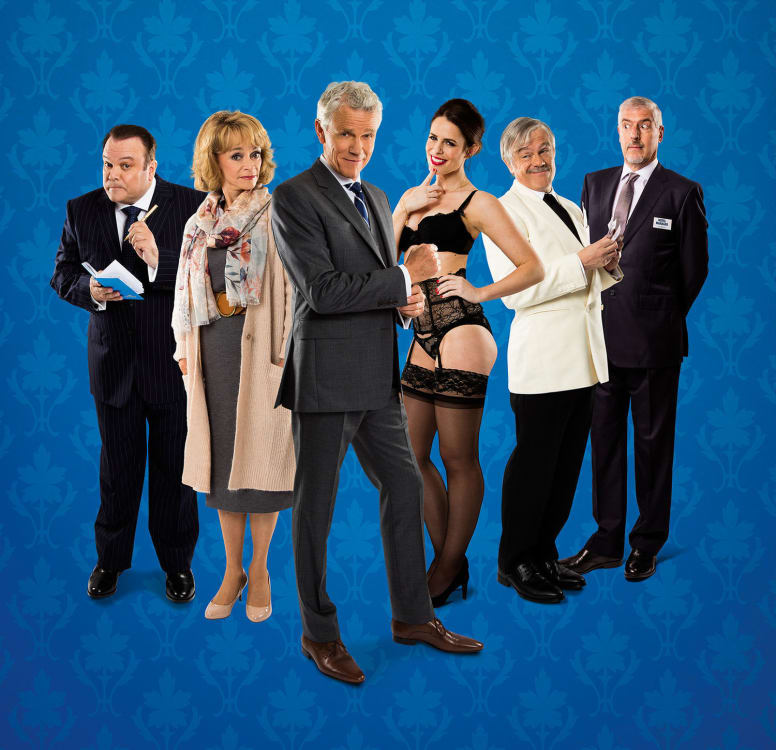 First produced in 1980, Cooney has updated his award-winning comedy to the present day, which mainly seems to consist of putting in a few well-known names as really nothing much else has changed. Conservative ministers are still having affairs with secretaries, wives are often known to get into the act too, and hotel waiters are still expecting large tips to ensure their discretion (at least I suppose they are!).
Tory junior minister Richard Willey (known as Dicky) ought to be in the House of Commons, but instead is spending the night in the Westminster hotel with Jane, secretary to the leader of the opposition. He has ordered the champagne and oysters, managed to get Jane out of her dress and instructed his own private secretary, George Pigden, to keep him informed by telephone of events in the House so, very pleased with himself, all is going to plan—until they draw back the extensive curtaining to admire the view and find a dead body trapped under a defective sash window.
Dicky cannot be seen to be doing anything untoward—he has his career to think of—but George is of no importance. He will have to come to the rescue and Jane will just have to go—anywhere at all, it matters not.
"The characters in a farce have to be believable" says Cooney and I couldn't agree more—but it is when they get caught up in all the complications following attempts to avoid discovery that events spin out of control and everything gets crazy.
Farce must be one of the most difficult genres to accomplish well. It has to be meticulously timed, performed at speed, and demands a great deal of stamina from the performers to keep up the pace as well as some degree of athleticism rushing through doors, into cupboards and through windows. In this production, physical strength is also important as the dead body (he is real) has to be manhandled into the room and hung up in a cupboard before being passed off as a drunken relative—and I noticed some very nifty leg work here making out that he is still alive and kicking.
I was just thinking how everything was timed to perfection, even to controlling the descents of the sash window, when suddenly the whole curtain rail, including curtains, crashed to the floor. It's always the unexpected that gets the biggest laugh, especially with the discomfiture of the actors, but they carried it off superbly and luckily Ray Cooney, who is directing his play, was on hand in the audience to sort things out. All carried on regardless—and curtainless.
I never like the over-emphasis which often goes on in a farce preferring a quieter and more subtle style of comedy which, to my mind, is much funnier, but I have to admit that performances here are excellent. Andrew Hall's Dicky is selfish and manipulative, Sue Holderness as wife Sue is respectable but sex-starved, Shaun Williamson is adorable as the put-upon secretary worried about his mother and Susie Amy is very believable as the other secretary, walking around in her underwear as if perfectly natural, while the waiter James Holmes seems to be thoroughly enjoying himself getting rich on all the tips.
Cooney has written a very clever, very funny and very intricate play demanding a lot of his performers, all very much appreciated by a capacity audience. I hope the actors manage to survive the extensive tour to follow.
Reviewer: Sheila Connor