Out of the Cage
Alex McSweeney
Fine Line Productions
Park Theatre (90)
–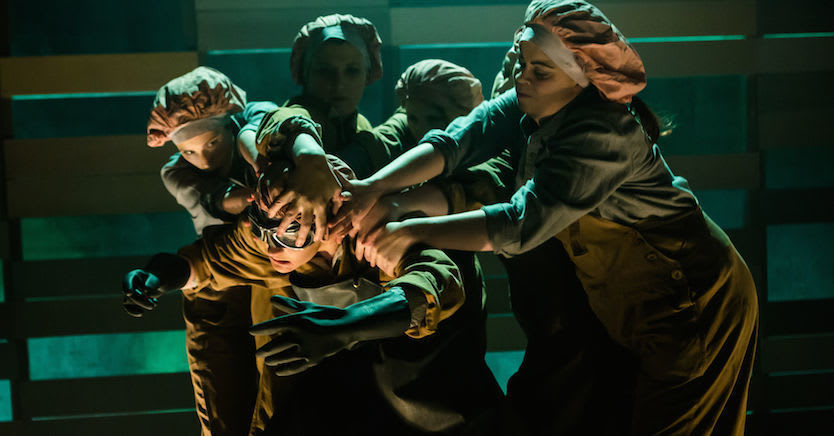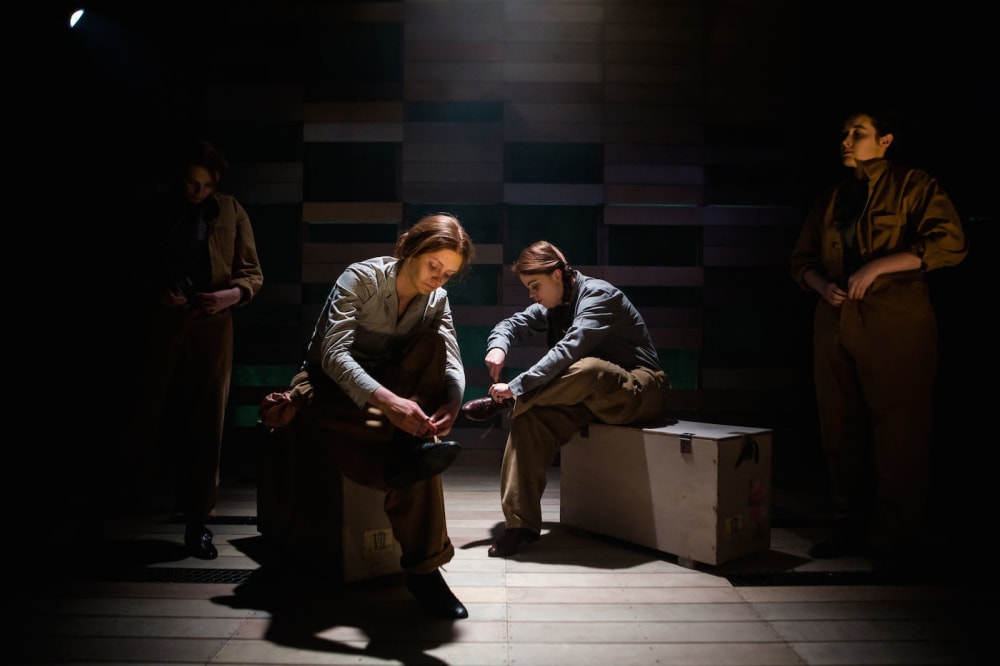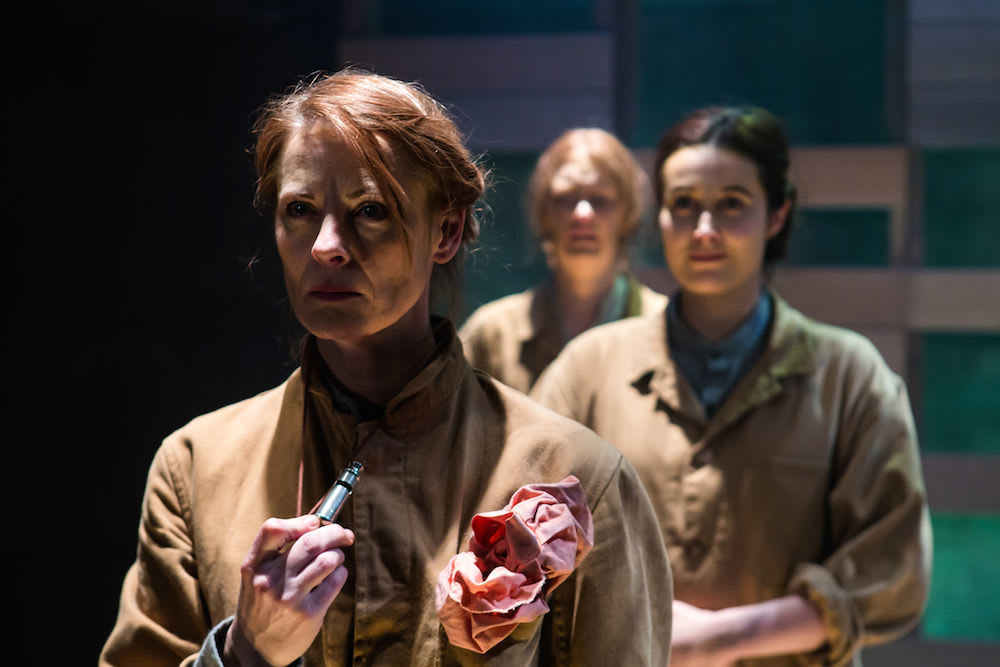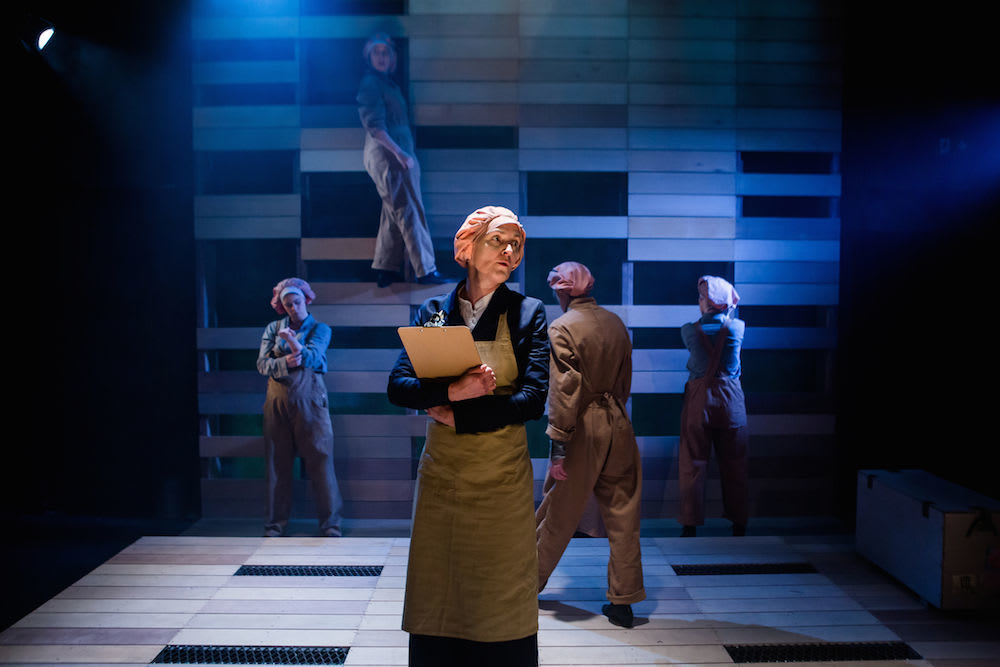 This male-authored but strongly feminist play, here receiving its première production, was inspired by the women munition workers of West Ham during the First World War and serves also as a reminder of the rarely mentioned loss of hundreds of lives and the maiming of many more in accidents at munitions factories.
Set in 1916, it presents a group of women fed up with their conditions. Faced with belligerent opposition from male workers fearing encroachment upon their jobs, exposed to dangerous substances which were a very real risk to health as well as potentially explosive, frustrated by their wages, at all levels much less than male ones for similar duties, they, along with others across London, planned a strike. This is their story.
Alex McSweeney directs his own play and with designer James Perkins gives it a bare-boards stylised staging to which movement director Simon Pittman contributes. At certain key speeches in the first act, they move the cast and furniture through 180 degrees giving the audience on each side of the thrust stage a different perspective.
In the second act, there is a long choreographed section, supported by John Chambers's music and sound effects, that represents the women at their work stations. To complement this, the characters are made very individual with contrasts in both class and personality, although very little is revealed about their personal lives.
This is very much an ensemble production but one in which its varied characters stand out clearly as played by this excellent cast. Millie Finch plays Jane Byass, the organising force among this particular work group, determined to counter the pro-boss instructions of overseer Ol' Mum (Heather Bleasdale).
Katherine Tozer is posh Nancy Longdon, not quite able to supress her class prejudice when faced with the "common" behaviour of some of her sister comrades. Loud-mouthed Annie Castledine (Emily Houghton) most riles her, a feisty woman who carries white feathers around to present to men she thinks should be in the army. Lindsay Fraser is her mate Carrie Sefton who suspiciously doesn't turn up on the strike day.
Irish Nelly Johnson (Sarah Madigan) is the most revolutionary, trying to politicise the others. Tegen Hitchens plays wheezing Dee Hessop, already seriously affected by the "devil's porridge" as one of them calls TNT, which turns the skin yellow. When her colleagues suggest she should ask to be taken off that work, she refuses; she needs the higher pay rate to support her three children. Then there is sweeper-up youngster Lil' Ginny (Jill McAusland) who keeps getting her meagre pay docked.
The first act has too much talk with too little information and the style change in the second act sits somewhat awkwardly, but McSweeney does capture the feeling of outrage that stirs in these women, united though they range from patriotic support for the conflict to a hope that if women refuse to make ammunitions the war will be ended by the absence of armaments.
A Zeppelin raid (did their motors really make such a din?) is a reminder of imminent danger but it is left to final captions to make clear the meaning of later explosions that coincide with the strike call.
They are not the symbolic sound of war on the other side of the channel but the Silvertown disaster when, on 19 January 1917 when 50 tons of TNT exploded killing 73 people and injuring another 400, the bang was heard as far away as Cambridge, and that not the worst of similar disasters in munitions factories employing munitionettes.
Reviewer: Howard Loxton