Outings
Matthew Baldwin and Thomas Hescott
Seabright Productions
The Quays Theatre at the Lowry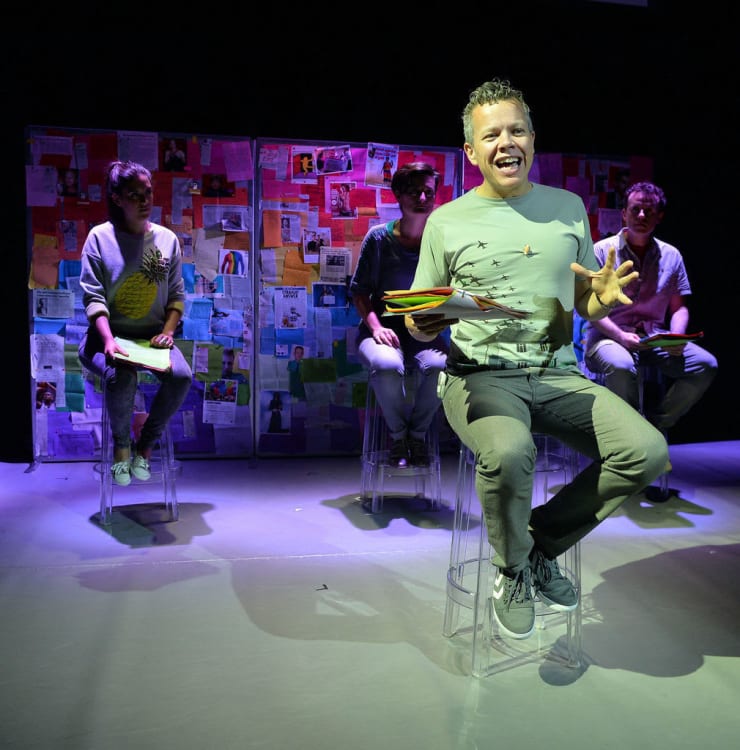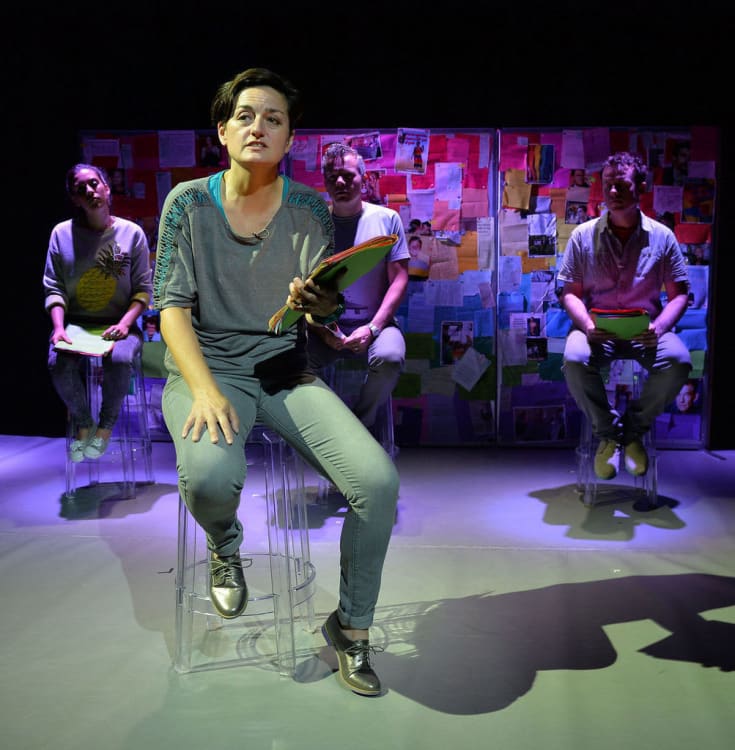 Fresh from its Edinburgh Fringe success last summer and as part of LGBT History Month, this is a script-in-hand sequence of 20 coming out stories acted by a superb cast of 2 men and 2 women.
Coming Out is a comparatively recent phenomenon. Before 1967, when it was illegal to be gay in the UK, this self revelation was probably the last thing that any gay or lesbian would risk doing. All of these stories are based on incidents sent in to the producers who then cleverly assembled them, tweaking where necessary to give dramatic punctuation. This is not strictly verbatim theatre as some tales have been given room to breathe a little in performance.
All four actors are very skilled in their readings. Each leads a particular story with the others taking various associated parts. Those who are secondary in one account take a central role in another and so the stories are very evenly spread across the team. There is some movement but mostly they are read from stools with subtle lighting changes to heighten the focus.
Two of the cast are well-known telly faces. Julie Hesmondhalgh, clearly relishing her return to the stage since she left her most famous incarnation, Trans woman Hayley in Coronation Street, is perhaps the best known. Andrew Hayden-Smith also has a high profile from his children's tv presenting as well as currently appearing in Cucumber on Channel 4. Andrew Doyle has performed three well-received solo Edinburgh Fringe shows and Camille Ucan is shortly to be seen in Matt Lucas's new TV comedy Pompidou.
Each of the cast has standout monologues.
Andrew Doyle plays a manic football fan who explains what it's like to reveal that he's gay in that milieu and explore the boundaries of what is acceptable banter and what is homophobia. His other shining moment is as a young gay man who has a diva fit when his Mum doesn't react in the way he expects. Working with Julie Hesmondhalgh as the Mum in question, he raised a lot of laughs from the audience.
Andrew Hayden-Smith tells the tale of the primary school teacher who comes out to his class only to have one of them send him a letter which is tremendously moving in its precocious understanding. He also has a nice cameo as a gay dad who takes his time and an odd, quirky route to come out to his daughter who had already guessed.
Camille Ucan shows her versatility in playing a trans man who confuses his parents because he started out as a lesbian but also very powerfully a young Christian woman whose coming out leads her family and community into new realisations of what love is or can be.
The most moving monologue of the evening for me was given by Julie Hesmondhalgh in a very well-sustained burst of controlled anger. She plays the wife of a man who has come out to her but who wishes to remain in the closet so long as he can get what he needs irrespective of what it does to her and their relationship. The refrain of the "cupboard under the stairs" offers a haunting image.
There is a very good balance of the tragic and the comic in these stories. The texts are evolving as more life stories reach the producers. Perhaps they could have included one or two more experiences of older people, i.e. pre-legalisation, but there were one or two including one with a military background. The pacing didn't drag in either half which is a testament to the direction of David Grindley.
As a hearing impaired person, I was delighted to discover that the decision to use radio mics in the Quays theatre paid huge dividends. The actors' diction was also very good which helped. I heard almost every word that they said which was very satisfying and I was sitting in row J towards the rear of the auditorium.
The production ably demonstrated that, even where parents don't, can't or won't understand what their child is going through, they can still love them in spite of it. That was certainly true in my own family.
The range of encounters in this performance encompasses those families whose love for each other transcends difference as well as those for whom it cannot. It is what theatre should be about and so often isn't.
These are truthful portrayals of real people in challenging situations who discover hidden strengths and weaknesses in themselves and those they love. It's appeal reaches beyond the LGBT community and is highly recommended for a nourishing evening in the theatre.
The tour continues to Oxford and Ipswich.
Reviewer: Andrew Edwards