Outside Mullingar
John Patrick Shanley
Ustinov Studio, Theatre Royal, Bath
–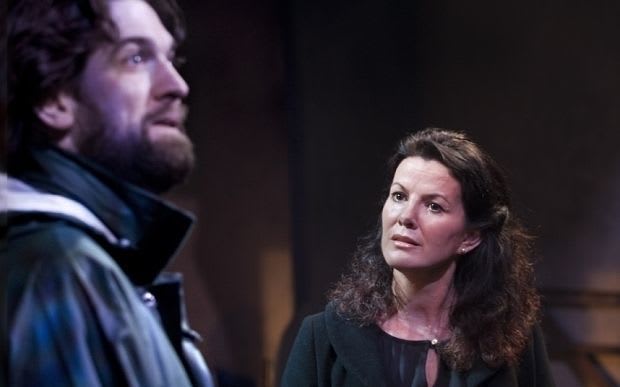 Bath's Ustinov Studio stages a gem this month, with the UK première of John Patrick Shanley's lyrical new play, Outside Mullingar.
Shanley, known for the big-screen triumph Doubt, here gives in to the pull of his cultural heritage, setting an irresistibly old-fashioned love story on two neighbouring farms in rural Ireland. Each is home to two die-hard family members: old man Tony Reilly (James Hayes) and his son Anthony (Owen McDonnell), and next door, the straight-talking Aoife Muldoon (Carol Mcready) and her hot-tempered daughter, Rosemary (Deidre O'Kane).
Shanley's earthy text is the real triumph of the piece: his characters spar nimbly off each other with dialogue so fast-paced it feels almost syncopated. After 90 minutes, you feel you've known these people all your life.
Bedded in among the quips and jabs and body-blows of their conversation is a lilting poetry common to so many Gaelic speakers. "Sometimes the quiet around a thing is as important as the thing itself", says Anthony, a poetic wisdom which at once hides and reveals so much about him. Truly masterful writing.
Palpable too is Shanley's love for the homeland and, specifically, for his own family farm which he visited finally with his father in 1993. The play has loose autobiographical influences: Shanley fell in love with the farm upon his first visit, much as the elusive American cousin, Adam, is said to have done in the play.
The play casts a glance at some of the great cornerstones of Irish drama: the allure of the Celtic Tiger in conflict with the pull of family, history, tradition and obligation. Shanley's scattered references to the clash of tradition and modernity are set into perfect relief by Sam Yates's direction and Richard Kent's design.
The set is so beautifully lived in, you are almost tempted to pull up a chair at the kitchen table and pour yourself a stout. Tony berates his long-suffering but devoted son Anthony for his love of machines and for what he perceives to be his indifference to the land. "Modernisation has run rough-shod over the spaces between things", he complains.
The pitch-perfect cast breathe so much life into these four neighbours that the resulting sense of intimacy is palpable. There is an inevitability about where the play leads us, but Shanley's beautifully observed and vigorous writing is more than enough to sustain the easy simplicity of the plot.
It comes as little surprise for instance, that the sparring between father and son in the opening scene gives way to an affecting and emotional resolution, but the scene is exquisitely crafted and perfectly handled by Hayes and McDonnell. That we might have expected it makes it no less successful.
And, in the end, aside from what Outside Mullingar has to say about tradition over progress, about adventure over home, or old over new, it is a tale of unrequited love. Its protagonists have hidden in the gloom of heartache and loneliness for two decades or more; when finally we part company with them, we leave them bathed in a burst of loved-up sunshine. And who can resist that?
Reviewer: Allison Vale