Outside on the Street
Wolfgang Borchert
Invertigo
Pleasance Dome
–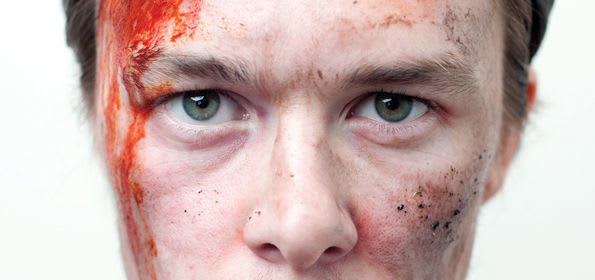 Wolfgang Borchert's story of an exhausted and broken German soldier, returned from the Siberian Gulag to a smashed and unfamiliar Germany, is as keenly insightful as it was in 1947.
The play tells us the tale of Sergeant Beckmann, newly returned from his capture only to throw himself into the River Elbe for reasons both unclear and curious. The parade of Brechtian grotesques whom he meets in the following scenes showers the audience with a stream of significant, observed nuance about the horrors of trying to reclaim a place in a world that has moved on.
Invertigo tells its adapted version of the semi-autobiographic piece with a mixture of music and physical theatre interspersed throughout the action. The sparse staging and prop work are put to brilliant use in the small space, evoking a depth of nothingness in the shadowy stage.
Paapa Essiedu deserves special praise for his subtle portrayal of the disparate and constantly in-denial mind of Beckmann, while the rest of the cast aquit themselves admirably with various characters, flitting between small costume changes and changes in demeanour.
It's a fine production with just the right mixture of comedy and pathos to carry the dark subject matter from its strange beginning to the final revalatory moments.
Reviewer: Graeme Strachan