Outside Edge
Richard Harris
Gala Theatre, Durham, and touring
(2004)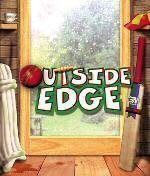 Outside Edge was first performed (at the Hampstead Theatre) in 1979, and 25 years later is still going strong. It will continue to go strong too, for it is just the sort of play which is made for this kind of tour: small cast, middle-class and middle England setting, making no demands on the audience and perfect for a company of very competent TV "names". For much the same reasons it will have a long life as an amdram standard.
It is not, as Harris himself says, a play about cricket, but a play about people - or, rather, about types of people, and therein lies its weakness (and possibly its appeal, too). For they are types: we recognise them but don't relate to them; they are not true individuals, true characters. Thus we are free to laugh at them without the laughter getting too close to home.
Not that it is hugely funny. There were, it is true, some laughs, but the not by any means full audience at the Gala never joined together in hearty laughter and I confess I was never moved beyond a smile.
And this, of course, is the weakness: we recognise that these characters have been created for us to laugh at and that immediately stops them being funny, because they are so predictable. It's a bit like the guy who spends ten minutes telling you how funny the joke he is about to tell is, and then the joke falls flat as a lead balloon.
The cast of nine, which includes well-known TV names like Robert Duncan, Craig Fairbrass and Frazer Hines, present the whole thing competently enough and the set is serviceable, although hardly inspired. If I had to sum it up in two words, then they would be "rather ordinary", which, I think, adequately describes both play and production.
The production plays at the Theatre Royal, Lincoln (27th Septemer to 2nd October), and the Lichfield Garrick (4th to 9th October).
Kevin Catchpole reviewed this production earlier in its run at Winchester.
Reviewer: Peter Lathan