Over the Top
Lizzie Crarer, Naomi Zara and Eleanor Buchan (devised)
The Heroine Project
Salisbury Playhouse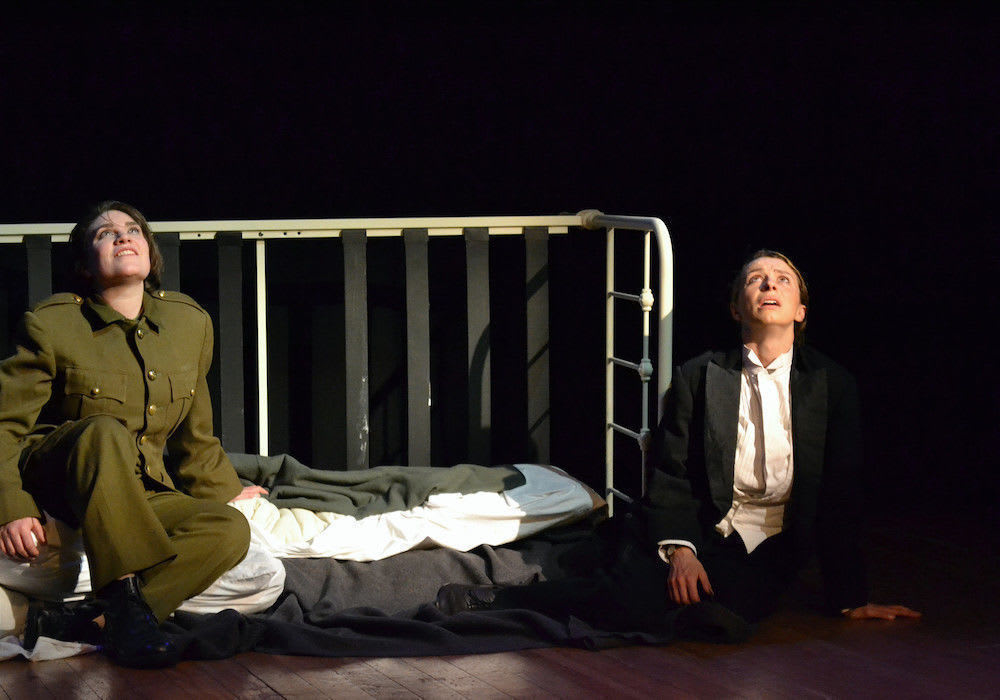 If you've ever been to Salisbury you'll probably have seen the statue towering above the vast market square.
It's of Henry Fawcett, postmaster general from 1880 to his death in 1884. And if you'd gone round the back of the monument, you'd have seen, right at the bottom, in rather small letters, the name of his wife, Millicent, who never went on hunger strike or interrupted parliament, set fire to post boxes, broke shop windows or attacked works of art, but who, nevertheless, was a truly inspirational—and peaceful—early campaigner for women's suffrage.
So it seems only right that, as part of its annual Theatre Fest West programme, which includes productions from all over the south west, Salisbury Playhouse should be giving us the Heroine Project's story of another Salisbury girl, Dorothy Lawrence, who defied convention even more than Mrs Fawcett to break into what has, until this time, been strictly a man's world.
We're in the Salberg, the Playhouse's studio theatre. It's dark except for a single spotlight over a functional iron bedstead where a young woman lies asleep under a coarse blanket.
This is Dorothy Lawrence, whose ambition in 1915 to become a war correspondent led her to defy convention by travelling to the French town of Albert, where, disguised as a young recruit, Sapper Dennis Smith, she spent ten days with the Royal Engineers, 51st Division, 79th Tunnelling Co, laying mines under heavy shelling before being discovered and marched off, first to the British Expeditionary Force headquarters to be interrogated as a potential spy, then to a French convent where she tried to incite the nuns to rebellion, and remained until she could be sent back to London, under the strictest orders to remain silent about her experiences. Very frustrating for an ambitious journalist, of course.
The bedstead will follow her adventures, becoming in turn a pair of bicycles, a cottage, a tree under which she can shelter from the rain and, eventually, an institutional bed again, this time the property of the lunatic asylum where she spent the last forty years of her life, denied even the paper—ostensibly a fire hazard—on which to write the story of her extraordinary life.
This production is the work of three highly talented young ladies (well it would be a lot to expect a man to be interested in promoting Dorothy Lawrence, wouldn't it?). Lizzie Crarer is overall director of the Heroine Project company, Naomi Zara plays Dorothy and Eleanor Buchan, a young, androgynous figure in male evening dress, in turn becomes not only the vehicle for Dorothy's thoughts about her various situations but a pompous and dismissive editor as well as a range of other roles to illustrate the events in her life.
So thank you, Dorothy, you've been an inspiration, reminding us that a hundred years ago, astonishing courage and heroic determination could still be found behind Edwardian corsetry.
And thank you, Heroine Project, for bringing her to our attention.
Sadly, this was Over the Top's last but one date on its tour in the south west. It will be back at the Chalke Valley History Festival on 30 June though.
Oh yes. Her book did get published, before she went into the asylum, under the title of Sapper Dorothy. Glad to see it's still in print.
Reviewer: Anne Hill