Overdue
Arabella Arnott
Coracle Productions in association with Alphabetti Theatre
Alphabetti Theatre, Newcastle
–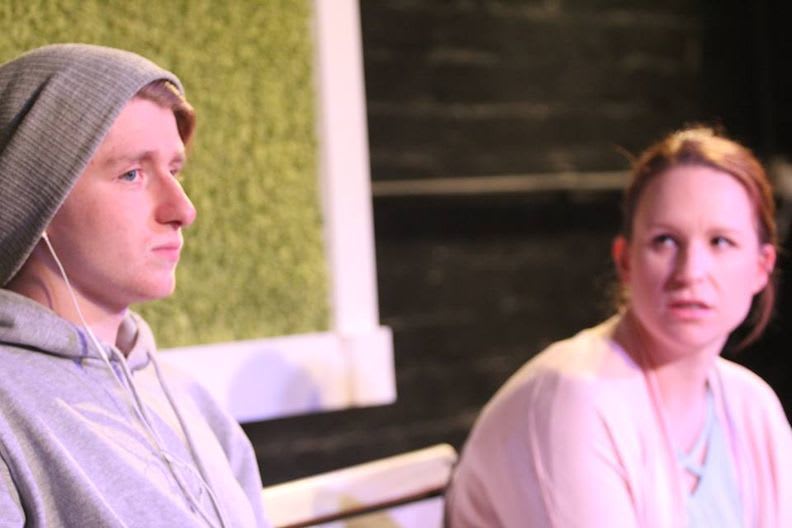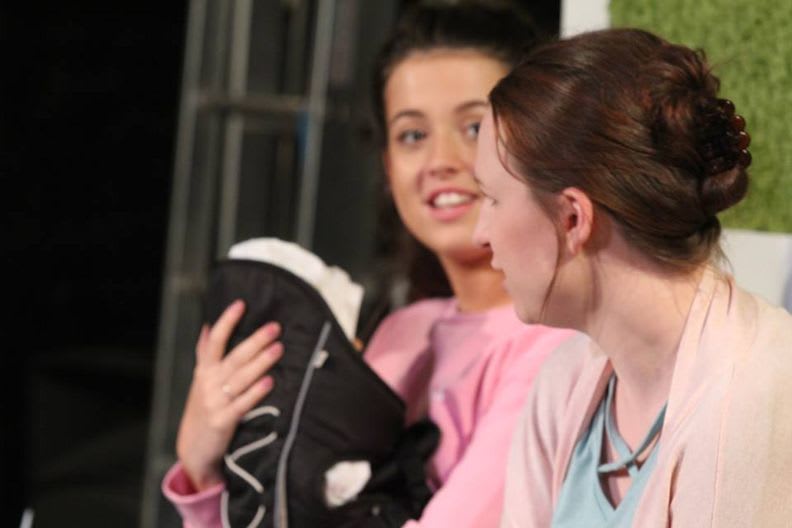 Overdue, Arabella Arnott's first full-length play, begins with a domestic scene: it's the beginning of the school holidays and wife Beth (Rosie Stancliffe), a teacher, is doing some work. Husband John (Christopher Price) wants to talk. After all, it's the start of the holiday and she could leave this till later. She is firm; she wants to get it out of the way.
It's a strange atmosphere; there's no sense of major discord but there is a tension there which seems to emanate from Beth while John's uneasiness is a response to her mood. As the conversation progresses, we begin to get a vague impression of what the tension between them might be about.
The scene changes. She is outside—an open space, a park bench—and she meets a young girl, a teenager, with a very young baby. More tension: Beth wants to be alone, private but the girl, Izzie (Skyla Pearce), wants to talk. She's 15 and a single mother; the child's father, a sixth former, doesn't want to know. Beth really doesn't want to know either and she is not, as Izzie recognises, one to coo over babies.
Then it's back to Beth and John's home. In fact from now till the end of the play we switch between the home and the park. In one of the park scenes occasions Beth meets a very enigmatic young man, Jack (Benjamin Michael Smith), who either seems to know more than one would expect about Beth or is more than usually sensitive.
The play is the story of Beth's journey to find resolution of the problem bothering her, which is revealed to us only slowly, and it's beautifully written. At times it teeters on the edge of sentimentality but never actually crosses the line, partly because of the conciseness of Arnott's writing and partly because of Matt Jamie's sensitive direction. And incidentally Jamie also plays the soundtrack music.
The set, by Alison Ashton, is very simple but very effective: a sofa with a light above and coffee table beside it and a park bench. Alphabetti's new auditorium has a thrust stage and the set's interior section faces upstage and the park bench faces downstage and is set against the back wall on which, in a simple wooden frame, is an area of Astroturf—a typically clever bit of inspiration from Ashton.
The performances are excellent. Stancliffe totally captures the emotional fragility which Beth masks by a kind of prickliness, while Price conveys that slightly bewildered lack of understanding of what's happening with great accuracy.
The two younger cast members, both making their professional debuts, also really inhabit their characters. Pearce, a teenager herself, brings Izzie to full life while Smith exudes a sense of enigma and even potential threat which gradually—almost, indeed, imperceptibly—changes and eventually reverses. A nicely judged performance.
This is the first production in Alphabetti's new theatre (which, incidentally, not only holds more but is more comfortable than the last one) and has set the bar very high.
Reviewer: Peter Lathan