OVO
Deborah Colker for Cirque du Soleil
Cirque du Soleil
Echo Arena, Liverpool
–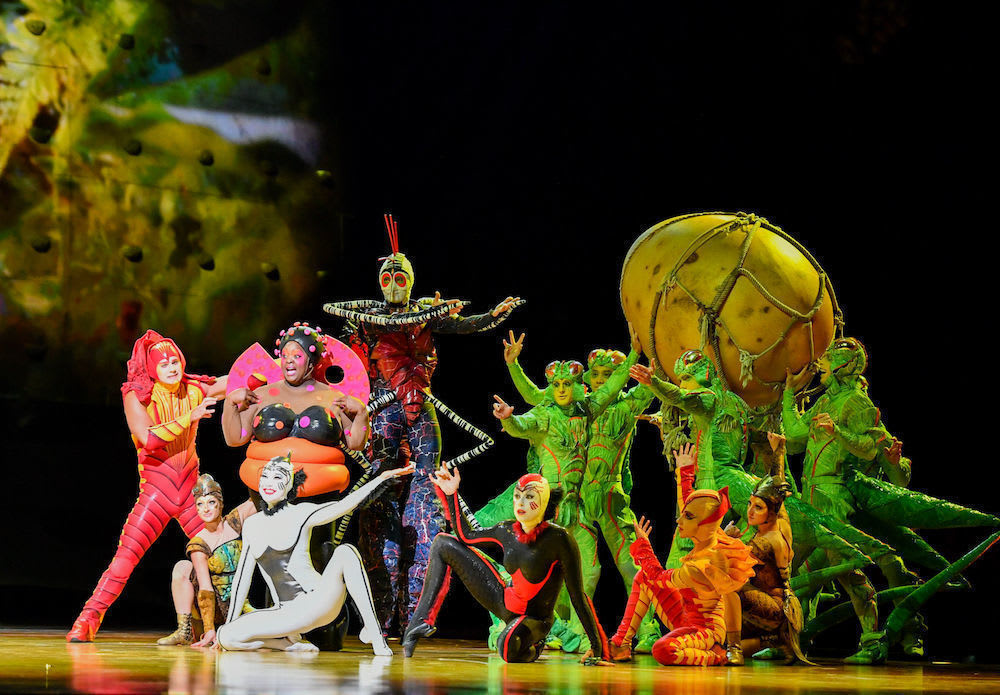 What began thirty-odd years ago with a couple of street performers in Canada is now the largest production company in the world, employing over 4,000 people and turning over hundreds of millions of dollars annually. Cirque du Soleil shows have a big history to live up to. Happily, OVO (created in 2009 by Deborah Colker) has what it takes.
As the crowd files into the auditorium at Liverpool's Echo Arena, performers, stylishly costumed as a range of insects (grasshoppers being the most identifiable species) are already moving among the front few rows, teasing and tricking. The sounds of cicadas and frogs punctuate the general hubbub of expectant patrons finding their seats. On stage, to a back-projection of magnified and distorted vegetation, sits an enormous egg, big enough to hold a person (though Cirque will offer nothing so predictable tonight).
What we are presented with, once the lights go down and the music comes up, is a series of spectacular physical feats; amusing, impressive, astonishing and even, once or twice, beautiful.
A Cirque production is an international affair, OVO utilising around fifty acrobats and jugglers from, by my count, nine different countries (with yet more nationalities in other roles).
The hard-working, foot juggling "ants" who open the show are Chinese. Lying on their backs, they spin and toss giant "slices of fruit", "cobs of corn" and eventually, one another. It's all so fast and synchronised and intricate, you just know they're going to drop something (or someone). They don't.
Next up, the hand balancing Dragonfly (Kyle Cragle from the USA). There is grace as well as strength in his movements, as he contorts, twists and slides around the steel tendrils of his plant.
Each act is intercut with the through story—a romcom, in which Foreigner the fly (Switzerland's Jan Dutler) falls for and relentlessly pursues the affections of Ladybug, a 'lady of traditional build' as Alexander McCall Smith would phrase it, played with majesty and sassy brutality by Brazil's Neiva Nascimento. The fly in the ointment (apologies) of this romance is Master Flipo (Gerald Regitschnig—Austria), leader of the insect community.
In the end, of course, true love will win out, but the comic antics (which though slightly formulaic are often genuinely amusing) serve as an effective distraction from deft prop changes, with acrobats doubling as stage hands, installing and dismantling equipment with an unfussy precision that would put an Edinburgh Tattoo to shame.
None of the set pieces overstays its welcome, and the two hours of the show (twenty-minute interval included) pass without any sense of time dragging.
As is their custom, Cirque prefer live music to pre-recorded, with a marvellous, varied soundtrack of Brazillian-inspired music featuring the lovely voice of Julia Barros Marmund.
It may be that the audience is occasionally just too stunned to react, but some of the routines seem not to get the acclaim they merit (the incredible tumbling of the eleven grasshoppers, towards the finale, being one example).
Among my own list of highlights would be the contorting spiders—Ariunsanaa Bataa (Mongolia), Alanna Baker (UK) and Svetlana Delous (Canada)—who bend into shapes that I still refuse to believe human bodies can achieve; Diablo the firefly juggler (Tony Frebourg from France): four spools? how high? how fast?; and Duo Straps the butterflies, the aerial ballet combining strength and daring with imagination and a bliss-inducing aesthetic, as they carve exquisite, fleeting patterns in the air.
One word of warning: if possible go for seats closer to the stage. At the rear of this large venue, you will find yourself having to concentrate hard to appreciate the marvels being performed before your very eyes. The lighting—designed for atmosphere, not simple illumination—tends to leave those in the upper tier peering into the gloom, their engagement more intellectual than emotional or visceral. Get as close as you can.
Up close, Cirque's OVO will have you gasping in wonderment.
Reviewer: Martin Thomasson