Owen Wingrave
Benjamin Britten
British Youth Opera
Peacock Theatre
–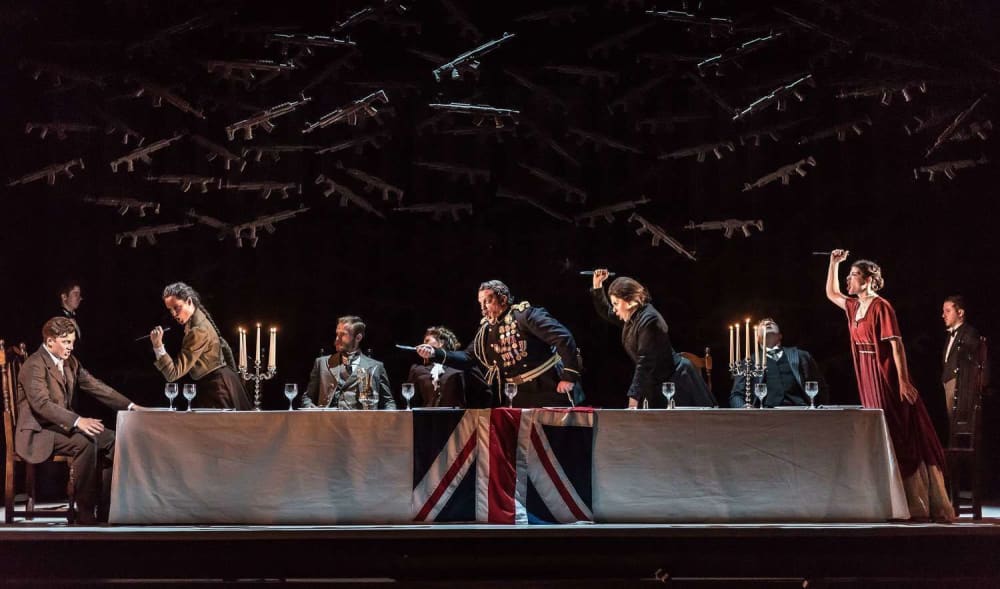 British Youth Opera celebrates all that is English in its 2016 offerings. Tonight's Owen Wingrave by Britten will be followed by Malcolm Williamson's English Eccentrics.
Britten is no stranger to BYO; its 2013 programming of Paul Bunyan received rave reviews. Owen Wingrave is the tale of a pacifist born into a pro-war family. For generations, the Wingrave men have been soldiers and the family household, Paramore, has become a museum of ghosts and violent ancestors staring out of paintings.
BYO appears more youthful than ever as a horde of children brandishing toy guns opens the show. The youngsters appear throughout, appearing to be children of the '70s brandishing peace slogans and narrative detail. The rest of the drama unfolds in the 19th century, the characters straight from Henry James's novella.
Guns are ever-present on stage, the Paramore house symbolised only by a vast collection of weapons hanging above the action. Throughout the set is minimal; the delineation of space and place is achieved through excellent movement direction (Elizabeth Ranken). This is a slickly rehearsed production with no gesture out of place.
Director Max Webster has kept this show pacy and the staging nigh-on faultless throughout. The house has a suitably overbearing atmosphere and the characters contrast each other well despite all sharing the same objective. The addition of children at the closing scene seems a mistake as they distract from an otherwise touching final moment.
Wingrave (Dominic Sedgwick) is played well as a burdened young man struggling with his ideals against the contrasting opinion of all who surround him. Sedgwick is in fine voice, not quite as powerful yet in the lower register but he sings this challenging role with apparent ease.
There are numerous talented artists onstage. In particularly fine voice are Alexandra Loew (Mrs Coyle), Katie Coventry (Kate), Harry Thatcher (Spencer Coyle) and John Findon (Sir Philip). Webster has effectively balanced the empathy shown by Mr and Mrs Coyle, despite their disquiet at Owen's decision, with the unbending resolve of his family. Thatcher adds an undercurrent of warmth to his role, beautifully supported by his troubled wife (Lowe) sung with such honeyed tones.
There is full orchestra for this performance of Owen Wingrave, despite often being performed in a pared-down chamber arrangement. Considering BYO's financial constraints, this is some luxury, but a worthwhile one in making the projection harder work for the young singers.
The Southbank Sinfonia is conducted by Alex Ingram. Ingram keeps a very tight hold over the ensemble but there is a lack of imagination in bringing the score to life. The percussion section and harpist in particular make a sterling contribution to the evening's drama, having to work together from long distances apart. Unfortunately, the strings are less reliable and the balance overall is not well controlled.
Owen Wingrave is an opera of musical austerity—"There was a boy, a Wingrave Boy" by far the most lyrical moment in the show and this is left unaccompanied. It is considered a "difficult" opera, the theme of pacifism is outspoken, the arguments often considered too black and white.
Reviewer: Louise Lewis