Oyster Boy
Based on the short story The Melancholy Death of Oyster Boy by Tim Burton
Haste Theatre
York Theatre Royal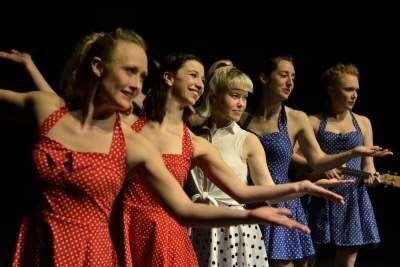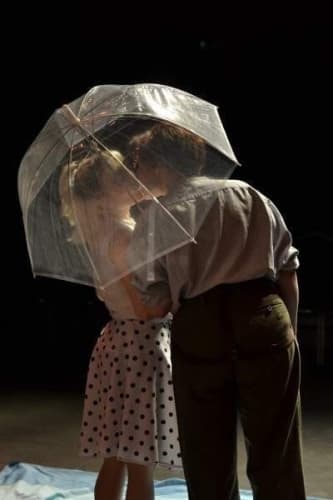 Tim Burton's films are filled with misunderstood outcasts; Edward Scissorhands is the obvious example, but one could also bracket Batman, Beetlejuice and Ed Wood in this category.
In 1997, Burton published a macabre children's book entitled The Melancholy Death of Oyster Boy & Other Stories, which is populated with strange misfits who struggle to find love and a sense of belonging because of their assorted oddities. For their latest production, the all-female company Haste Theatre has chosen to adapt the title story from Burton's collection, resulting in a distinctly macabre children's show.
Against the backdrop of Coney Island, New York in the 1950s, a romance blossoms between shy Italian ice cream seller Jim (Valeria Compagnoni) and blonde all-American girl Alice (Lexie McDougall). After a whirlwind romance, including a candlelight dinner of oysters, the couple eagerly awaits the birth of their first child. However, their son—whom they christen Sam—is not your average boy: he has a giant oyster where his head should be.
As Sam gets older, the parents find it increasingly difficult to protect him from others' prejudice and ignorance. With the exception of two schoolgirls—Molly (Tamara Saffir)and Polly (Jesse Dupré)—he is shunned by everyone else, including their awful mother (Sophie Taylor). Sam isn't the only one who suffers: Alice finds it hard to overcome her sense of shame and Jim's ice cream business begins to go under. I won't say any more about the plot, although Burton rather gives the game away with his story's colourful title.
There is much to enjoy in Oyster Boy. The use of puppetry is often effective and provides two of the show's most magical scenes—the first has Sam surfing the waves and the second has him swimming under the sea. I can appreciate why other critics have compared Sam to the tragic hero of The Elephant Man (1980) as the two characters share a similar poignancy.
I was impressed by the performers' singing and dancing, which provides a pleasing counterpoint to show's sad subject matter. Furthermore, the company manages to provide a sense of the seaside with only minimal resources, and the overall impact of their costumes and props is surprisingly evocative.
Unfortunately, I found other aspects of the show less pleasing. Despite lasting only 60 minutes, there were numerous points where the show felt sluggishly paced, as though the actors were trying to stretch their material to reach the advertised one-hour running time. I was also distracted by the actors' choice of accents, with only Lexie McDougall making an effort to sound like an American. They might have avoided this pitfall altogether by transplanting the action to a UK location like Brighton.
Reviewer: James Ballands