The Wonderful Wizard of Oz
Adapted from the book by L Frank Baum by Anna Clarkson, Julia Hogan, Chris Hoyle, Terry Hughes, Mark Murphy, Eve Steele, Jill Stephenson and Jennifer Tuckett, music by Barbara Hockaday
Octagon Theatre, Bolton
(2011)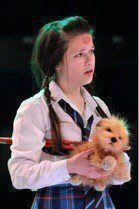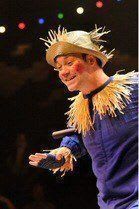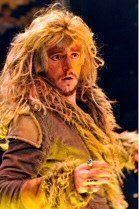 A team of eight writers from the Octagon's Incubate scheme was set to work on a new adaptation of Baum's first Oz book by director Elizabeth Newman—who is now also the theatre's head of new writing—for this year's Octagon Christmas show.
The reason behind the team of writers, according to assistant director Lauren Hamilton in the programme, is to mimic the process fo creating the classic 1939 MGM film version of the story using twenty writers, but this ignores the way writers in Hollywood were (and still are to a large extent) treated as glorified typists who can be replaced at any time without affecting the outcome. Genuine team writing is rare anywhere except in US television studios.
The resulting script here is fine if not wildly inspiring. It relocates the opening of the show, in best pantomime traditions, from Kansas to Bolton Market, which works very well and allows them to get lots of local references in that always go down well with a regional theatre audience (especially the line from the Wizard about where he is from). Dorothy is a grumpy Bolton teenager living with Aunt Em and her unsuccessful inventor husband Uncle Henry. After a rather surprising hurricane in Bolton, she ends up amongst Munchkins and witches in the Land of Oz with her dog Toto, represented by a hand puppet.
All of the characters make a very good first impression but then become repetitive quite quickly: Ellie Paskell is great as the grumpy teenager but for the whole show she shouts her lines out at the same level; Paul Ryan Carberry as Scarecrow is funny and physical and keeps getting his words muddled, a joke that rapidly wears thin; Lloyd Gorman is great as a Lion trying at all times to be cool but is given very little to do after his first entrance, and the same could be said for the lovely warm performance from Lee Drage as Tin Man.
At times we appear to be on a whistle-stop tour of elements of plot given just a taster of each rather than the clever way the MGM film incorporated the important story strands into a strong central plot. In order to avoid the need for special effects some details are skipped over too quickly, such as the house blowing away and landing on the witch which would be very unclear to anyone who didn't already know the story. The songs are unmemorable with lyrics that work reasonably well, but the orchestrations are very odd leaving huge holes in the arrangements making them sound very thin and lacking any real punch. However it is nice to see actors using their natural voices unamplified, as many productions have been spoiled at the Octagon by poor and unnecessary use of microphones.
Elizabeth Wright's design looks great and serves the production well, although the use of lit stars to replace the yellow brick road doesn't work. However the design hampers the production in one respect as two out of the three stage level entrances to this in-the-round configuration are blocked, one by the makeshift orchestra pit and one by a slide which is rarely used. There are some effective entrances through the audience to overcome this.
This show certainly isn't terrible by any means, but it feels like Newman has thrown too many experiments into one production for a main house, high profile show and the result has some entertaining moments but is rather patchy and not enough fun for the family audience it seems to be trying to attract.
Running until 14th January 2012
Reviewer: David Chadderton