The Wizard of Oz
L. Frank Baum, with Music and Lyrics by Harold Arlen and E.Y. Harburg
Royal & Derngate Production
Royal & Derngate Northampton
(2008)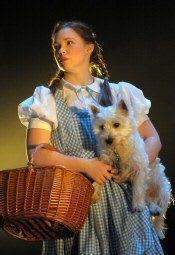 With such an iconic film/musical there is always the risk that what comes next is just a pastiche or bad copy of the original. Although there are many similarities, this is in no way a bad copy. Old Oz fans will be pleased, whilst those new to the Red Slippers will be enchanted by this magical show.
The biggest strength of this production is its cast which has strength in depth throughout. Natalie Burt seemed to make the role of Dorothy her own, looking much more comfortable and at home here than she did in director Laurie Sansom's recent Prime of Miss Jean Brodie. Burt's delivery of the most famous "Over the Rainbow" was faultless and she seemed to grow into the role as the story unfolded.
Burt was supported amply by her fellow cast members. Marc Pickering, fresh from playing R Wayne in Peter Kay's X-Factor take-off was excellent as the Scarecrow, strutting around the stage with a committed physicality of loose knees and hay. I could personally mention the entire cast, as the performances were that strong. The believable acting complimented the excellent singing and the quality never faltered.
As with last year's 101 Dalmatians, there was surprise after surprise, with characters appearing (and disappearing) from all sides of the auditorium. There were moments of real magic – the Poppies sending the characters to sleeep, followed by the snow awaking them were visually beautiful.
Once again, praise must be given for the Royal's design, which has consistently been of a high standard this year. Sara Perks simple yet highly visual set managed to rival the film – it was bright enough to suggest a fairy tale setting, yet neveer too cartoon like. Costume was clever, with the Munchkins brightly clad and the crows personified as villainous hunters. The apple trees on stilts were clever and memorable.
If there is one criticism of the production, it is its length. Although it is clear that the creative team wanted to keep the whole story intact, the script was very wordy, and I felt little bottoms shifting in their seats at some points. This shouldn't take away from the beauty of the script, but is perhaps a consideration for this type of family show.
However, this is the only negative I could name. Royal & Derngate should be applauded for continuing to produce a Panto that is clever and interesting, one that entertains without dumbing down or sending up. Family theatre doesn't have to be simple or tacky; it can keep its colour without offending the eye. This is proved by this production.
I would urge fans or non-fans to go and experience The Wizard of Oz at Royal & Derngate, Northampton. A feast of quality performance, excellent design and an amazing acting dog – yes, even Toto was there – that is as as enchanting as it has always been.
"The Wizard of Oz" plays at The Royal & Derngate, Northampton until Sunday 11th January 2009
Reviewer: John Johnson