Pack
Louise Monaghan
PapaTango & Neil McPherson for the Finborough Theatre
Finborough Theatre
–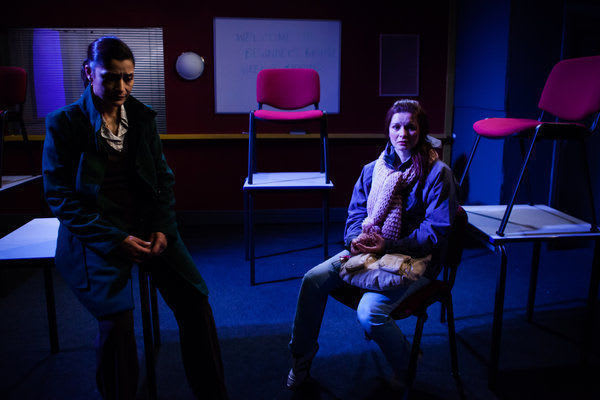 In her new play Pack, Louise Monaghan ambitiously confronts the racial tensions plaguing contemporary England. Despite her efforts, however, Pack never hits its stride.
Set in Leeds, Pack focuses on a beginners' bridge club at a local leisure centre. Among the members are Deb (a hair stylist) Nasreen (a doctor) Stephie (a cashier) and Dianna (a maths teacher).
The women's lives soon intersect outside of class when Stephie's son is implicated in a violent hate crime that leaves a young South East Asian boy in critical condition. From this point on, Monaghan tracks the women's experiences as new alliances form, enduring friendships are challenged and long held beliefs come under life-altering scrutiny.
Monaghan sets up a clever metaphor in Pack, aligning bridge with how the characters alternately transmit and conceal their personal racial politics. As in the card game, shifting strategies and vulnerabilities colour how the plot unfolds.
Unfortunately, regardless of its ninety minute running time, Pack feels overly long and could easily do without the final scene, which works too hard at resolving conflicts. Why aspire to a contentedly-ever-after conclusion when you could send spectators away pondering questions that challenge the status quo?
Another fault here is Monaghan's attempt to conquer too much, leaving many thematic threads at loose ends. The fact that Deb is illiterate plays like an under-realized after thought and it's unclear that the riots raging beyond the leisure center's walls are due to a British National Party rally.
Direction is also a problem for the premiere production of Pack. While Louise Hill has clearly mapped out key moments for each character, the production fails to build momentum overall and some sections unfold like weaker excerpts from Corrie. As well, scenic transitions are overly slow, deflating any rising tension.
When it comes to performances, this production fares better. As Deb, Angela Lonsdale hits every note of the character's grief, prejudice and fear. Sarah Smart is lovely as Stephie, capturing the cashier's innocence and naïveté while also contributing some hardy comic relief.
For her part, Denise Black also finds delightful moments of humour as the maths-loving Dianna; nonetheless, the character is sometimes clunkily written, saddling Black with odd bits of exposition/detail.
Finally, as Nasreen, Amita Dhiri's work is inconsistent; at times she embodies the conflicted Muslim doctor but, in other moments, she fails to convey the surprise and shock experienced in response to crisis.
Although Pack kicks off with the admirable goal of deconstructing the politics of race and class in today's England, both the script and Papatango's production lack the focus necessary to make a statement with lasting resonance.
Reviewer: Melissa Poll