Pack of Lies
Hugh Whitemore
Yvonne Arnaud Theatre, Guildford, and touring
(2009)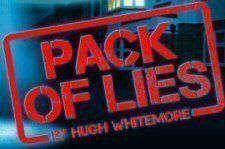 There are imponderable aspects to this story, leaving the question "What would I have done?" closely followed by "But what could I have done – what could anyone have done?" Given the choice between betraying close friends or betraying one's country, which would you choose, and did this family have any option in the matter anyway?
The story is "by the way and by and large – true" and concerns a very ordinary family (Bob and Barbara Jackson and their daughter Julie), living their ordinary quiet life in a pleasant suburban street in Ruislip (in this play re-located to a London suburb). Nothing prepares them for their world being torn apart by the arrival of Stewart, an official from MI5 requesting – no, insisting, but in the nicest possible way – that his team can use their house for purposes of surveillance. This, at the beginning of the sixties, was the time of spy rings operating in Britain, passing vital technological information to the Communists, the 'Cambridge Spies' Burgess and McLean, Anthony Blunt and Kim Philby being the most infamous.
The people being investigated here, however, are Peter and Helen Kroger – two apparently happily married 'Canadians' who have lived in the area for several years and just happen to be the very best friends of the Jacksons. .
The situation gradually tears Barbara apart. In Jenny Seagrove's sympathetic and moving interpretation the desperation of her situation is evident: from initial reluctant agreement, her agitation and worry increase with each passing day that the 'spy to catch a spy' is in the house. She cannot believe the stories about her delightful friends, hates the idea that she is spying on them, and is completely distraught when she finds herself, a totally honest and dependable woman, having to tell a pack of lies, although this is as nothing compared to the pack of lies her friends have been living.
Designer Julie Godfrey has captured the period faultlessly. The house, although not exactly resembling the original bungalow, is practically a carbon copy of my parents-in-law's home in the sixties – houses which were built just before the war - and cleverly reveals living room, kitchen and hallway with meticulous attention to detail, from the tiled fireplace to the small, but bulky, television set and spotlessly clean, modern kitchen.
Teenagers had just been invented and Julie is played with total credibility by Corinne Sawers – not the wild, drug and alcohol fuelled adolescents we seem to hear so much about today, but basically obedient and thoughtful, except for loud music and an unsuitable forbidden boyfriend, while Simon Shepherd's Bob is a thoughtful, caring husband and father – deploring the situation, but understanding the necessity.
Director Christopher Morahan was an Associate Director at the National Theatre for ten years, when he worked under Sir Peter Hall, and he has absorbed his mentor's meticulous attention to detail. The production flows, keeping the tension high and appearing more like a thriller than a true story. The only lighter moments are from the two-woman surveillance team – just another job to them!
In a quiet, thoughtful moment Peter (Robert Slade) reveals that his road to communism began during the American depression when, with desperate poverty around, he realised that the capitalist system was not working.
The versatile Lorna Luft gives her glorious cabaret voice a rest for this show and, despite the unbecoming wig, becomes the cheery, fun-loving friend we could all warm to – an excellent façade for a spy!
Due to the indisposition of Roy Marsden, the role of Stewart was taken (at very short notice and just for one night) by David Morley Hale, and he performed it so well that it was half way through the second act before I was aware that he was reading from the script in his hand.
Whitemore's beautifully constructed play is excellently produced and performed, and gives a very gripping and revealing insight into life at that time, but one leaves the theatre wondering just what might be happening under our noses today.
Touring to Poole, Richmond,Milton Keynes, Nottingham, Malvern and Cardiff
Reviewer: Sheila Connor