Pagliacci
Music and libretto by Ruggero Leoncavallo. English translation by David Parry
Opera North's Eight Little Greats season
Theatre Royal, Newcastle, and touring
(2004)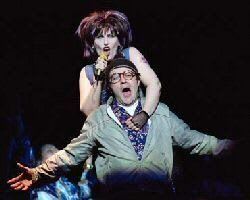 If you are going to update a play or an opera, then the updating should add something to or illuminate the piece. We've all seen "updates" of Shakespeare (among others) which have done both. But sometimes such updating can actually detract from the original and that, I have to say, is the case here.
Director Christopher Alden sets the first part at a pop concert where the band "Canio and the Clowns" are playing. The "band" consists of Canio, Nedda, Tonio and Beppo, with Nedda's lover Silvio in the audience. But Silvio doesn't look like a lover: he looks like a nerd in a tea-cosy hat who sits and pastes press cuttings into a scrap book - a sad little man who worships her from afar.
As the members of the band sing, they do so into (non-working) microphones and mime accompaniment on guitar, drums, tambourine and keyboard.
In the second part, the scene switches to a fast food joint where Canio, Nedda and the band are customers and Silvio is the guy who is serving behind the counter. Is this part of the performance? An acted scene rather than a concert, perhaps? The audience (the chorus) are still there in their seats and are listening intently and reacting, so it must be (mustn't it?). But how does that fit with the first scene?
When Canio kills Nedda and Silvio, he sings "La commedia è finita", which is partially a reference to the play they have been performing (although it obviously has other resonances to do with the fact that, in Leoncavallo's libretto, he is a clown). Where is the relevance in a fast food joint?
This might not have mattered so much had it been the passionate piece it should have been, but this was a singularly passionless Pagliacci. How can a cast reach the heights of passion if they are singing straight to the audience into a fake mic? Even Vesti la Giubba didn't thrill as it should: the agony simply wasn't there.
Here, I'm afraid, was a case where the opera got lost in the theatricality.
The tour continues to the Lowry, Salford Quays; the Theatre Royal, Nottingham and Sadler's Wells
Reviewer: Peter Lathan