Paint the Town Fred
Gordon Meredith
Shift Key Theatre
Hull City Hall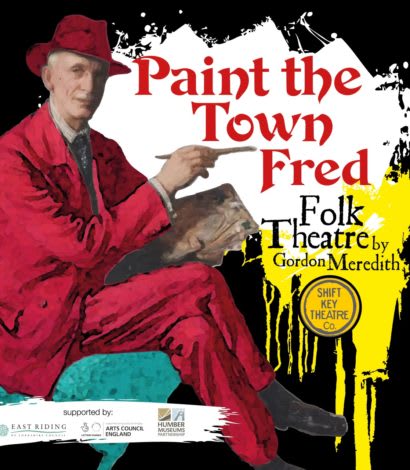 Gordon Meredith's new play, Paint the Town Fred, celebrates the life and work of Beverley artist Fred Elwell and that of his equally gifted artist wife, Mary Dawson Bishop.
Born the youngest of six children to wood carver and twice Beverley's mayor, James Elwell, Fred trained as an artist in Lincoln and Paris before moving back to his hometown of Beverley, remaining there for the rest of his life. Early in his career, he was commissioned by Alfred Holmes to paint a portrait of his much younger wife, Mary. Fred became friends with the couple and, after Alfred's death in 1913, he married Mary the following year.
Meredith's play has value as a documentary drama, charting the life of an immensely popular local artist and his rise to be a member of the Royal Academy. The play reveals that, as a young man, although Elwell enjoyed much of the Parisian lifestyle of the 1890s, his love of his home town lured him back where he gained a reputation as a painter of both local people and places. An amusing moment of the play was the mention of the headaches Elwell caused his housekeeper as he frequently used his servants as models—for several hours at a time! Providing context to the play, the audience were treated to a pre-show talk by Elwell's biographer, Wendy Loncaster, who compared Elwell's paintings with those of his wife, emphasising that, whilst Mary was an equal talent to her more famous husband, her style was quite distinctive from his.
It is unfortunate that a last-minute change of venue prevented Richard Avery's production from using projections of the Elwells' paintings, which had been a feature of the show when performed last week at the East Riding Theatre. Undoubtedly, any future production (a regional tour has been mooted) would benefit greatly from the addition of such projections.
As Elwell, Mike Kinsey gives a measured, economical and hugely affecting performance. One has a sense of a man comfortable in his own skin, sure of himself and content with his world and his relationships. His speech near the end of the play was a highpoint; moving, beautifully timed and communicated with quiet and penetrating emotional impact.
Gordon Meredith, the actor, is on good form as Mary's first husband, Alfred Holmes, the wealthy oil broker. As the ailing and older man, the scene where he encourages Fred to marry Mary after his death is played with touching sensitivity by Meredith. Laura Peterson has to use all her considerable skills of adaptation and flexibility as she plays an array of supporting characters throughout the 90 minutes of the piece. Hannah Levy imbues the role of Mary with great energy and vivacity in contrast to her more introverted husband. She is the driving force of their lives together, the decision maker and the socialite. Their union was—seemingly—blissfully happy as they grew old together, residents of the famous Bar House in Beverley.
'Blissfully happy' presents writer, Gordon Meredith, with something of a problem. This is the story of a talented artist, supported in his ambition by his family, commercially successful, personally happy and entirely fulfilled professionally and emotionally. So where, exactly, is the drama? Was Fred envious of Mary's recognition as an artist? No, he was thoroughly pleased for her. Was he resentful that when he met her, she was married to someone else? No—he was genuinely very fond of Alfred and missed him after he died. Was he professionally jealous of more famous contemporaneous artists such as Picasso? No, and he didn't cavort with inappropriately young girls either.
Effectively, therefore, we are left with a play where everyone is relentlessly lovely and very kind to one another. Accepting that kindness is an important (and often overlooked) feature in drama, Paint the Town Fred feels like a play without a centre, a quest or a problem to explore. Bluntly, the problem is that there isn't a problem.
Notwithstanding the lack of conflict, Paint the Town Fred does make us want to find out more about both Fred and Mary's work; a full and appreciative audience bore witness to the popularity of the artists and, indeed, Meredith's work in his favoured medium of Folk Theatre. The play would benefit from judicious editing, as the multi role-play involved in the early scenes and the start of the second half serve more to confuse than enlighten and much of the narration, although engagingly delivered by Peterson, is unnecessary. A 60-minute piece of documentary theatre / theatre-in-education might serve the material in a more focused and muscular form.
Reviewer: Richard Vergette