A Pair of Pinters: The Dumb Waiter and A Kind of Alaska
Harold Pinter
Derby LIVE at the Guildhall Theatre, Derby
(2010)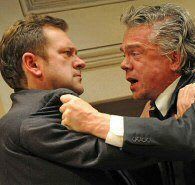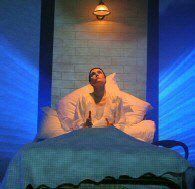 Since Derby LIVE took over programming at all three of the city's main venues, no one's been able to criticise the council-run organisation for a lack of adventure.
The season in Derby Theatre, formerly the Playhouse, began with the world premiere of Derbyshire author Tim Elgood's musical play The Pros, The Cons and A Screw.
Now Derby LIVE has opted to present two works by possibly the greatest playwright after Shakespeare. But instead of choosing The Caretaker or The Birthday Party, the artistic team have chosen two of Pinter's lesser-known works.
The decision to pair The Dumb Waiter with A Kind of Alaska is almost as unfathomable as some of Pinter's plays.
The Dumb Waiter looks at the relationship between two hitmen holed up in a room in Birmingham waiting for instructions about their next victim.
A Kind of Alaska examines the massive problems faced by a woman who is woken up by a doctor's injection after being in a coma for 29 years.
Director Esther Richardson feels the plays are about identity and how we engage with other people. Although that's certainly the case with Deborah who suffers from encephalitis lethargica or sleeping sickness in the second play, some people might not read that into the first play in which Ben in particular seems to realise that his raison d'etre is simply to bump someone off.
The similar sets for the two plays, with light walls and little furniture, prompted me to wonder whether Pinter was trying to point out that reality is in fact more frightening than anything the human brain might imagine. Others might read something else into it; that's the joy and fascination of Pinter.
The Dumb Waiter features two characters who've been together for so long that they get on each other's nerves. Joe Tucker is Ben, the hard nut who tries to remain calm until they hear about their next target only to be interrupted continually by slightly timid Gus (James Holmes) who doesn't have any interests and is permanently on edge.
Both actors superbly show how spiky the hitmen's relationship is when they argue over something as trivial as whether they should "light the gas" or "light the kettle". There's a terrific contrast between Holmes who's ill at ease when he remembers the horrible mess they left when they executed a girl while Tucker is more philosophical about his profession.
The decision to stage the two plays in the Guildhall, a 240-seat intimate venue where the audience is close to the action, pays off - especially in A Kind of Alaska. You feel you've dropped in on a personal consultation between doctor and patient; the effect is quite disturbing.
Julia Tarnoky is simply outstanding as Deborah who chillingly announces "something is happening" as her 29-year sleep ends. Initially she sounds like a teenager; later her voice takes on a more mature sound as she begins to act her true age.
The actress worked with the Encephalitis Society to ensure her portrayal of Deborah is realistic. It's a staggering performance.
Simon Molloy is calm and reassuring as the doctor, Hornby, and Eunice Roberts is supportive as Deborah's sister Pauline, unsure about how to handle her relationship with her sibling.
Tarnoky though is captivating; it's difficult to take your eyes off her throughout the performance.
On the whole it's an evening of surprises: although the author's plays might be unusual in their construction, A Pair of Pinters takes you out of your comfort zone and provokes thought in a way that only live theatre can.
"A Pair of Pinters" runs until February 27th
Reviewer: Steve Orme